World's Largest Urban Wetland in Lhasa undergoes extensive protection
The core protection area of the Lalu Wetlands National Nature Reserve in Lhasa. (Photo: China Plus/Wang Lei)
Lalu sits at an altitude of 3,645 metres inside Tibet's regional capital, Lhasa. It is the world's highest and largest natural urban wetland, covering 12.2 square kilometers in total. The core protection area is 6.6 square kilometres.
Phunstok Stering, head of the Administrative Bureau of the Lalu Wetlands National Nature Reserve, says the reserve is home to wildlife which have adapted to cold-temperature wetland ecosystems. They include black-necked cranes, various unique insects, birds, fish and amphibians. Wild plants in the Reserve include reeds and papyrus.
A local highway acts as a barrier between the city and the wetland reserve. Phunstok Stering says this creates challenges in protecting the wetland. "Despite this, the wetland reserve does play an important role in air purification, water conservation, flood control and water storage. That's why it has earned the nickname of 'the Lung of Lhasa' and the 'Lung of the Plateau.'"
Shui Yanping, deputy inspector of the Department of Environmental Protection with the Tibet Autonomous Region says the protection of the Lalu Wetland Reserve dates back to 1995. "At that time, local residents found the wetland an ideal place to raise herds and cattle or plant vegetables. There was several thousand cattle being raised in the wetland at its peak time, which was disastrous to the core protection area."
To help protect the wetland from cattle grazing, Shui Yanping says the central government allocated more than 92 million yuan for the relocation of the local residents from the core protection areas, where human activities are completely prohibited.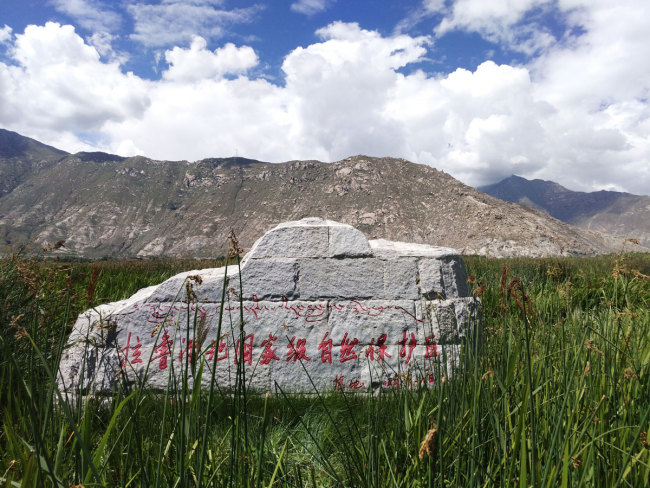 The Lalu Wetlands National Nature Reserve in Lhasa covers 12.2 square kilometers in total. It is the world's highest and largest natural urban wetland. (Photo: China Plus/Wang Lei)

In 2013, another 100 million yuan was allocated to further protect the Lalu wetland reserve. Shui Yanping explains, "Although people have been relocated, the agricultural and animal husbandry activities are still quite active in the wetland, as it boasts abundant water and grass. So the government will help the herdsmen resettle in pastures outside the wetland reserve or find them new jobs after the purchase of their cattle."

Conservation projects have seen the reserve's core protection area increase by 0.44 square kilometres from 2005 to 6.6 square kilometres at present.
Authorities say they intend to conduct further scientific surveys and data monitoring of the species in the wetland reserve.