Jilin outbreak reveals 'laxness' in duties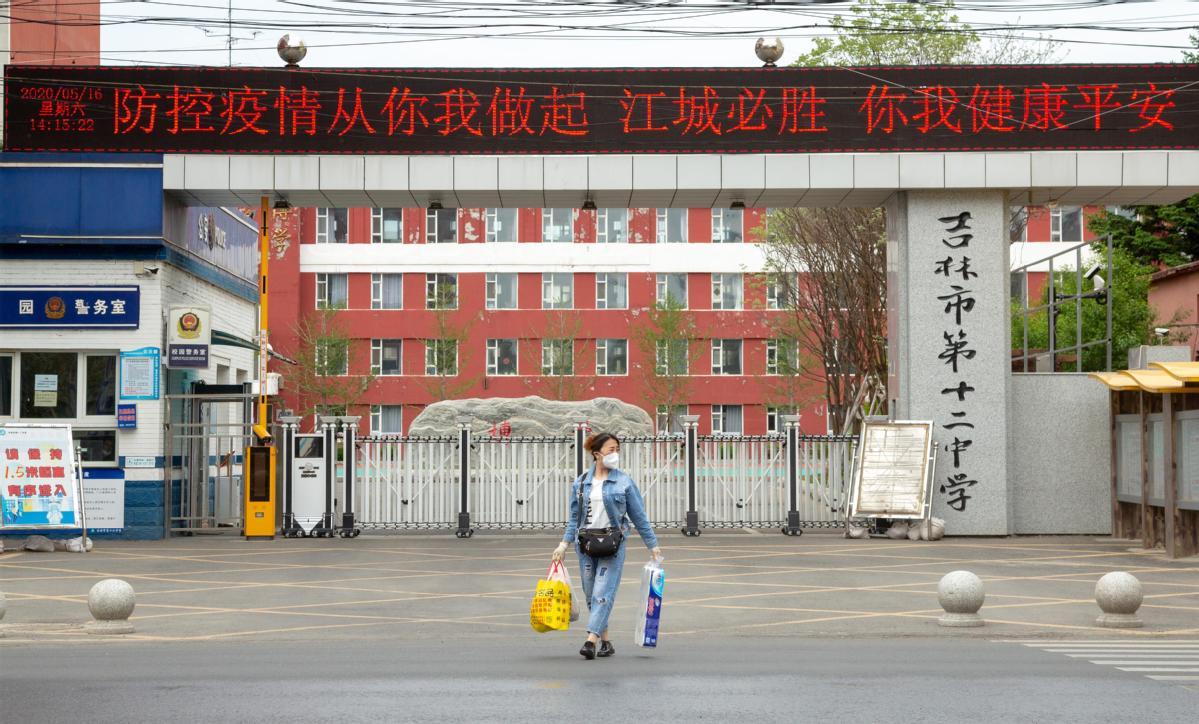 A resident of the city of Jilin passes by Jilin No 12 Middle School on Saturday. The school has been temporarily closed due to the recent COVID-19 cluster of cases in the city. (Photo: CHINA DAILY)
The recent COVID-19 outbreak in a city in Northeast China has exposed a deficiency in epidemic control and prevention in some areas, the top health authority said on Sunday, adding it has urged local authorities nationwide to ensure epidemic control measures are strictly implemented and risks eliminated.
"The sustained spread of the epidemic overseas, coupled with the emergence of scattered cases and cluster outbreaks in some individual places domestically, has increased the risks in China," said Wang Bin, of the National Health Commission's Bureau of Disease Prevention and Control.
Recent local outbreaks in the city of Jilin, Jilin province, indicated laxness in the thinking of authorities in some places, she said at a news conference.
The city reported three new confirmed COVID-19 cases on Saturday, accounting for all domestically transmitted, confirmed cases reported on the Chinese mainland on Saturday, according to the commission. Two other imported confirmed cases-in Tianjin and Guangdong province-were also reported that day.
On May 7, the city of Jilin reported a confirmed COVID-19 case, ending more than 70 days of no new locally transmitted cases in Jilin province.
As of late Saturday, the city had reported 32 locally transmitted cases since May 7: 18 in Shulan, a small city administered by Jilin city, 12 in the city's Fengman district and 2 in the city's Chuanying district, the Jilin city government said on Sunday.
Wuhan, capital of Hubei province, the Chinese city hit hardest by the epidemic, reported six confirmed cases on May 9 and 10, all in the same residential compound. Before that, Wuhan had gone more than a month without new confirmed cases.
Wang said at the news conference on Sunday that health authorities must improve coordination with other departments-including foreign affairs, customs, aviation and railways-to prevent cases being imported. Measures such as placing all inbound travelers in isolation and medical observation for 14 days must be well implemented, she said.
Other key measures, including enhancing monitoring at fever clinics, reporting cases and swift epidemiological investigation to quickly isolate sources of infection and their close contacts, should also be well carried out.
Meanwhile, expanded virus testing is needed to ensure that key groups at risk get tested and that all others who want to get tested can do so, she said.
Following the outbreak in Jilin, six of the city's officials have been removed from their posts: including Li Pengfei, Party secretary of Shulan, Liu Shijun, deputy director of Jilin's city health commission, and Yue Xiaoyan, head of Shulan's health bureau.
During an inspection tour in Jilin province that started Wednesday night, Vice-Premier Sun Chunlan called for more decisive, precise, flexible and effective epidemic prevention and control to prevent further spread of the disease.
Stricter measures should be enacted in higher-risk areas, including closing public bath houses, entertainment venues and restaurants, and conducting nucleic acid testing on all outbound travelers to prevent the virus from spreading to other areas, she said.
Yang Limin, deputy secretary-general of the Jilin city government, said on Sunday that over the past three days, the city had given nucleic acid tests to more than 40,000 people. Between May 7 and May 16, the city reported 938 close contacts of locally confirmed cases and put them under isolation.
Efforts to trace the origin of the outbreak are underway, and the results will promptly be made public, he said.