HK govt urges protesters: Come out and surrender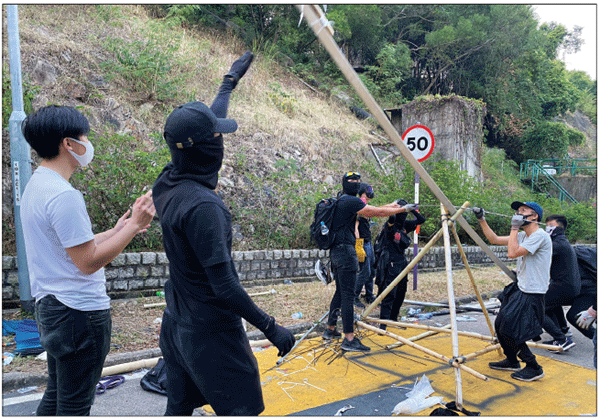 Radical students at the Chinese University of Hong Kong construct a giant catapult to fire bricks and gasoline bomb on Wednesday. (Photo: China Daily)
Hong Kong authorities urged radical protesters who have fortified themselves in a campus to come out and surrender to police.
The calls were made after a day of fiery clashes at Hong Kong Polytechnic University that started on Sunday afternoon, making it one of the most violent days since protests broke out in June.
Radical protesters trapped inside the campus should follow police instructions to leave in a peaceful manner, Chief Secretary Matthew Cheung Kin-chung said at a news conference on Monday.
He condemned some rioters who, in total disregard of public safety, repeatedly charged at police cordons by using deadly weapons including arrows and petrol bombs.
The radicals will be arrested on suspicion of rioting, an offense that carries up to 10 years in prison, when they drop their weapons and walk out of the campus, according to Cheuk Hau-yip, regional commander of Kowloon West of the Hong Kong Police Force. There is no other peaceful way to end this incident, Cheuk said.
The police had earlier arrested a number of protesters who were trying to flee by pretending to be first-aid providers or journalists.
Secretary for Security John Lee Ka-chiu also confirmed no force will be used if protesters surrender peacefully.
The university campus is still full of dangerous objects including explosives and corrosive liquids, Lee noted.
His remarks came after fierce clashes at the designated exits broke out when radicals tried to escape from the besieged university on Monday noon.
The police have sent Red Cross volunteers, Social Welfare Department officers and government psychologists into the campus to help the injured and underage protesters.
Violent standoff
The prolonged standoff in the vicinity of the university has seen a police armored vehicle set ablaze, a police officer shot in his leg by an arrow, and police fire a live round at a car ramming into the police line amid intensive rounds of petrol bombs and tear gas.
The police sealed off the campus vicinity on Sunday night.
In the early hours of Monday, police officers entered the outskirts of the campus and made some arrests.
Also on Monday, police confirmed that three universities-Hong Kong Polytechnic University, the Chinese University of Hong Kong and City University of Hong Kong-had reported dangerous chemicals such as flammable, toxic and corrosive substances missing after radicals stormed their laboratories.
According to official figures, a total of 154 people, aged 13 to 54, were arrested in connection with violent demonstrations during the past weekend. A total of 4,491 people have been arrested since the first anti-government protest took place on June 9.