Tea industry helps reduce poverty in Jiangxi
Sixty-two-year-old farmer Luo Manjiao used to grow crops for a living in Shangyou county, East China's Jiangxi province, but they could only sustain his life, with no extra money.
Now his income has increased by leasing his farmland to a tea company. He can also earn about 120 yuan ($17.80) everyday by working at the company.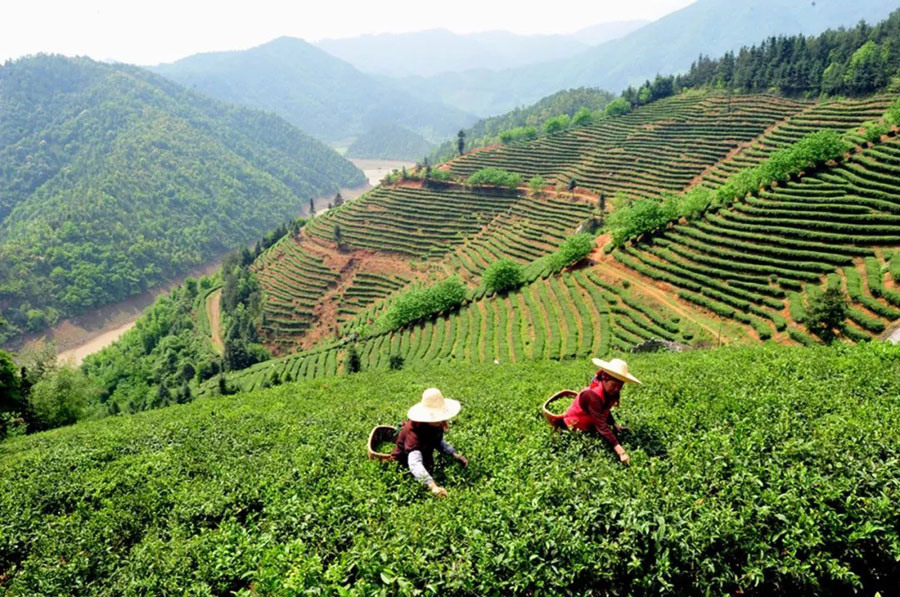 Farmers pick tea leaves at a tea mountain in Shangyou, East China's Jiangxi province. (Photo: China Daily)
Situated in Ganzhou, in the southern part of Jiangxi province, Shangyou enjoys a mild climate and a sound ecological environment. Its clean air and water and its hilly landscape make it an ideal place for a tea plantation. Due to the fertile earth, the tea is organic and selenium enriched.

"The living condition of my family has greatly improved by picking tea leaves," said Luo.
Since the local government started to promote the tea industry, the county has lifted hundreds of thousands of people out of poverty. The annual financial input from local government for the tea industry now exceeds 20 million yuan.
"We have offered a subsidy of 30,000 yuan per hectare for more than 600 impoverished families to grow tea trees, and now the annual income of each family has increased at least 2,000 yuan on average," said Huang Wenfa, deputy Party chief of Shangyou.
Apart from providing subsidies to farmers, the local government has also introduced a groupof tea companies to explore a business model integrating tea with tourism.
Chen Youliang operates a tea garden in the county. The garden is not only for tea planting, but also provides tourists with various experiences such as picking and making of tea and taking part in tea ceremonies, supported by a comfortable homestay.
"I would like to take advantage of various resources to promote the coordinated development ofthe tea and tourist industries," said Chen.
Statistics show that by the end of 2018, Shangyou had a tea plantation area of more than 6,700 hectares. The annual tea production volume exceeded 2,300 tons and generatedtotal sales volume of 380 million yuan in 2018, accounting for half the tea production value in south Jiangxi.
With the joint efforts of the farmers, companies and government, the brand value of Shangyou tea is estimated about 482 million yuan, according to the Center for China Agriculture Brand, an agricultural developmentresearch institute.