China retaliates against US 'threat' tariffs, files WTO complaint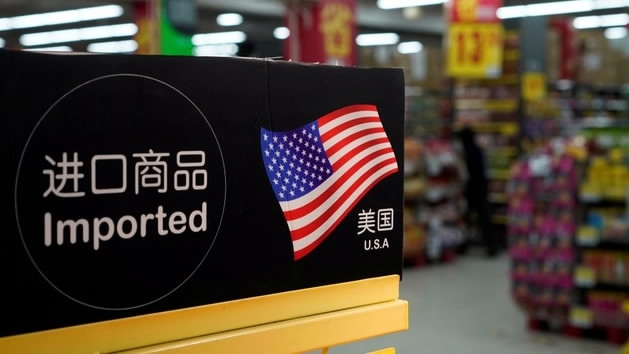 (Photo: CGTN)
China's decision to impose higher tariffs targeting US imports worth 50 billion US dollars is a "swift and strong" response to the Trump administration's latest tariffs list against China, experts say.
The Customs Tariff Commission of the State Council on Wednesday unveiled a list of 106 items of products under 14 categories subject to a possible additional 25 percent tariff.
"The list is very accurately targeted in proportion and reciprocal with the American list," Zhao Hai, a research fellow at Chinese Academy of Social Sciences, said on CGTN's The Point (@thepointwithlx).
China's list includes automobiles, aircraft, chemical products and agricultural products such as soybeans, corn and beef.
Christopher Chambers, a professor at Georgetown University, considered it China's "strong response" to the "direct and provocative tariff threat" from the Trump administration.
"The stock market is responding accordingly," Chambers noted. Stock market futures for the S&P 500 index, Dow Jones industrial average and Nasdaq 100 sold off sharply Wednesday after China announced the tariff plan.
Ian Reifowitz, a professor at SUNY-Empire State College, said the plan would also target Trump politically, as it can sour US major agricultural players, in particular, Iowa, a key state in the Trump coalition for his 2016 presidential victory.
"Hurting the exports to China is going to hurt the economy of Iowa," he said.
Apart from the list, China has also filed a WTO complaint about the US-proposed list, which Brandon Blackburn-Dwyer, founder of the Grasshopper Strategies, believed is "perfectly reasonable."
"It is a positive sign that China and many other nations are hopefully engaging with these multilateral institutions," Blackburn-Dwyer said, referring to US recent imposition of wider steel and aluminum tariffs.
Still, Trump is opting to "get rid of" multilateralism advocates in his administration, and his "bilateralism" appears "half blaster and half strategy," Chambers said.
Blackburn-Dwyer argued that the US is using "national security" and "IP theft" exception that is always very difficult to overcome with the WTO.
Reifowitz also criticized Trump's approach of pressuring the WTO while dropping diplomatic efforts, saying that the US government has won 91 percent of all cases there and "WTO does work for the US."
The Trump administration is seeking leverage for possible negotiations during the period between the time that the list is announced, and the time that the tariffs are implemented, Reifowitz said. "That's what Trump hopes."
Instead, China's reciprocal move "leaves room for future negotiations with the US," Zhao said.
"China wants to maintain an open, free trading system," Zhao said, calling for a united front against the Trump administration's unilateral and protectionist action.
The Point with Liu Xin is a 30-minute current affairs program on CGTN. It airs weekdays at 9:30 p.m. BJT (1330GMT), with rebroadcasts at 5:30 a.m. (2130GMT) and 10:30 a.m. (0230GMT).