Survey sheds light on household carbon consumption
chinadaily.com.cn
1579003692000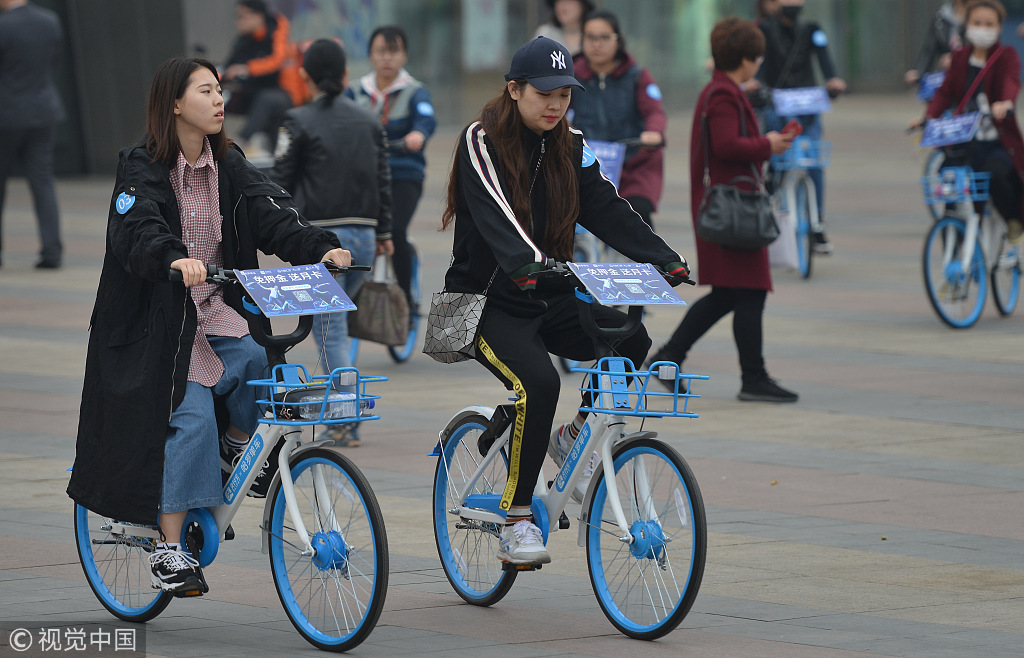 Women ride bicycles of bike-sharing startup HelloChuxing in Shenyang, Liaoning province. (Photo: VCG)
Energy Foundation, Southern Weekly and market research company Ipsos recently co-released the Survey on Low Carbon Consumption Awareness and Behaviors of Chinese households.
The survey is based on a quantitative analysis of 3,500 subjects from prefecture-level cities across China and eight qualitative studies in Beijing, Hangzhou, Haikou and Wuhan.
It revealed 41 percent of the subjects agreed low carbon consumption will reduce waste, 33 percent said it's good for sustainable development and 32 percent believe it will decrease air pollution.
Also, 33 percent of the surveyed said low carbon consumption allows them to live a healthy life and 25 percent said it makes them live a simple and agreeable life.
On the awareness front, 31 percent of the surveyed wanted to learn how to identify low-carbon products and 28 percent wanted to know how to calculate the carbon footprint of products.
Many of the surveyed Chinese households adopted different low-carbon behaviors in everyday life. The most popular behaviors were purchasing energy-saving household electrical appliances and using them in a low-carbon way.
The report states over half of the surveyed set up their air conditioner at the temperature of 26 degrees Celsius in summer so as to save energy, thanks to information presented by the government, non-government organizations and media.
In summation, the survey stated low carbon and an ideal life are not mutually exclusive. It's important, the report added, to provide the general public with practical guidelines about low-carbon behaviors and promote a low-carbon lifestyle.
"To adopt a simple, green and low-carbon lifestyle is not just one's responsibility for the environment, but also a wise move in general. It's beneficial to ourselves and others. It's also what we should do if we wish to pursue a sustainable and high-quality life," said Jing Hui, communication director of Energy Foundation.