Final year students eyeing uncertain future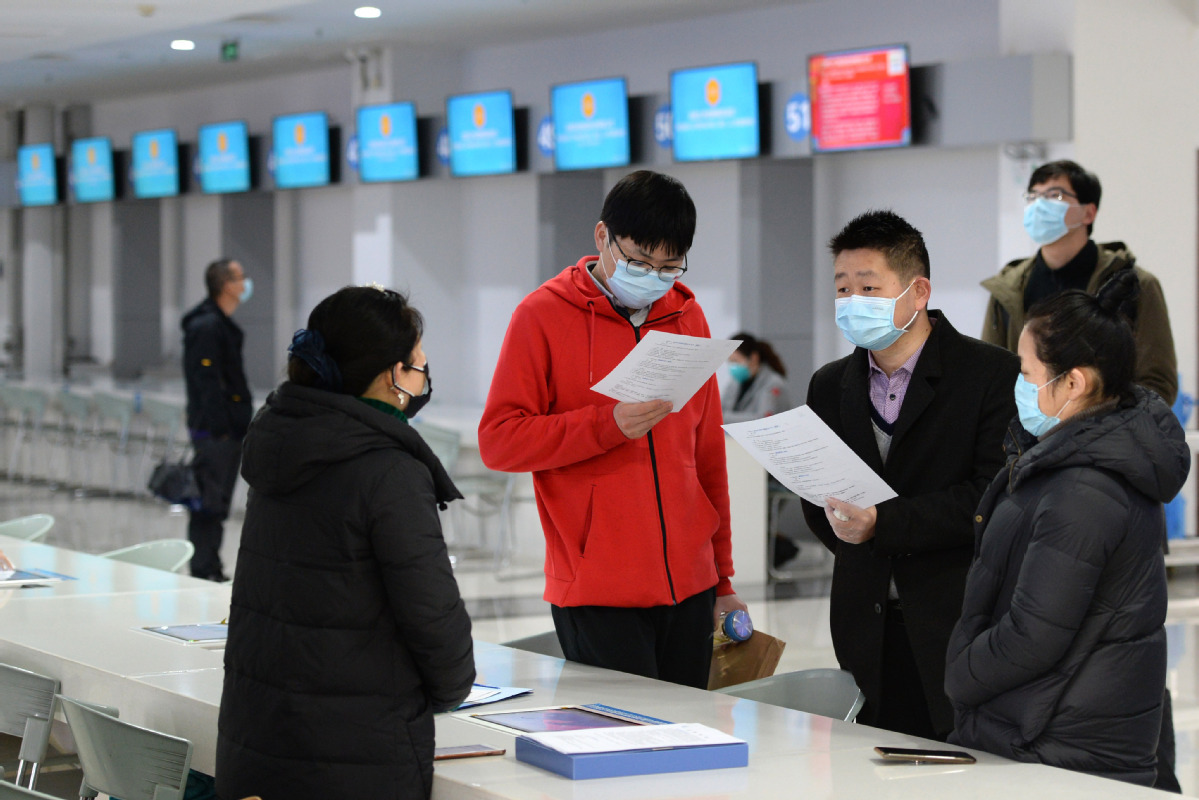 Job seekers consult staff members at a job fair in Hefei, Anhui province, last month. (Photo: Xinhua)
This year's crop of college graduates faces a grim and complex situation in the coming months because of the novel coronavirus epidemic, which has been declared a global pandemic by the World Health Organization.
China has generally controlled the outbreak, and stringent restrictions on personal movement in Wuhan, Hubei province, have recently been lifted.
Despite that, this year's graduates are still concerned about the future, which will be dominated by the aftermath of the epidemic.
Delays to graduation projects, uncertainties about further education at home and abroad, and a challenging job market amid economic concerns mean every step for 8.74 million senior students-a rise of 400,000 from last year-seems harder than before.
Many final year students have taken to social media to complain about delays to their dissertations and projects after being stranded at home by travel restrictions, far from on-campus resources such as libraries and laboratories.
Liu Yawen, a senior student of geographic information science at Nanjing Normal University in Jiangsu province, is having problems with her final year project, which requires good internet access and lots of computing power.
"My tests are not like chemical experiments in the lab, because they can be done at home by coding on the computer. But climate-related graphics require large-scale data, so the bugs with the internet and servers have slowed my progress," the 22-year-old said from her home in Urumqi, Xinjiang Uygur autonomous region.
The inconvenience of having purely online communications with her tutors and peers has also had an effect."Usually senior students have already submitted the first part of their final project by this time in the year, but we had a delay of about 10 days because of the epidemic," she said.
Schedule halted
As graduate students in the School of Television at the Communication University of China in Beijing, Wei Yi and her classmates are supposed to shoot short films for their postgraduation work. Wei finished some of the scenes last year, but her hopes of filming after the winter vacation were dashed.
"Shooting was interrupted by the epidemic, as neither my main actor nor I could go outside because of the lockdown in my hometown of Enshi, Hubei," the 24-year-old said.
The movie features several scenes set at a tourist spot in Enshi, but filming can't proceed because all the attractions in Hubei, the province hardest-hit by the virus, have been closed and the actor playing the lead character is still unavailable.
"Apart from the usual presentation for June, the school has granted us two more opportunities for our graduation defense presentations this year, slated for the summer vacation and the fall semester. Many of us still hope to finish before July to get our graduation certificates at the time most employers want to see them," she said.
Wei added that she feels luckier than people studying science and engineering, who have been unable to conduct lab experiments and don't know how to continue with their projects.
"The exact return to school is uncertain, but we doubt the semester will be canceled. All we can do is let things be and do what we can now," she said.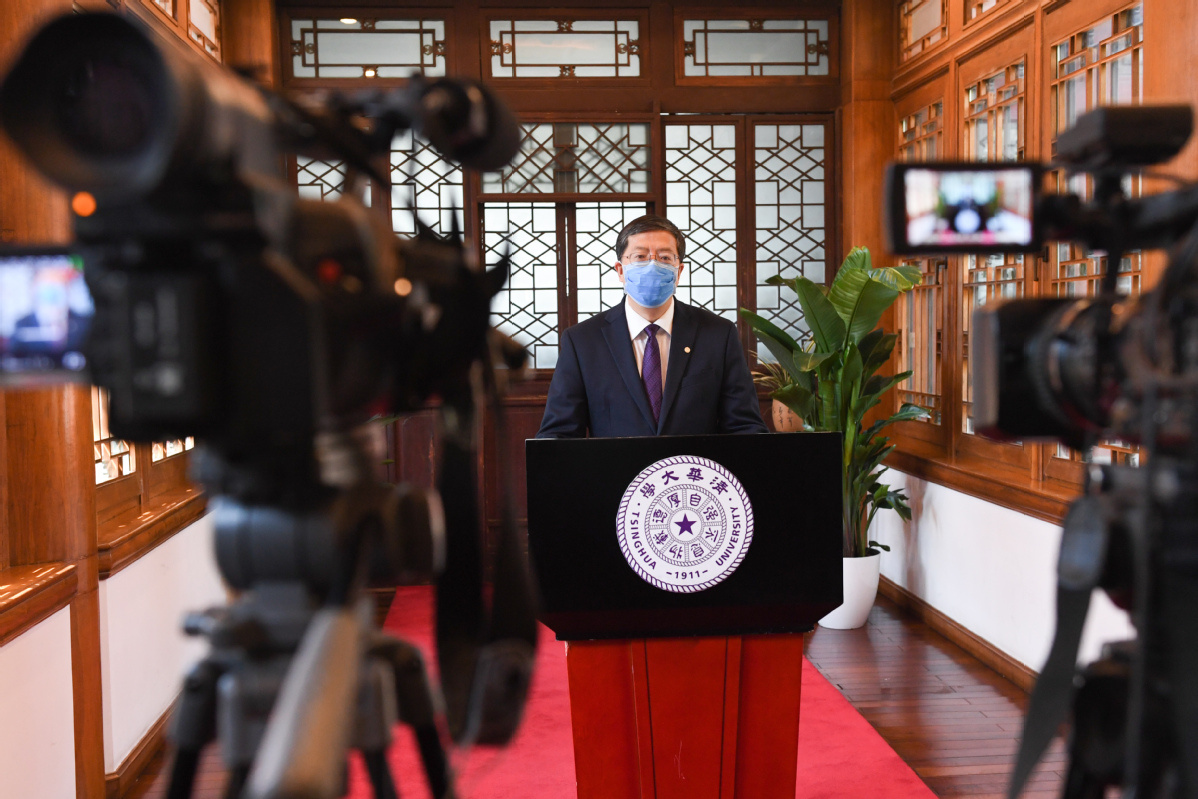 Qiu Yong, president of Tsinghua University, speaks at the opening of an online campus job fair last month in Beijing. JU ZONGHUAN/XINHUA
Delays
Students hoping to pursue further education at home or abroad are also facing uncertainty.
Zhu Zhengdan, a 21-year-old in the School of Journalism and Communication at Nanjing Normal University, has taken the exam to enter Nanjing University, a separate institution, for a master's.
The exam results were announced 10 days later than last year, and she is still waiting to hear if she has been selected for the second round of exams at her dream school. In recent years, the process had been completed by now.
"I am preparing for the second exams at home, but it's not very efficient because I didn't bring back a lot of review materials from school. Moreover, for less-disciplined candidates like myself, the environment and pace at home are not as good as on campus," Zhu said.
"I can't say graduation in 2020 will be tougher than in other years because I didn't experience those times, and, actually, graduates struggle to meet academic goals every year. But, we were definitely unlucky to encounter the epidemic."
She said she will consider studying for another 12 months if she fails to make the grade this year.
Overseas dilemma
Nearly a year ago, Alex Chen, a financial engineering student at Shanghai University, made the decision to study for a master's overseas.
"I didn't expect so many interruptions along the way," he said.
Luckily for Chen, he received an offer from the University of Leeds in the United Kingdom before Lunar New Year. That freed him from issues that may hit his peers, such as the cancellation of the exam for the international English Language Testing System-a linguistic requirement for students from the Chinese mainland to study overseas-in February.
However, the situation in the UK remains uncertain. "So far, the university hasn't released any notices for freshmen enrolled in fall 2020," he said, adding that he will keep checking pandemic updates, especially for the UK, ahead of his supposed departure in September.
"If the epidemic is not under control there, I will delay attending the university or even take another year off my studies and find internships in China," he said.