Chinese contemporary architecture exhibition held in Fiji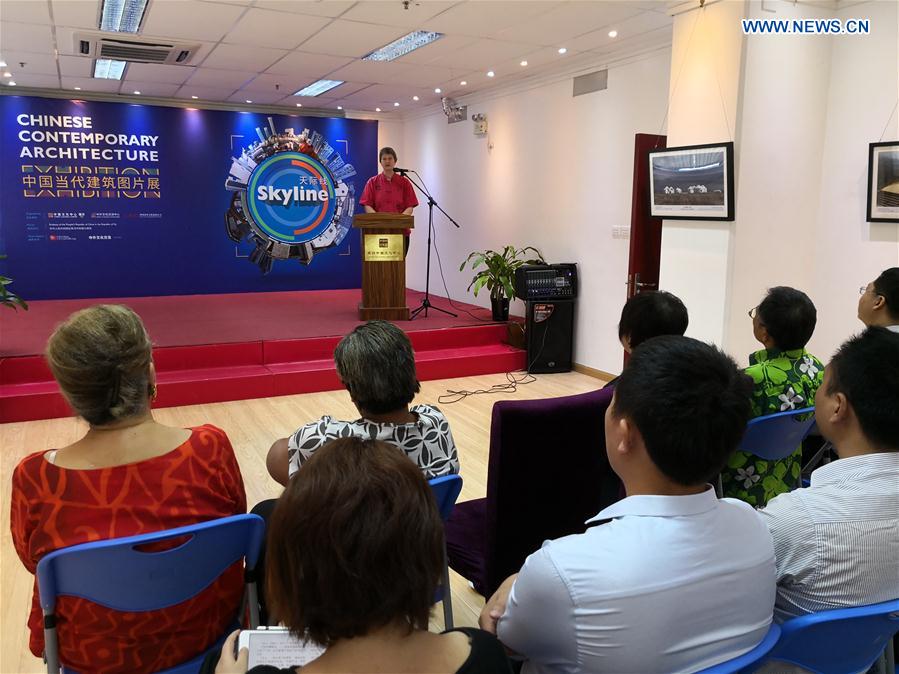 Alison Burchell, permanent secretary of the ministry of education, heritage and arts of Fiji, addresses the opening ceremony of Chinese Contemporary Architecture Exhibition in Suva, Fiji, July 11, 2018. J(Photo: Xinhua/Zhang yongxing)
A Chinese contemporary architecture exhibition kicked off Wednesday in the Fijian capital city of Suva, with the participation of government cultural officials, building architects, arts designers as well as representatives from all walks of life of the South Pacific Island nation.
Jointly organized by the China Cultural Center in Fiji, the Network of International Culturelink Entities of the Ministry of Culture and Tourism of China and the China Arts and Entertainment Group, Skyline - Chinese Contemporary Architecture Exhibition had a grand opening ceremony at the China Cultural Center in Fiji.
According to Xie Yanyi, project manager of the China Arts and Entertainment Group, the exhibition displays 76 photos of outstanding contemporary architectural projects by top Chinese and foreign architects. These projects will give Fijian visitors the opportunity to get to know the development and changes of China in building architecture since China's reform and opening up in 1978.
"The Chinese architecture is undergoing a period of great change and is the focus of the world. This exhibition provides a platform for Fijians to know the rapid development of contemporary Chinese architecture from a unique and brand new perspective. Architectural art is a synthesis of culture and technology. Culture is the spiritual expression of architecture. Architecture, as a carrier, embodies the spirit and national characteristics of the times, reflecting its inherent architectural and cultural connotations in a unique form," he said.
For his part, Deng Xianfu, director of the China Cultural Center in Fiji, said that these projects not only mirror the Chinese society and people's daily lives at all aspects, but also present the new Chinese architectural landscape since the early 21st century.
"Through the window of Chinese contemporary architecture, visitors can gain insights into contemporary architectural art under ongoing rapid development in China, and feel impressed by new-generation Chinese architects and global trends. I'm sure it is a wonderful opportunity for mutual exchanges between the peoples and professionals of China and Fiji," he said.
Li Zhi, the Economic and Commercial Counsellor of the Chinese Embassy in Fiji, told the participants that Chinese architecture is currently in a period of great revolution and attracts widespread attention from the world.
"By 2020, China will take one-fifth share in the global construction industry. China has emerged as an architecture power in the world. This exhibition provides a good opportunity for Chinese and Fijian people to exchange ideas on art, technology and contemporary architecture," she said.
The Fijian participants spoke highly of the exhibition, believing that this exhibition is timely and will surely help them know better of China's architectural situation today.
Described as a very interesting and special exhibition, Alison Burchell, permanent secretary for Fiji's Ministry of Education, Heritage and Artssaid that as a nation with a long history, China is good at ancient and contemporary architectures such as the Forbidden City in Beijing, the Bird's Nest-style Olympic stadium and Beijing's new airport which is under construction.
She said that culture also includes architecture, hoping such exhibition will help promote the cultural exchanges between the two countries.
The organizers believe that the 30-day exhibition will attract more Fijians who love Chinese culture and architectures.