China extends helping hand in aquaculture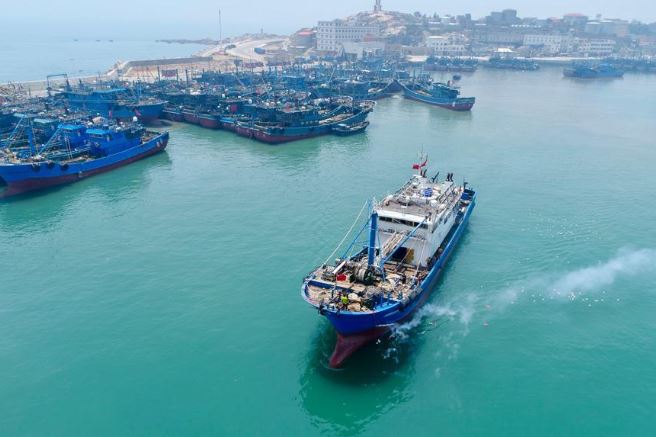 A fishing boat departs for fishing in Xiangzhi town in Shishi city, Fujian province. (Photo: Xinhua)
China will make more contributions to the sustainable development of the global fishing industry under the Belt and Road Initiative, according to the Ministry of Agriculture and Rural Affairs.
China is the world's largest aquaculture producer and it can give full play to its technological and talent advantages in the field while cooperating with other developing countries, the ministry said.
"We hope to work with others involved in the BRI to develop the fishing industry… and make breakthroughs in aquaculture," it said. "Through cooperation we can provide technology, talent and financial support for developing aquaculture, including the cultivation and processing of aquatic products."
The initiative has provided new opportunities for China's international cooperation in the fishing industry because of the great market potential in those countries, the ministry said. Many countries involved, especially the coastal countries, boast rich fishing resources and are traditional consumers of aquatic products.
China's total aquaculture output exceeded 50 million metric tons last year, accounting for more than 78 percent of the country's output of aquatic products, according to the ministry. China is the only country in the world that raises more aquatic products than it catches by fishing, according to the ministry.
China exported aquacultural products worth $23.3 billion last year, an increase of 10 percent over the previous year. The trade surplus in such products was $7.5 billion last year, a decrease of around 23 percent from the previous year.
In 1985, China's fishing industry began cooperating with some developed countries, which provided aquatic products and employment opportunities for locals, said Zhang Xianliang, chief for fishing administration and supervision at the ministry.
The rapid development of aquaculture in China has kept up with demand for protein and has reduced fishing in natural waters, he said, adding that aquaculture still has great potential in China, as daily consumption of aquatic products in the country is only about half the global average.
Cui Lifeng, former president of Chinese Academy of Fishery Sciences, said fishing cooperation between China and other countries, including those involved in the BRI, has great potential.
Some developing African and Southeast Asian countries, for example, have relatively backward fishing industries, and food security remains a problem. But they have favorable natural resources and waters, he said.
"China can help these countries develop aquaculture to improve food security and the incomes of fishermen through investment, training talent or sending fishing experts to provide technical guidance," he said. "International cooperation in fishing can benefit both China and other countries."
The academy has been providing training in aquaculture for developing countries over the past three decades, including fish reproductive technologies, feed manufacturing, prevention and control of aquatic diseases and the operation of small fish farms, Cui said.