'Made in China' still a key link in global value chain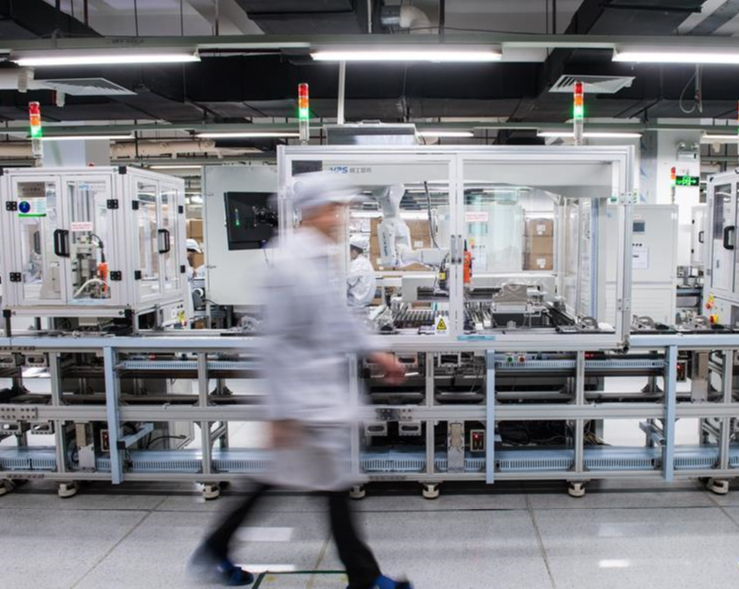 A worker passes by a smart production line of Hytera Communications Corporation Limited in Shenzhen, South China's Guangdong Province on December 12, 2018. (Photo: Xinhua)

For those naysayers who constantly peddle that China is losing appeal to foreign investors amid trade disputes, it is time to face the truth that China remains a top magnet for foreign companies.

"There is little evidence of a systemic spike in the number of firms shifting production away from China in the wake of the trade dispute," Herald van der Linde, HSBC Global Research's head of equity strategy in the Asia-Pacific wrote in a study released in the South China Morning Post.
It is true that some companies have announced that they are looking to set up export manufacturing capacity elsewhere worrying about the potential impact of raised US import tariffs, but for most, the advantages of "Made in China" still outweigh the risks, he wrote.
Indeed, with a globally competitive supply chain eco-system, growing consumption power driven by the ever-expanding middle-income group and optimized domestic business environment, China will continue to appeal to investors worldwide.
ADVANTAGES OUTWEIGH RISKS
In late March, German chemicals giant BASF inaugurated a new liaison office in the southern city of Zhanjiang, Guangdong Province, a step closer to implementing its Verbund project.
The planned Verbund site aims to provide products and solutions for local and multinational manufacturers in industries including automotive, construction, high-speed rail, electronics and even aerospace. Total investment is expected to hit 10 billion US dollars. It will become the third-largest BASF site worldwide, following Ludwigshafen, Germany and Antwerp, Belgium, according to Lin Hanping, project leader of BASF's Zhanjiang Verbund site.
China has become one of the world's largest chemicals markets, and its share in the global market is expected to further expand in the future, said BASF CEO Martin Brudermueller, noting that these are opportunities that the group cannot miss out on.
Like BASF, foreign-funded companies are vying for a bigger presence in the country. In the first quarter of this year, a total of 9,616 new overseas-funded companies were established, according to the Ministry of Commerce (MOC).
BIGGER PIE, MORE OPPORTUNITIES
While newcomers are rushing in, those companies who slowed investment plans in 2018 have increased their reinvestment budget this year to meet growing demands from customers, according to Harley Seyedin, president of the American Chamber of Commerce (AmCham) in South China.
In its annual white paper on China's business environment and a special report on the state of business in southern China, the AmCham in South China said 240 surveyed companies have increased their 2019 reinvestment budgets from profits by a whopping average of 37.9 percent over 2018, the highest level since 2010.
Half of the respondents see the Chinese mainland as their top investment destination with 80 percent reporting "very positive" or "positive" returns on their investment, said AmCham in South China.
"Foreign businesses in China sensed a positive signal last year with the shortened negative list; also, their confidence for investing was fueled by the newly established intellectual property rights (IPR) courts," Seyedin added, noting that most companies are ready to further expand their presence in the country.
Upbeat momentum continued to gather this year. In the first three months, foreign direct investment (FDI) into the Chinese mainland rose 6.5 percent from one year earlier to 242.28 billion yuan (about 36.2 billion US dollars), the MOC data showed.
BRIGHTER PROSPECTS
In the January-March period, the FDI in high-tech industries soared 50.6 percent year on year, with the high-tech manufacturing sector attracting 25.97 billion yuan, indicating the foreign investors' bigger bite into the country's manufacturing sector.
While more and more overseas players are coming in, domestic manufacturers have also gained better growth with stronger home-grown innovation capacity on the back of lavish investment and better IPR protection.
At the ongoing 125th China Import and Export Fair, also known as the Canton Fair which opened two weeks ago, the G-tech fission air conditioner, launched by domestic home appliances leader Gree Electric Appliances, has wowed many visitors from both home and abroad.
Overcoming the cleaning difficulties facing the traditional air conditioning industry, this model boasts more than 360 patents, just one example of the technology and innovation prowess of the home appliance giant.
Spending big on innovation over the years, Gree currently has 14 research institutes, 13,000 technical employees and nearly 1,000 laboratories, with expenditure on research and development reaching 5.7 billion yuan in 2017.
Commenting on China's latest endeavor to alleviate corporate burdens, Dong Mingzhu, Gree's chairwoman said this round of tax cut would help create a better environment for "Made-in-China," noting that a 3-percentage-point reduction of the value-added tax rate would save the company around 1.3 billion yuan.
For Gree, the money saved will be put into development and research to foster future growth, according to Dong.
The advantages of "Made in China" are no longer just low labor costs, but improved technology research, development and industrial chain, said Wu Fei, Gree's overseas marketing manager.