China's new international taekwondo complex opens in Wuxi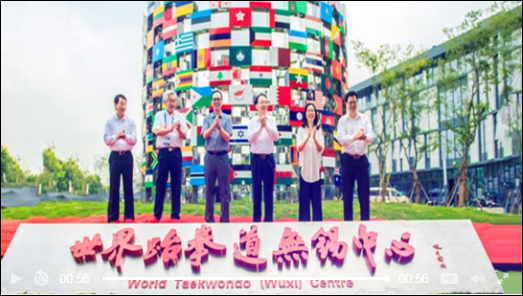 (Photo: CGTN)
The world governing body for taekwondo has unveiled its newest international complex in the eastern Chinese city of Wuxi.
The grand opening marked the first time that a sports organization affiliated with the International Olympic Committee has located a center in China.
The venue is hosting its maiden competition over the next three days – the first ever Taekwondo World Cup Team Championships.
It will serve as World Taekwondo's third bureau after its headquarters in Seoul and liaison facility in the Swiss city of Lausanne.
"China now has a say in World Taekwondo and we can set our 'Wuxi standards' while helping establish the rules for international taekwondo competitions," said China Taekwondo Association president Guan Jianmin said. "This is a tremendous improvement, and will greatly push forward the development of the sport here in China."
The World Cup Team Championships will feature 22 teams from 10 countries and regions battling it out in men's, women's, and mixed divisions.
China has two men's and women's squads taking part, as well as a mixed side, with Olympic gold medalists Zhao Shuai and Zheng Shuyin among the notable participants.