CPPCC proposal seeks to improve China's foreign student policies
People's Daily
1589973023000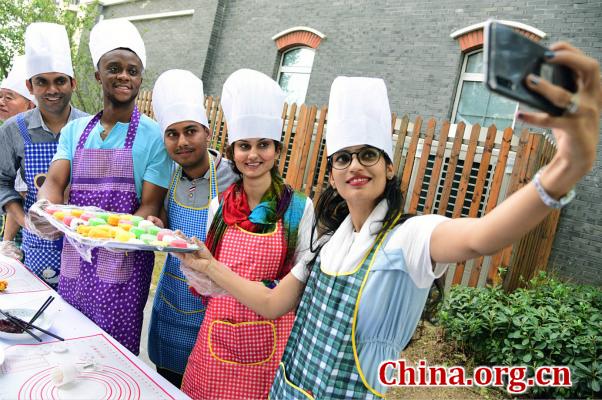 Foreign students from Jiangsu University take a selfie with the mooncakes they made to celebrate China's Mid-Autumn Day in Zhejiang, Jiangsu province, in September 2019. (Photo: VCG)
A proposal from the China Association for Promoting Democracy (CAPD) will be submitted to the third session of the 13th National Committee of the Chinese People's Political Consultative Conference (CPPCC), suggesting improvements to the policy on foreign students at an appropriate time.
The one concerning foreign students is among 46 proposals to be submitted by the Central Committee of the CAPD this year. The 46 proposals cover education, publication, culture, laws, economy, health care and ecology.
The CAPD, one of China's eight non-communist political parties, was founded in Shanghai on Dec. 30, 1945, and mainly comprises middle- and high-ranking intellectuals engaged in educational and cultural work.
The total number of foreign students studying in China has increased from 328,000 to 492,000 between 2012 and 2018. Coming from 196 countries and regions to study at a total of 1,004 universities and colleges in 31 provinces, autonomous regions and municipalities, they have made China Asia's largest destination for international students.
However, as the proposal points out, in reality, there is room for improvement. The proposal states that some China's universities and colleges just provide Western-style education for foreign students rather than adopting educational methods rooted in Chinese civilization and real national conditions.
Some higher education institutions provide better dormitory environment, relatively looser management for foreign students than what are given to Chinese students, for example.
"Despite studying in China for several years, some foreign students still have very limited knowledge about China. They don't know much about China's national conditions and culture, and it is difficult for them to reach the Level 3 of the international standards for Chinese language proficiency," the proposal states, adding some foreign students need help from others to finish their graduation thesis papers.
The proposal suggests China should enhance recruitment standards and ensure high-quality entrants from all over the world, and make scientific and systematic planning for enrollment and education of international students.
"From the perspective of the country's overall development strategy needs, we should plan the scale and proportion of foreign students to be admitted to China, and the qualifications of colleges and universities for recruiting foreign students," it says, adding the need to reform the international evaluation index of colleges and universities.
The proposal also suggests Chinese colleges and universities should promote the unified standard of teaching management and examination assessment systems and provide equal and consistent educational resources and management services for both Chinese and foreign students, while reasonably and fairly caring for international students from different backgrounds, customs and cultures to cope with any cultural collision .
"Chinese higher education institutions should fully realize the educational goals for international students and strengthen their recognition of Chinese culture. They should arrange sufficient and applicable Chinese language courses and Chinese general situation courses to meet the learning needs of international students, and strengthen exchanges and joint learning between Chinese students and international students."
The third annual session of the 13th CPPCC National Committee will open on May 21.