Over 2,000 students take horseriding lessons in Inner Mongolia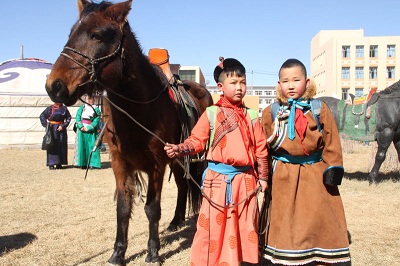 Photo:Internet
Riding on a horse and stretching his arms horizontally, Wang Yu was receiving balance training under a qualified jockey's guidance on Thursday at a primary school in Hohhot, capital city of northern China's Inner Mongolia Autonomous Region.
"I feel relaxed and comfortable on a horse now," Wang, 11, said. "But I was very nervous and could not stop trembling when I first took the riding lessons two months ago."
The Inner Mongolia Equestrian Association has provided a series of horseriding lessons for local teenagers aged between 11 and 17 in Hohhot from September to November, involving more than 2,000 students from 41 classes at elementary and secondary schools.
"Students chose the lessons voluntarily and everyone who rides a horse must be guided by a professional trainer for the sake of safety," said Wang Zetao, who works for the local equestrian association.
"Due to the cold winter temperatures, the lessons have to be suspended from December and will restart in March next year," Wang added.
The horseriding lessons are part of efforts to offer a diverse curriculum for students.
"We would like to improve students' physical fitness and keep alive aspects of traditional Mongolian culture," said Fan Chunyang, an official with the local sports bureau.
The lessons will be introduced to more schools in Inner Mongolia and an estimated 100,000 students will be able to study horseriding at schools over the next three years, according to the local equestrian association's plan.
There is growing interest in Inner Mongolia about horseriding due to the impact of the local ethnic Mongolian traditions.
Horseracing, polo, dressage and other equestrian sporting events are hosted every year in the region.
Jockeys from the region have won 298 medals and titles, including 62 golds, in more than 200 domestic and overseas competitions over the past five years, according to information released by the local sports bureau.