Legislature appoints two new ministers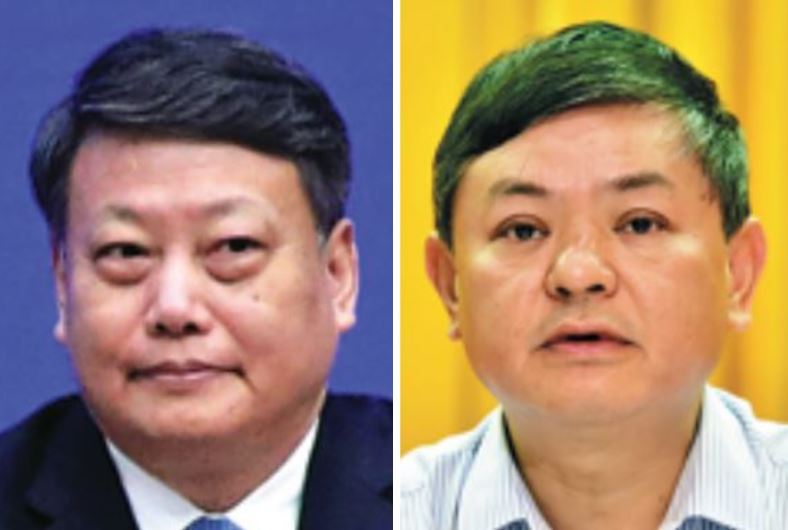 Tang Yijun and Huang Runqiu. (Photo: China Daily)
The appointment of two ministers was decided on Wednesday at a bimonthly session of the National People's Congress Standing Committee, the nation's top legislature.
Tang Yijun, former governor of Liaoning province, was appointed minister of justice at the 17th session of the Standing Committee of the 13th NPC, replacing former minister Fu Zhenghua, who retired this year.
Born in 1961 in Shandong province, Tang started working in 1977 and he joined the Communist Party of China in 1985. He holds a master's degree from the Party School of the Central Committee of the CPC, according to his resume on the Liaoning provincial government website.
Tang spent about 40 years of his career in Zhejiang province since 1977. From October 2005 to October 2017, he served in many positions in the province, including Party secretary of the Discipline Inspection Commission of Ningbo, Party secretary of the city and deputy Party secretary of the province.
In October 2017, he was appointed acting governor of Liaoning province and became governor in January 2018.
The session on Wednesday also approved the appointment of Huang Runqiu as minister of ecology and environment. Huang was the former deputy head of the ministry.
Huang, 56, is a member of the Jiusan Society, one of China's eight non-Communist parties. The appointment made him the nation's third minister from a non-Communist party since the start of China's reform and opening-up in the late 1970s.
A native of Hunan province, Huang studied and worked in Sichuan province for more than 30 years. With a PhD in geological engineering, he became vice-president and also doctoral supervisor at Chengdu University of Technology since 2001, according to his resume.
After the Wenchuan earthquake in 2008, Huang headed a team of experts that conducted investigations and reported on ecological restoration in the quake-hit areas in Sichuan province. He has won many prizes in his area of expertise, including first prize in the State Science and Technology Progress Award on two occasions.
He joined the Jiusan Society in 1994 and was elected vice-chairman of the 14th Central Committee of the Jiusan Society in 2017.
He was transferred in 2016 to the position of vice-minister in the former Ministry of Environmental Protection, which was reorganized as the Ministry of Ecology and Environment in March 2018.
Former Minister of Ecology and Environment Li Ganjie was transferred earlier this month to become deputy Party secretary and acting governor of Shandong province.