Xi meets Papua New Guinean prime minister
Chinese President Xi Jinping (R) meets with Papua New Guinea (PNG) Prime Minister Peter O'Neill, who is here to attend the Second Belt and Road Forum for International Cooperation, in Beijing, capital of China, April 25, 2019. (Photo: Xinhua)

BEIJING, April 25 (Xinhua) -- Chinese President Xi Jinping on Thursday met with Papua New Guinea (PNG) Prime Minister Peter O'Neill, who is here to attend the Second Belt and Road Forum for International Cooperation.
Recalling his state visit to PNG in November 2018, Xi said the relations between China and PNG is in the best period in history.
China highly appreciates PNG for prioritizing relations with China in its diplomacy and giving solid support to China on issues concerning China's core interests, he said.
China supports PNG in choosing a development path on its own that is in line with its national conditions, Xi said.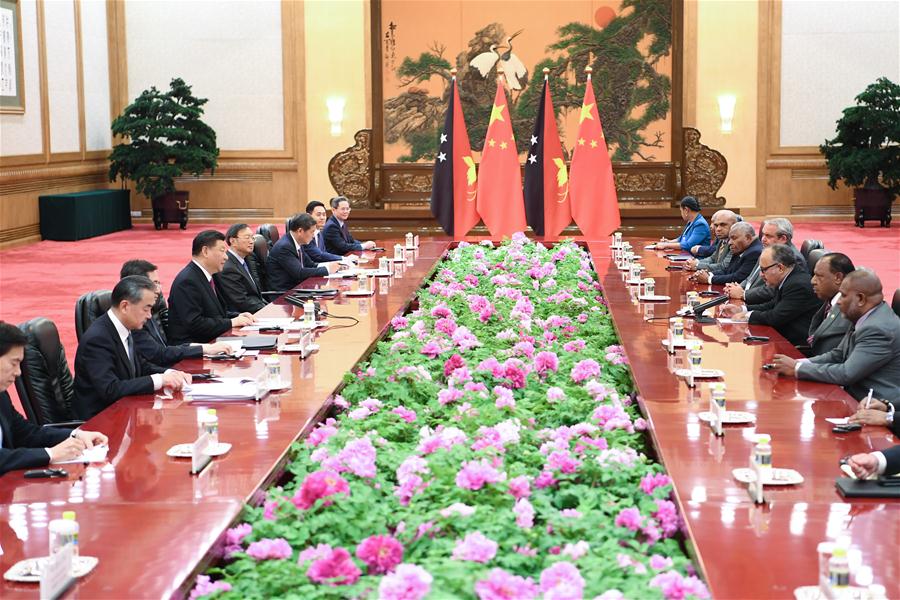 China is willing to work with PNG to strengthen coordination and cooperation under the multilateral framework, so as to enhance the comprehensive strategic partnership between the two countries, he said.
PNG is in a leading position among the Pacific island countries in jointly building the Belt and Road, Xi said, adding that China and PNG should further expand cooperation and set an example for the island countries in building the Belt and Road.
China has no self interest in the Pacific island countries, and does not seek the so-called "sphere of influence," Xi said, adding that China will always be a trustworthy friend and partner to these countries.
O'Neill expressed congratulations on the 70th founding anniversary of the People's Republic of China, and on its achievement in economic development and poverty alleviation, which he said is also a contribution to the world peace and development.
O'Neill said President Xi's visit to PNG last year is historic. PNG adheres to the one-China policy, and is willing to enhance cooperation with China under the Belt and Road framework, he added.