Xi's visits to Spain, Argentina, Panama, Portugal to enhance bilateral ties, G20 cooperation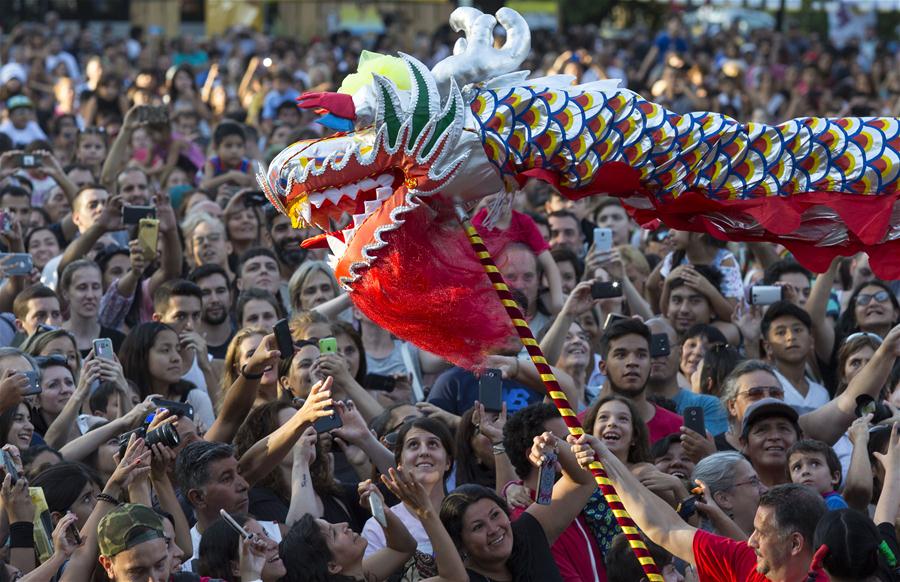 People enjoy the celebration of the Chinese Lunar New Year, in Buenos Aires, Argentina, Feb. 10, 2018. (Photo: Xinhua/Martin Zabala)
BEIJING, Nov. 23 (Xinhua) -- Chinese President Xi Jinping's upcoming visits to Spain, Argentina, Panama and Portugal will intensify respective bilateral ties and G20 cooperation, senior Chinese officials said Friday.
Xi will pay state visits to the four countries from Nov. 27 to Dec. 5, and attend the 13th Group of 20 (G20) summit from Nov. 30 to Dec. 1 in Buenos Aires.
During his state visit to Spain from Nov. 27 to 29, Xi is scheduled to meet with Spanish King Felipe VI, hold talks with Prime Minister Pedro Sanchez, collectively meet with President of the Senate Pio Garcia Escudero and President of the Parliament Ana Pastor Julian, and address the two houses, said Vice Foreign Minister Wang Chao.
According to Wang, China and Spain will publish a joint statement and sign documents on their cooperation in the third-party markets, service trade, taxation, culture, science and technology, and finance.
During Xi's state visit to Portugal, scheduled for Dec. 4 to 5, he will hold talks with his Portuguese counterpart Marcelo Rebelo de Sousa, meet with President of the Parliament Eduardo Ferro Rodrigues and Prime Minister Antonio Costa, Wang said.
According to Wang, the two sides are expected to publish a joint statement and sign documents to boost cooperation in such areas as infrastructure, culture, education, science and technology, water conservancy, quality inspection, energy, and finance.
Vice Foreign Minister Qin Gang said Xi's state visits to Argentina and Panama will take place from Dec. 2 to 3.
Hailing the rapid development of China-Argentina relations, Qin said the two countries have set a good example of common development among emerging economies and developing countries.
Xi will hold talks with Argentine President Mauricio Macri to facilitate bilateral ties, Qin said, adding the two heads of state will also have an in-depth exchange of views on international and regional issues.
The two sides are scheduled to publish a joint statement, sign a joint action plan for the two governments in the next five years and cooperation documents on economy and trade, finance, and public security, according to Qin.
Xi's state visit to Panama is aimed at enhancing mutual understanding between the two countries' people and speed up mutually beneficial cooperation to consolidate the foundation for long-term development of bilateral ties, Qin said.
China and Panama forged diplomatic relations last year based on the one China principle.
Saying Panama is a new partner of China in the Latin American region, Qin stressed that bilateral ties have started strong, featuring rapid progress and high efficiency.
"During the one and half years since the establishment of diplomatic ties, the two countries have witnessed cooperation outcomes on trade, investment, maritime affairs, finance, infrastructure, and human resources," Qin said.
Xi will hold talks with Panamanian President Juan Carlos Varela to exchange views on issues of common concern and map out future cooperation, Qin said.
The two sides will sign cooperation documents on e-commerce, service trade, infrastructure, economic and trade exhibition, maritime transport, financing, quality inspection, culture and education, Qin added.
CHINA'S EXPECTATION ON G20
The 13th G20 summit will be Xi's sixth time to attend or preside over the summit, which shows China attaches great importance to the G20 mechanism and has a strong will to contribute to the improvement of global economic governance, Assistant Foreign Minister Zhang Jun said.
According to Zhang, the summit will include three sessions and a closed-door meeting, where topics on world economy, trade and investment, digital economy, sustainable development, infrastructure, and climate change will be discussed.
Xi will expound on China's position on these issues and exchange views with other leaders. He will also attend an informal meeting of leaders of BRICS countries.
Zhang emphasized that the upcoming summit, themed "building consensus for fair and sustainable development", is conducive to gathering efforts to oppose protectionism, support multilateral trading regime, and push forward the construction of an open world economy.
Talking about policy preparations for the upcoming G20 summit, Vice Minister of Finance Zou Jiayi said a series of meetings among G20 financial and economic leaders earlier this year resulted in prominent consensus and outcomes.
The meetings witnessed discussions on major financial and economic issues, including the global macroeconomic situation and risks, international financial architecture, cooperation on taxation, and sustainable finance, Zou added.
As an important G20 member, China has played a constructive role in facilitating consensus on issues of common concern, such as responding to opportunities and challenges brought by the technological revolution, forging ahead infrastructure financing and taxation on the digital economy, Zou said.
As for China's expectation for business and trade cooperation at the upcoming summit, Vice Minister of Commerce Wang Shouwen said it is hoped new drivers of growth will be tapped through closer cooperation on trade and investment.
Stressing the importance of jointly promoting inclusive and sustainable development, Wang said China hopes all parties will advocate the multilateral trading regime.
"China supports the WTO to facilitate necessary reforms, to make it more authoritative and effective," Wang added.
China expects the G20 will help advance macroeconomic policy coordination, improve international financial architecture, and promote economic growth in a green, sustainable and inclusive way, said Chen Yulu, deputy governor of the People's Bank of China.
"China stands ready to share its experience in improving financial supervision to match FinTech innovation and infrastructure financing," Chen said, adding that pragmatic outcomes in financial and economic sectors are expected to be produced at the summit.