BRI turning into corridor for technological connectivity
Global Times
1556491765000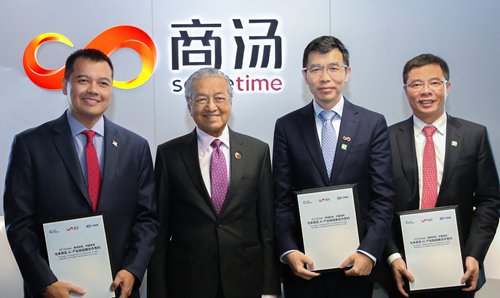 SenseTime, Malaysia's G3 Global and China Harbour Engineering Co enter into a strategic collaboration agreement to jointly build the first industrial AI park in Malaysia on Friday. (Photo: Global Times)
The China-proposed Belt and Road Initiative (BRI) is increasingly becoming a technological connectivity corridor, as evidenced by the Friday announcement of Chinese AI unicorn SenseTime's participation in the establishment of the first artificial intelligence (AI) industrial park in Malaysia, a key node in the 21st Century Maritime Silk Road segment of the BRI.

SenseTime signed a strategic collaboration agreement with Malaysia's G3 Global and China Harbour Engineering Co to jointly build the AI park, according to a statement the company sent to the Global Times.

Under the agreement, the three parties will cooperate in areas such as AI infrastructure, technological research, data management, talent development and commercial operations. SenseTime and G3 Global will jointly explore the use of AI technologies in the areas of smart cities, public management, smartphones and automobiles, among other sectors, and introduce AI basic education into the Malaysian curriculum, the statement said.

The amount of investment in the AI park and details regarding project delivery were not disclosed.

The deal was signed on the same day as Malaysian Prime Minister Mahathir Mohamad visited SenseTime's Beijing office while attending the second Belt and Road Forum for International Cooperation. He was shown applications of AI technologies in self-driving, smart cities, education and healthcare.

The Beijing-based AI start-up has offices in Kyoto, Tokyo and Singapore, in addition to its operations on its home turf.

Mahathir also visited Huawei Technologies' Beijing office the prior day, apparently indicative of the Southeast Asian nation's interest in Chinese technologies that have turned out to be a bigger part of the BRI.