Cruise tours returning to Xisha Islands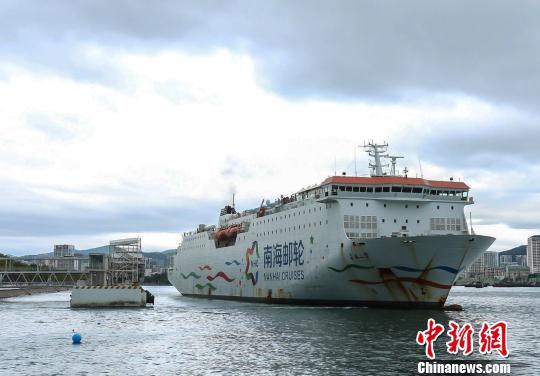 The Chinese cruise ship Nanhai Dream left Sanya Phoenix Island International Cruise Port for the Xisha Islands in the South China Sea on Wednesday afternoon.

Among the over 280 domestic tourists aboard are those who expressed a desire to see breathtaking views of the sea and a curiosity about the area's role in Maritime Silk Road history, which dates back for centuries, officials said.
On Thursday, the Changle Gongzhu, or Princess Changle, will also depart from Sanya's port, sailing toward the same destination with more than 220 tourists, according to the local transportation authorities.
Departure of the two cruise liners marked the resumption of trips to Xisha Islands following a suspension of more than 300 days due to the COVID-19 pandemic.
During their Xisha tours, which are scheduled to last four days and three nights, tourists will set foot on two small islands-Yinyu Island, 2 meters above sea level and 0.01 square kilometer in area, and Quanfu Island, 1 meter above sea level and two times larger than Yinyu. The islands are well known for their beautiful "seven-color seawater" caused by sand and coral reefs and the many sea creatures, including horse mackerel, grouper and redfish.
To keep passengers safe from COVID-19, the cruise liners are limited to carrying no more than 50 percent of their capacity in the early stage of resuming operations, according to Guo Mingfei, general manager of the Sansha Nanhai Dream Cruises Co's marketing department.
"The passenger load rate can be raised to 70 percent after two weeks of operation if it runs smoothly," said Guo, adding that the company will ensure the measures are strictly enforced.
"We immediately called and booked tickets for the Nanhai Dream with a local travel agency last month after learning that the cruise routes will resume," said Wang Renjie, a retired office worker from Shanghai, who said he has been impressed by photos of the islands' natural beauty.
"We took nucleic acid tests in Haikou and showed the invoice and the test results when boarding the cruise today. The tests took some time and added a little bit to our costs. But that makes us feel safe and at ease. We appreciate the measure," said Wang. He is traveling with three friends.
He added that he was also impressed by the strict COVID-19 control and prevention measures during a recent trip to Xishuangbanna, Yunnan province. "I feel the control and prevention measures are in place everywhere, so people can be confident in traveling around the country."
Rising demand
Cruise tourism to Xisha Islands started in April 2013, with infrastructure, service capacity and quality being improved year by year and total number of tourists nearing 100,000. Officials said the passion for cruise travel has yet to be slaked.
"All cruise tickets for the routes to Xisha Islands in December have been booked, while around 80 percent of the tickets for January have been reserved," said Lu Hongyi, a manager of CTG Travel (Hainan) Co. "The need was greater than we had expected," he said.
According to plans by central authorities, Hainan will increasingly expand tourism in Xisha Islands and develop cross-border cruise tourism as part of building Hainan into a globally influential tourism and consumer destination by 2035.