China on its way to transcend other countries in Fintech: Expert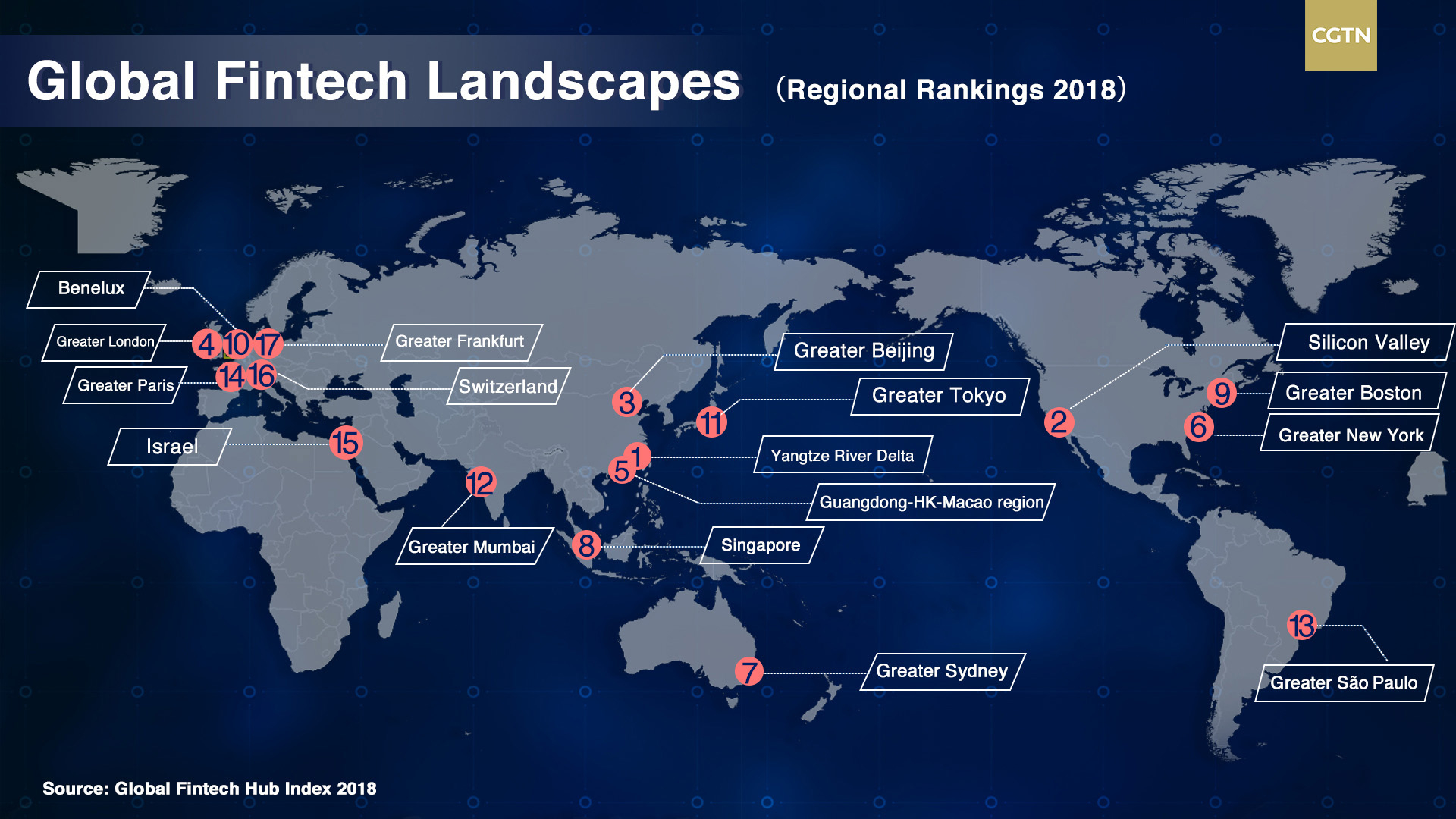 (Photo: CGTN)
China seems to be on its way to transcend other countries in Fintech development, as a new world order of Fintech has gradually come into shape, according to Global Fintech Hub Index (GFHI) 2018 released by Academy of Internet Finance (AIF) and Zhejiang University.
China leads global Fintech race
"China and India, and basically (the) US, are like clear leaders… Europe, it is generally kind of falling behind, but UK is actually doing pretty well," Ben Shenglin, the dean of AIF told CGTN about global Fintech landscapes.Ben stressed, "There are six world-class Fintech hubs… actually three of them from China - greater Beijing area, Yangtze River Delta region which includes Shanghai and Hangzhou and Guangdong-HK-Macao region which covers Shenzhen."
The four Chinese cities, Beijing, Shanghai, Hangzhou and Shenzhen rank in the top seven among other cities worldwide based on their extent of Fintech development. China's Hong Kong and Guangzhou rank top 15, while Wuhan, Nanjing, Chengdu and Xi'an rank top 25, GFHI showed.
Fintech boosts financial inclusion
"Consumers' demand, consumers' willingness to use, test and embrace the new Fintech things, is one of the key drivers, that's what China is good at…The formal banking system is generally not efficiently enough to cover the financial services needs of many consumers," Ben explained.
"Fintech is changing the financial services landscape greatly… For exampl, Alipay covers basically all your payment needs and also serves as channel for other services. That serves very well the purpose of so-called inclusive finance," Ben told CGTN.
"It covers a lot of people, and it can serve your needs at anytime from anywhere as long as you have smartphone. You don't necessarily have a bank account, and it costs almost zero in many ways… with Fintech, financial inclusion as a dream is getting closer to reality," Ben said.
China faces regulation challenges
"We have grown very well in third-party payment, not just Alipay but also WeChat. (This) has changed a lot in consumers' behavior, small business how they deal with business-to-consumer, business-to-business payment side," Ben spoke of China's advantages in Fintech.
"We have a lot of challenges as well… Other areas of Fintech in China (marketplace lending or peer-to-peer lending) they have been growing too fast at certain stage… the regulation and industry are going through a bit more normal feel of challenges," Ben mentioned to CGTN.
"At one point, there was no idea about how we should regulate them, but over last two years, there has been clear guidance from central government on how like marketplace lending and other Fintech sector should be regulated," he said.
"With clearer regulatory guidance and direction, many players probably feel that they didn't always have the core competence to stay in the business, many have chosen to stop business, but others probably have chosen to disappear without even telling others," Ben added.
"Given the size of the industry, which is probably having outstanding loans of about 1.3 trillion yuan and involves so many ordinary people, it's a little bit difficult for these platforms to meet the regulations," he explained.
"So that's why I think the Chinese regulator has decided to extend the period for regulation, for compliance for another one to two years, because they need more time to think about what's the best regulatory regime," Ben said.
Fintech supports 'Belt and Road'
As China on its way to transcend others in Fintech development, it sets a successful example for "Belt and Road" countries or regions whose formal financial sectors like banks are not providing enough financial services to cover the ordinary folks and small businesses.
"From China to Pakistan, India, Kenya, to some Central and Eastern European countries, they are all generally suffering from certain what we call financial exclusion. As I said, Fintech provided perfectly good solution," Ben told CGTN.
"China's success in this area has been replicated to other countries like India… and Alipay for example, is trying to replicate business across Pakistan, across Bangladesh, and many other Southeastern Asian countries," he said.
After China brings Fintech benefits to these "Belt and Road" markets with relatively backward financial services, they can in turn help China's development as they can offer Chinese investment and trade opportunities.
"First of all, Chinese investors can have global access about the investment opportunities. Chinese save a lot, we can only so far pretty much invest in housing market. Going into some developing countries, I think would provide unique diversification opportunities for us," Ben said.
"As these countries develop better, they will be able to expand their own connectivity, probably with China in terms of trade, and financial services. When these countries develop obviously, they will probably buy more Chinese services and goods," he continued.
"But more importantly, even in politically, as these regions are becoming better-off, they are connected with the rest of the world, not just with China, and the world will be a lot better with fewer problems," Ben stressed.