Podcast: Story in the Story (6/28/2018 Thu.)
People's Daily app
1530128479000 From the People's Daily app.
This is Story in the Story.
President Vladimir Putin recently said the Russia-China comprehensive strategic partnership of coordination is developing at the best level in history and the prospect is very good.
Putin's recent state visit to China and his attendance to the Shanghai Cooperation Organization (SCO) summit in the eastern Chinese seaside city of Qingdao was a great success and had fruitful results.
According to China's Ministry of Commerce, China-Russia trade increased nearly 30 percent year-on-year to $31.2 billion in the first four months of the year, while bilateral trade will possibly exceed $100 billion in 2018.
Companies of the two countries are jointly developing a wide-body long-haul airliner, producing liquefied natural gas at the Yamal project, and cooperating in nuclear power, aviation, infrastructure, digital economy and the Arctic shipping route.
On the cultural level, China and Russian have successfully held the "Year of Russia" in China, the "Year of China" in Russia, the "Year of Chinese Language" in Russia, and the "Year of Russian Language" in China, China-Russia Tourism Year and China-Russia Youth Friendly Exchange Year and other thematic activities in recently years.
Today's Story in Story will look at how China and Russia extend cooperation to nongovernmental levels, such as matchmaking, and how Intermarriage agencies are doing big business at the China-Russia border.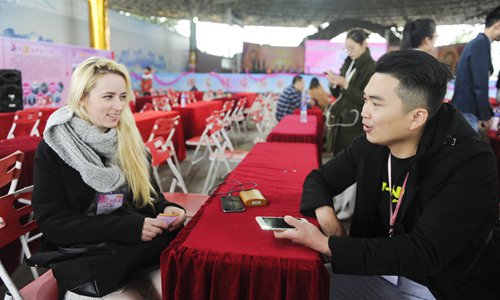 A Chinese man chats with a Russian woman at a blind date in Dongguan, Guangdong Province. (Photo: VCG)
Looking graceful in a ceremonial skirt and high heels, Russian women come down the stairs one by one to pose for Chinese single men.
The men, from relatively developed areas of China, traveled many hours to join this cross-border transnational blind date organized by a matchmaking service. Here they will meet up with Russian women whom they have previously chatted with online, usually assisted by a translator.
During the most recent trip organized by a Chinese dating agency in Vladivostok, a Russian city not far from Russia's borders with China, five of the 10 Chinese single men were matched successfully with a future spouse.
As China and Russia usher in a sub-national cooperation exchange, the two countries are also extending their cooperation to nongovernmental levels and deepening their friendship through facilitating the folk friendship. Intermarriage is now becoming part of it.
With Chinese ambassador to Russia Li Hui's public speech highlighting that China and Russia are stepping into a new era, more Chinese agencies are turning to the dating interests of Chinese men seeking attractive Russian women.
Baidu, the leading searching engine in China, shows various dating agencies that provide many opportunities for "Chinese single men" to find their "perfect transnational marriage," as read on the web advertisement.
Russia is now at China's doorstep. The Siberian Times reports that cities such as Blagoveshchensk, opposite the Chinese city of Heihe, Heilongjiang Province, have seen an upsurge in cross-border marriages.
Lin, the owner of a Chinese dating agency, upgraded his business to the level of national interest, asserting that his business "does not only benefit young singles of both countries, but also submits to the Belt and Road national strategy."
"There is no form of cultural exchange more powerful and effective than intermarriage," he pitched to the public.
"The historical bond and geographical proximity China has with this Eastern Euro country contributes to the market," Lin said.
(Produced by Nancy Yan Xu, Ryan Yaoran Yu, Terry Guanlin Li, Ziyi Zeng, and Raymond Mendoza. Music by: bensound.com)