China's top anti-terror squad intensifies training
Global Times
1511122515000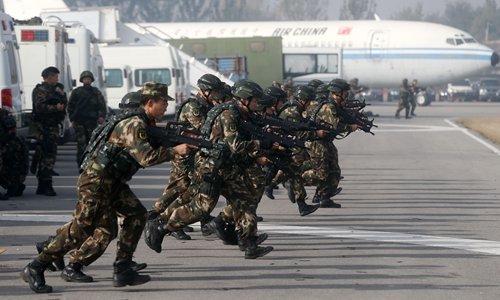 Commandos storm their target at a training ground in Changping district, Beijing.Photo: Cui Meng/GT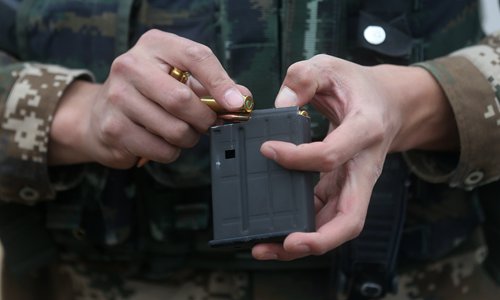 Bullets are loaded into a cartridge. Photo: Cui Meng/GT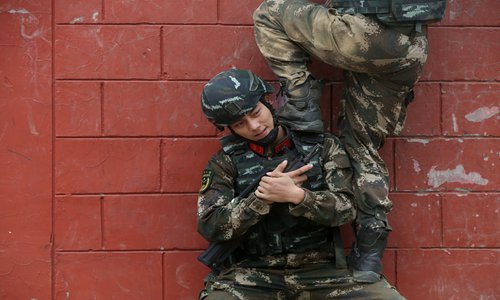 A commando uses his comrade to scale a wall. Photo: Cui Meng/GT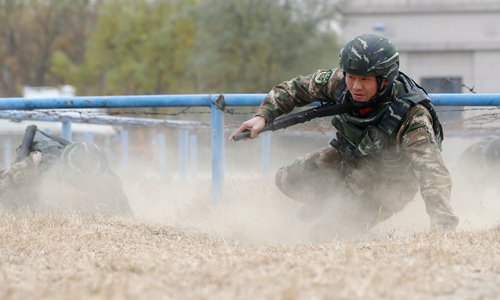 A sniper scurries into position. Photo: Cui Meng/GT


An officer shows how to properly stabilize a weapon. Photo: Cui Meng/GT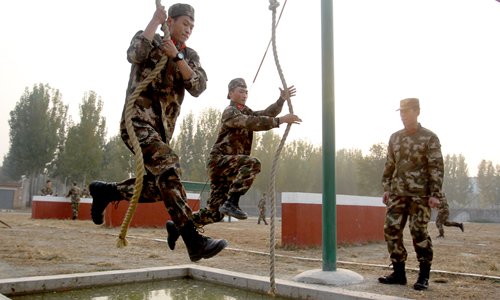 Soldiers swing over a pool on an obstacle course. Photo: Cui Meng/GT
China's Falcon Commando Unit is widely known as the preeminent counterterrorism team in the country.
The special operations brigade, under the Special Police Academy of the Chinese People's Armed Police Forces, was officially named "Falcon Commando Unit" in 2014 by Chinese President Xi Jinping, who is also chairman of the Communist Party of China Central Military Commission. Xi also presented the brigade with their own flag that year, according to Xinhua.
Xi said the Falcons are the top national anti-terror force, and called on the commando unit to forcefully fight terrorism, safeguard national security and maintain social stability, Xinhua reported.
Over the last three years, Falcon Commando Unit members have had to push their physical limits to safeguard national safety and fight crime in some of the most difficult environments.
Some 30 members of the team overcame extreme cold as they spent 47 days in the mountains and scaled peaks to seize terrorists, reported the China Youth Daily.
Meanwhile, the brigade also participated in international competitions. They have represented China's armed police three times in world-class competitions including Jordan's Warrior Competition and The Sniper World Cup in Hungary. They have won seven gold and five silver medals.
A team leader told the media their achievements are the result of harsh training they undergo every day. The soldiers train in extreme hot and cold and go without sleep for extended periods as they push their bodies to their limit.
The team has also hosted joint anti-terrorism drills with other countries. Experts in anti-terrorism from other countries including Israel, Hungary and Jordan have been invited to train the Falcon Commando Unit.