Planners envision innovation as key in science, technology development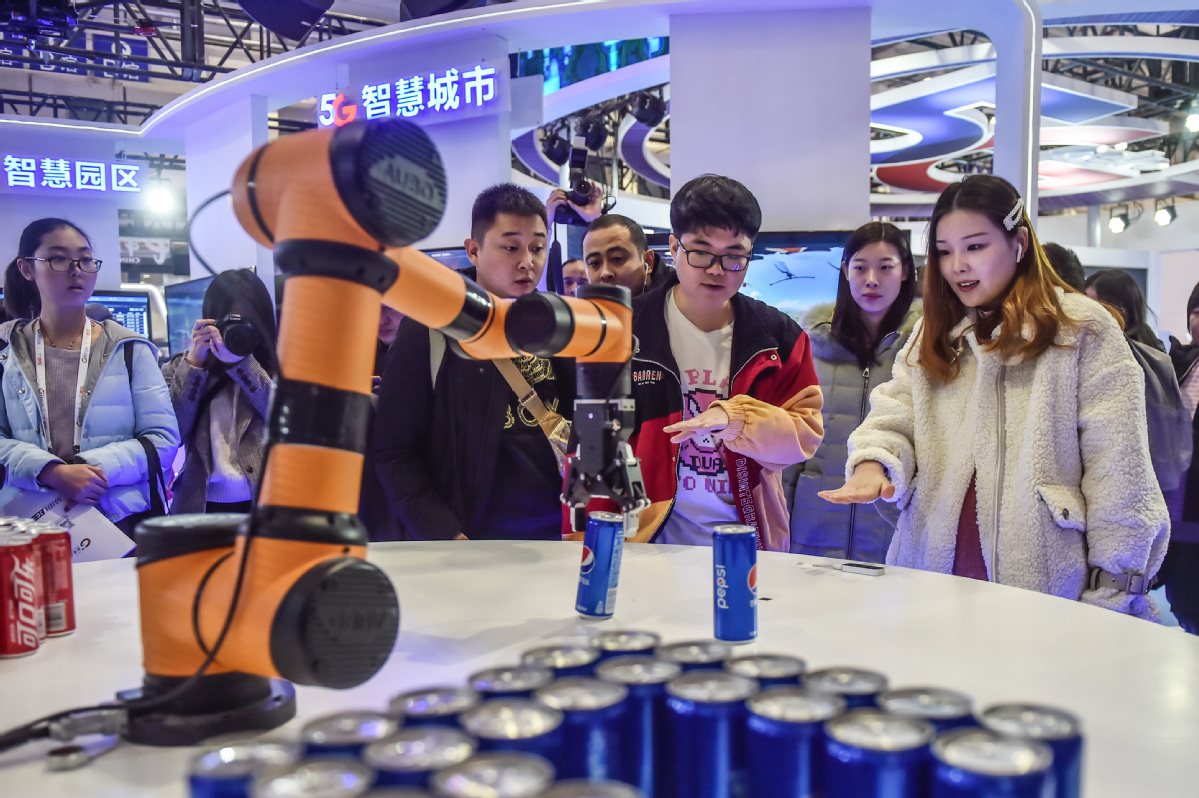 A woman tries to pick up a soft drink can by remotely controlling a mechanical arm during the 2019 World 5G Convention in Beijing. (Photo: Xinhua)
China will uphold the central role that innovation plays in modernizing the country and turn self-reliance in science and technology into a strategic pillar for national development, according to the communique of the Fifth Plenary Session of the 19th Central Committee of the Communist Party of China, which was released on Thursday.
China has entered the phase of pursuing high-quality development. While the nation enjoys many political, economic and social advantages, its current innovation capability is unable to satisfy the nation's need for quality growth, the communique said.
As a result, reform and innovation should be the fundamental driving force behind China's socioeconomic growth for the next five years. The nation should also see substantial improvement in its capacity for innovation in that time.
China's scientific community will focus on tackling the world's scientific frontiers, promoting high-quality economic growth, meeting the nation's major needs and safeguarding the lives and health of the people.
China will deepen its implementation of strategies such as building a prosperous nation through science and education, fostering capable talent to support a strong nation and driving development through innovation.
It will also optimize its system of innovation, accelerate the process of strengthening the nation via science and technology, enhance the nation's capabilities in strategic scientific and technological fields, improve the innovative capability of companies and unleash the full potential of its talent.
All these efforts will help China make major breakthroughs in core technologies in key areas, bolster the country's economic and technological strength and transform the nation into a global leader in innovation-a target among the long-range objectives for China to achieve by 2035.
The communique also said that in the coming five years, the nation will use science and technology to help modernize the military to make it an intelligent, automated and digitized fighting force. That will allow the Chinese military to better protect national sovereignty, security and development interests.
Wang Zhigang, minister of science and technology, said last week that China has seen steady growth in many major indicators for science, technology and innovation capability in the past five years. The nation will continue its progress toward becoming a global scientific and technological powerhouse, he added.
China's research and development spending reached 2.21 trillion yuan ($329.2 billion) last year, a significant increase from 1.42 trillion yuan in 2015, Wang said. Of the total R&D budget last year, 133.6 billion yuan was used for basic research, almost double that of 2015.
As a result, many frontier scientific fields, including quantum communication, materials science, computer science, biology and space and deep-sea exploration, have witnessed numerous breakthroughs by Chinese scientists, he said.