Chinese first lady visits girls' school in Rwanda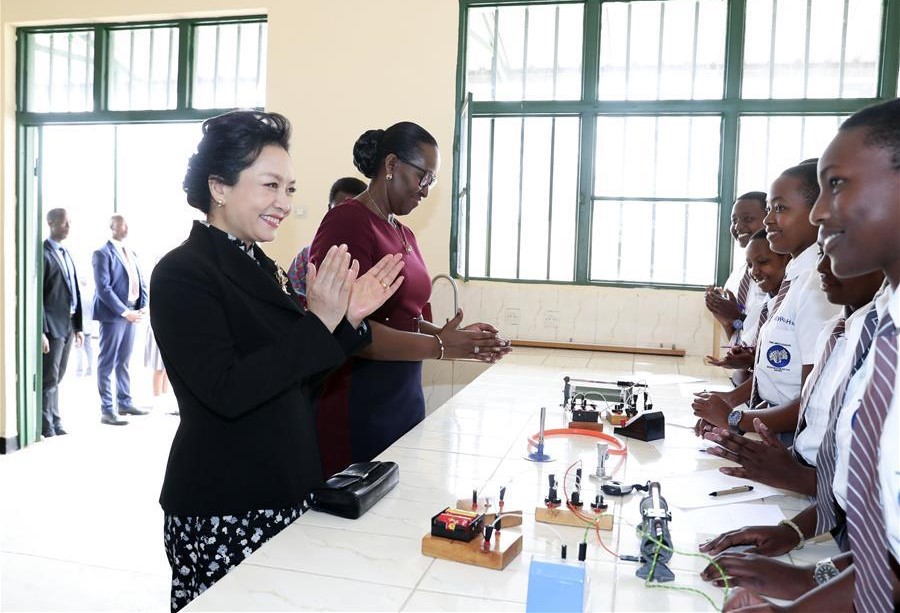 Peng Liyuan, wife of Chinese President Xi Jinping, accompanied by Jeannette Kagame, wife of Rwandan President Paul Kagame, visits the FAWE Girls' School in north Kigali, Rwanda, July 23, 2018. (Photo: Xinhua)
KIGALI, July 23 (Xinhua) -- Peng Liyuan, wife of Chinese President Xi Jinping, on Monday visited a girls' school in north Kigali and called for more educational exchanges between China and Rwanda.
Accompanied by Jeannette Kagame, wife of Rwandan President Paul Kagame, Peng arrived at the FAWE Girls' School and was warmly welcomed by Rwanda's education minister, the school's principal and other officials. Two students presented the two first ladies with flowers.
In a physics laboratory, Peng watched the students doing series and parallel circuit experiments. Then at a geography class, she was impressed by the students' good knowledge of China's geography and national conditions, and encouraged them to increase their understanding of China.
When entering the school's auditorium, the Chinese guest of honor received a standing ovation from all the hundreds of students present. With a keen interest, she watched students present a chorus of the school song, sing the household Chinese folk song of Jasmine Flower in Chinese, and perform traditional dances. The two first ladies also had a group photo with the performers.
Student representatives presented Peng with a handicraft as a gift, and she donated a batch of education supplies to the school.
Education is the basis for a country's development and the people's happiness, Peng said, adding that as both a wife and a mother, she sincerely hopes that all the children, especially girls, can get good education and enjoy equal rights.
She expressed her hope that China and Rwanda will strengthen exchanges and cooperation in education and nurture more contributors to consolidating their friendship.
The FAWE Girls' School is named after the Forum for African Women Educationalists (FAWE). The boarding school enrolls its students mainly from middle- and low-income families, and stands as one of the best girls' schools in Rwanda in terms of teaching standard and student performance.
Peng is in Rwanda accompanying Xi for a state visit, the first to the African country by a Chinese head of state.