Woman in wheelchair fights for a barrier-free Lhasa
Lantian and her friends have seen her fame grow ever since the film Seventy-Seven Days was released in 2017. The film, reputed to be China's first 3D polar exploration film, was based on Lantian's true experience. She was portrayed in the film by well-known actress Jiang Yiyan.
Many have come to visit her family hostel in Lhasa called Lantian's home. She gave it the English name "Sweet Home".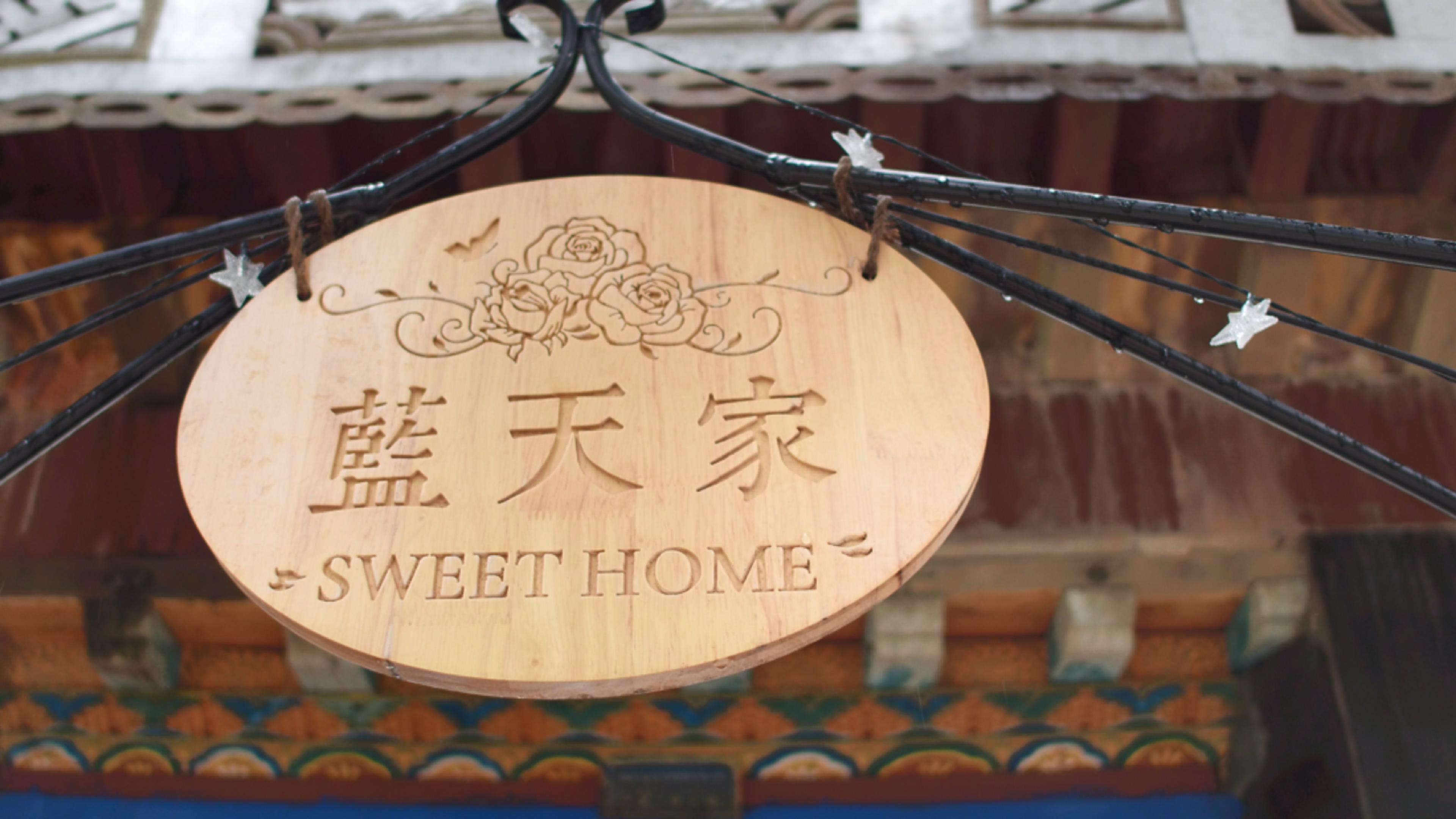 Lantian's family hostel in Lhasa. (Photo: China Plus/Wang Lei)
The majority of the visitors have come to get to know her, and to pay respect for her courage and perseverance.
Lantian graduated from China Central Academy of Fine Arts in 2000 and became an advertising photographer in Beijing. She had a passion for outdoor activities and would climb mountains around Beijing every weekend. However during a tour to Medog County, Tibet, she suffered a spinal cord injury and was paralyzed from the waist down. She has been confined to a wheelchair since then.
Lantian was hospitalized in Shenzhen for three months. As her situation was beginning to dawn on her, she decided to take her destiny in her own hands and learn to take care of herself as quickly as possible. She learned to use a wheelchair, bid goodbye to her family in Shenzhen and came back to Tibet. Having sold all her expensive photography equipment, Lantian opened her Sweet Home in Lhasa in 2009 with help from her friends.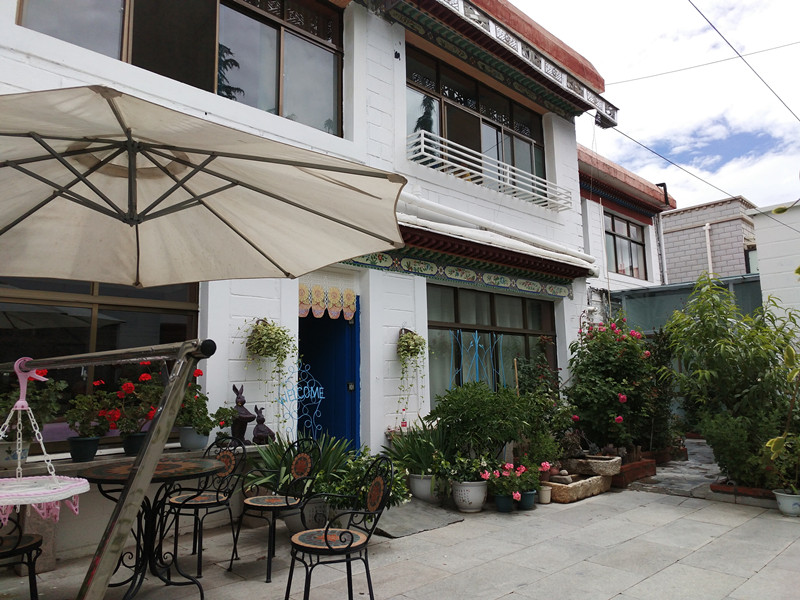 Lantian's two-storey Sweet Home in Lhasa (Photo: China Plus/Wang Lei)
Lantian says that the most disheartening issue at the start of her new life was not to face the fact that she was disabled, but that young disabled people like her are forced to stay home due to a lack of truly barrier-free facilities. "There are a lot of barrier-free facilities in big cities like Beijing, Shanghai, Shenzhen and Hong Kong. But if you go and try them yourself, you will find the design of the slope, the turning of the road or the position of the elevator are far from convenient," she says.
Lantian thus turned her Sweet Home into a place that would increase people's awareness about barrier-free facilities. "I have asked my guests to sit on a wheelchair and feel what it's like being a disabled person. Many failed to even go from the dining hall to the courtyard as there is a gap to cross. The trick is to tilt your wheelchair a bit, but not too much in case you fall backward."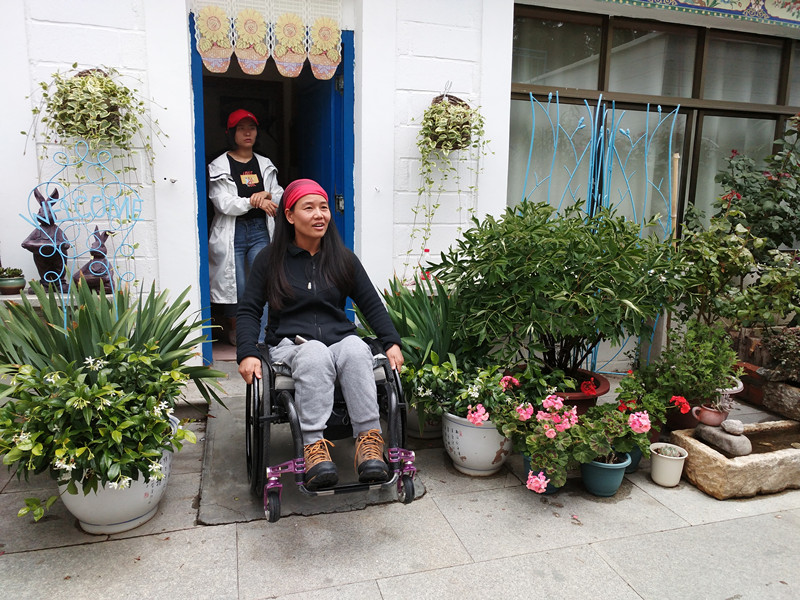 Lantian shows her guests the tricks of driving wheelchairs to educate them on the need for barrier-free facilities on July 19, 2018. (Photo: China Plus/Wang Lei)
Many of Lantian's guests are now much more aware of the needs of disabled people. When she was invited to give speeches to the public, she also invited the audience to sit on a wheelchair to feel what true barrier-free facilities should be like. She hopes through these efforts, more people can become aware of the needs of disabled people. And she says with joint effort, a real Sweet Home can be built for everyone, disabled and non-disabled.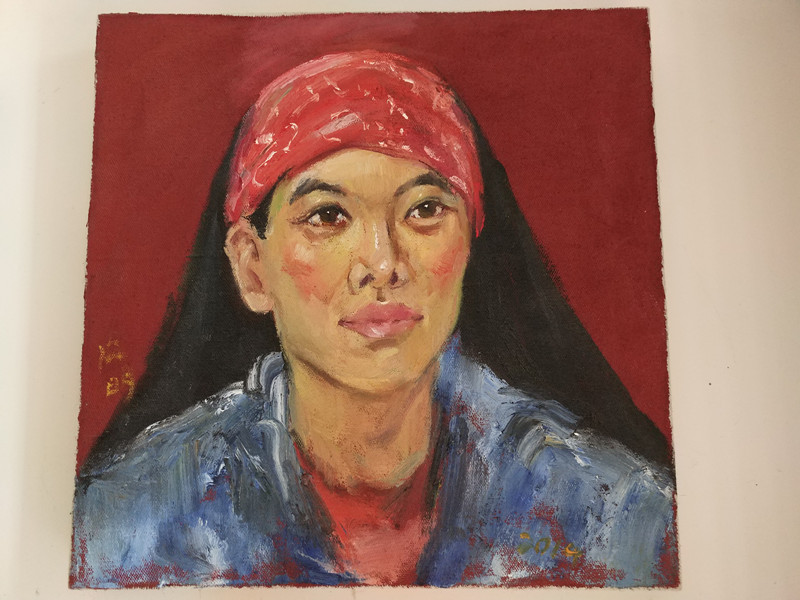 A Portrait of Lantian by a friend from China Central Academy of Fine Arts. (Photo: China Plus/Wang Lei)