Far-reaching measures to foster green production, lifestyles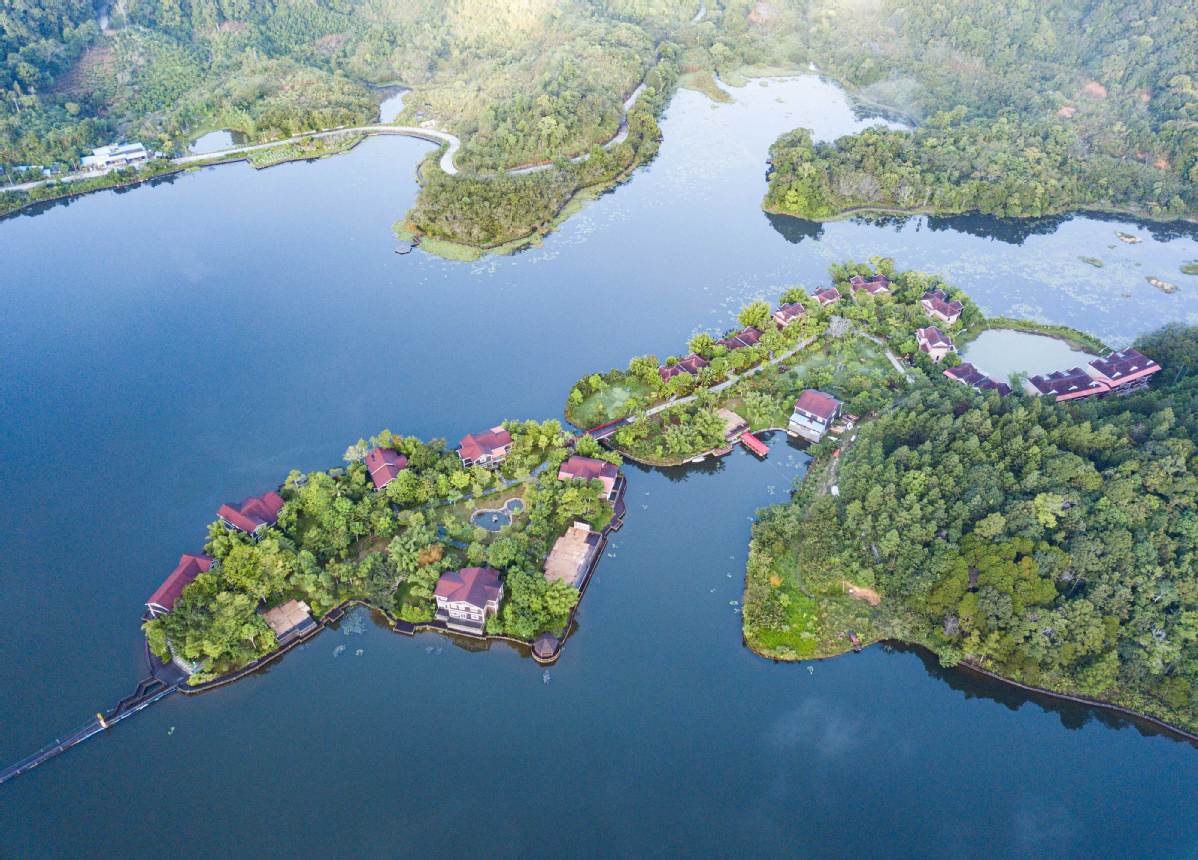 Buildings are surrounded by trees in the Hainan Tropical Forest National Park, Hainan province. (Photo: Xinhua)
China will endeavor to promote a wide-ranging transformation of production and people's lifestyles to ensure a fundamental improvement in environmental quality by 2035, according to the communique of the Fifth Plenary Session of the 19th Central Committee of the Communist Party of China on Thursday.
While recognizing a marked environmental improvement in the past five years, the communique also raised a series of new targets with regard to environmental protection.
The country will strive to make new progress in its efforts to promote the construction of "ecological civilization", a concept for balanced and sustainable development-promoted by President Xi Jinping-during the 14th Five-Year Plan (2021-25) period, it said.
The country is also expected to see continuous improvements during the period as it optimizes the use of the nation's land resources, seeks marked achievements in the transition to greener production and lifestyles, sharply increases efficiency in energy and resource consumption and achieves a sustained reduction in discharges of major pollutants, it said.
It also sets long-range environmental objectives to help basically achieve socialist modernization.
Measures will be taken to promote green production and green lifestyles throughout all areas of society by 2035. Carbon emissions will steadily decline after reaching a peak, it said.
China aims to see its carbon dioxide emissions peak before 2030 and achieve carbon neutrality-net zero carbon emissions-before 2060, Xi announced on Sept 22 while addressing the general debate of the 75th session of the United Nations General Assembly via video.
The communique also said there will be a fundamental improvement in the environment, with the goal of building a Beautiful China basically reached by 2035.
The Beautiful China initiative is a concept that emerged during the 18th CPC National Congress in 2012. It was stressed by President Xi when he addressed the 19th CPC National Congress in October 2017. "We must continue the Beautiful China initiative to create good working and living environments for our people," he said.
The communique said the country will forge ahead in promoting green development and harmonious coexistence between man and nature.
Adhering to the philosophy that lucid waters and lush mountains are invaluable assets, the country will respect and protect nature while giving high priority to conserving resources, protecting the environment and allowing nature to restore itself, it said.
It also said the country will endeavor to improve relevant coordination mechanisms to establish a sound institutional system for ecological civilization. The country will also accelerate green and low-carbon development.