Deputy recalls role in COVID-19 fight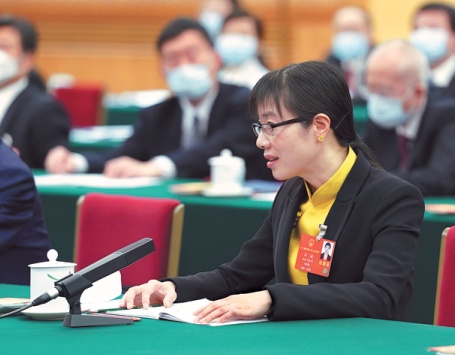 Yu Cheng speaks at a panel discussion on May 24, during the annual meeting of the National People's Congress. (Photo: Xinhua)
On Feb 15, Yu Cheng, a National People's Congress deputy from Hubei province, joined a team of volunteers at Aijia International community in Wuhan to help contain the spread of the novel coronavirus.
Early in the battle against COVID-19, community transmission of the virus was a major cause of confirmed cases soaring in Wuhan, Hubei's capital, which was hit hard by the pandemic.
"By the end of January, COVID-19 patients had to travel back and forth from their communities to the hospitals for treatment due to the severe shortage of medical resources, which caused the virus to spread within communities," said Yu, who is a teacher at a vocational high school in Wuhan. "We were deeply worried and even scared."
To contain the spread of the virus within communities, Wuhan imposed strict epidemic control measures in residential areas, including minimizing people's movements.
That resulted in community workers and volunteers having to take on the dual responsibilities of epidemic control and taking care of residents.
"My role was constantly changing from verifying people's health conditions and meeting their medical needs, to placing shopping orders for the residents and being a delivery woman," Yu said.
Taking care of elderly residents whose children were kept away because of the control measures was the focus of the volunteers, she said. "We took groceries to their doorsteps and let them know they could count on us," Yu said.
She said that during his visit to Hubei on March 10, President Xi Jinping said Wuhan people liked to eat fresh fish so authorities should provide them to residents who had helped control the outbreak by staying at home.
"Within a week, fresh fish were sent to the community, which cheered up all the residents," Yu said.
During her service, Yu also witnessed changes to the epidemic control measures in the city.
A workmate and three of their family members were all infected. At first, they couldn't be hospitalized because there were not enough hospital beds.
The four were eventually treated at one of the makeshift hospitals set up in Wuhan to address the shortage of hospital beds.
When the condition of her colleague's son-in-law deteriorated at the makeshift hospital, he was immediately transferred to the intensive care unit of a hospital designated to treat COVID-19 patients.
With the help of medical teams sent from all over China to Wuhan, all of the family members fully recovered, Yu said.
Before she visited Beijing for the annual NPC session in May, residents and community volunteers asked Yu to express the appreciation of Wuhan people for the help from the central government and the Chinese people.
During a panel discussion joined by Xi, she bowed and said, "Wuhan and Hubei people will always be grateful for the assistance and love sent from all Chinese people during the tough time."