Thailand approves EIA for China-designed high-speed rail
Global Times
1512503750000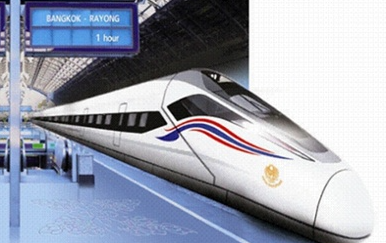 Thailand has approved the environmental impact assessment (EIA) of the Thailand-China railway, which experts said Tuesday will be crucial in linking China with ASEAN member states.
The environmental assessment for the high-speed project, linking Bangkok and the northeastern province of Nakhon Ratchasima, was finally approved by Thailand, the Xinhua News Agency reported Tuesday.
The first phase of the high-speed project is set to cost some 179 billion baht ($5.4 billion) and will be Thailand's first high-speed railway.
Construction will begin on December 21, Thai Transport Minister Arkhom Termpittayapaisith said.
The passing of the EIA means that the last legal barrier for the project has been removed, Huang Bin, head of the Chinese Department at the Bangkok-based Kasikorn Research Center, told the Global Times on Tuesday.
"There was a lot of skepticism about the project before the EIA was eventually approved. But the project needs to be applauded as it will lead to more China-Thailand trade and investment," Zhuang Guotu, head of Xiamen University's Southeast Asian Studies Center, told the Global Times on Tuesday.
The trans-national rail line is right on the hub of the communications network in Southeast Asia, and it will pioneer China's interconnectivity with other nations in the region, Zhuang said.
The EIA approval has rebuffed the previous exaggerations from many non-governmental organizations - which are usually backed by Western forces - that claimed the railway will have negative impacts, Zhuang added.
"Infrastructure projects in Thailand typically need a long time to come to fruition. For example, [Bangkok's] Suvarnabhumi Airport took 30 years from the initial proposal to actually start construction. But construction, when it gets started, moves quite fast," Huang said.
The Chinese side is expected to present detailed designs by the end of this year, and the Thai side will invite tenders for 14 parts of the project in the first quarter of next year. So by next June, work should be going on without interruption, Huang said.
The Thai transport ministry will start by building the first 3.5-kilometer section, while construction of the remaining 249 kilometers will start gradually after being put out to tender next year, Arkhom told Xinhua in early November.
Thailand and China have already begun negotiations on the second phase of the project, which will link Nakhon Ratchasima with Nong Khai on the Thai-Lao border, according to Arkhom.
The project is intended to connect with the China-Lao railway to form an artery railway from Kunming in Southwest China's Yunnan Province to Bangkok.