Chinese urban planners are helping small African cities transition into major metropolises
Global Times
1510863825000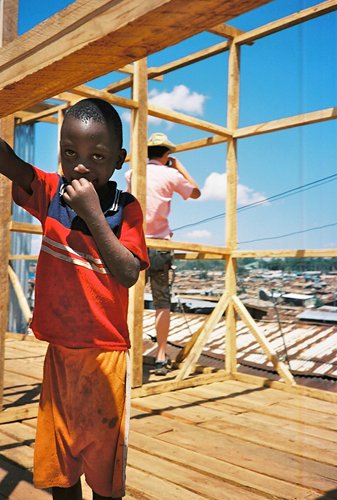 An African child plays at a construction site for a new school in a slum in Kenya. Photo: Courtesy of Huang Zhengli
When city planner Zheng Qingzhi first set foot in Nampula, the third largest city in Mozambique, Africa, he was astonished to find how "primitive" the city was, where the highest buildings were little more than six stories.
This astonishment grew into excitement, however, as he soon realized the possibility of transforming the small city into a modern metropolis together with his team from Guangzhou Urban Planning & Design Survey Research Institute (GZPI), based in South China's Guangdong Province.
"China's rapid urbanization has strong reference significance for African cities. In our design, we care more about actionability and practicability," Zheng told the Global Times.
In Zheng's eyes, Nampula has the potential of becoming the equivalent of a first-tier Chinese city like Guangzhou. "We set clear economic development goals for the city. The planning of its roads and its network and ecological infrastructure is all based around this goal," he said.
China underwent a similar drastic urbanization process three decades ago after hundreds of millions of citizens began migrating from rural areas into larger cities. In Africa, about one-third of the continent's population now live in urban areas. Over the next 15 years, this figure is expected to rise to at least half of Africa's entire population, according to UN Habitat.
The CZPI isn't alone in exporting Chinese urbanism to Africa. With increasing economic exchange between China and African countries, more Chinese investors, workers and organizations are jumping on the trend, which is expected to bring many positive changes to the distant continent.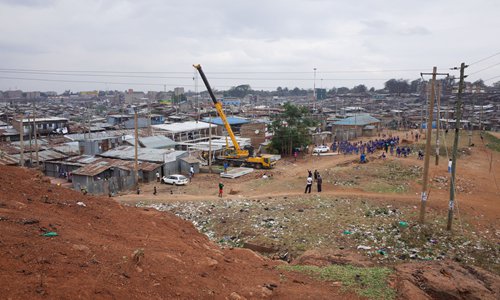 An overview of the construction site in a slum in Kenya Photo: Courtesy of Huang Zhengli
Heralding urban changes
According to CZPI, it has established a partnership with United Nations to help rural cities in Africa solve their urban development problems. In 2016, GZPI signed an official cooperation memorandum with the UN on strategic designs for two major cities in Mozambique: Nampula and Nacala.
Zheng said their designs focus on four questions: Where are we now? Where are we going? How to get there? And how to implement?
However, one of the most difficult parts of Mozambique's city planning, according to Zheng, is the country's weak economic base.
Eighty percent of Nampula residents live in slums; the local government simply cannot afford large-scale construction projects. Developers have also been unable to change the functions of the city's old land into construction-suitable sites. Most parts of the impoverished city lack sewage, electricity and gas systems.
Zheng and his team must make use of the region's natural topography and natural resources. Sewage, for example, will have to rely on the land's natural slope. "We have to work with limited land, which is a hard task and consumes more efforts. Take the road design as an example, we modified more than 20 copies," he said.
Luckily, the team's efforts paid off by using China's special economic zones as a construction reference. By planning Nacala as an "economic corridor," it successfully built supporting city facilities and also helped locals stipulate preferential policies that would attract investment.
Huang Zhengli, a post-doctorate researcher at Sheffield University who once participated in building a new school in a slum in Kenya, told the Global Times that design and planning are just one part of the overall project. Even bigger difficulties occur during the implementation stage.
"There you will find many experiences you've learned in China are of no use," she said. Despite support from the government (for Huang's project), the more essential thing that would guarantee the smooth construction of the school was to obtain the approval of influential people living within the slums themselves.
She personally participated in a meeting to make presentations about the project to representatives of the community, together with other Westerners who also presented their projects. For most of the meeting, however, she recalled the locals were rather unmoved.
"Whether you are Chinese or a Westerner, and regardless of the charitable characteristics of your project, you'll still be met with suspicion from the locals," she said.
Huang eventually learned that it is far more effective and expedient to seek out local resources and influencers. "You'd better find a local as an agent," she suggested, "and let them do all the talking."
At one point Huang decided not to listen to the advice of the principal of the school, who serves as her agent, to negotiate electrical wiring with a group of local workers. She later found out that the workers charged her a much higher fee. "This is still one of the more regrettable things for me," she said.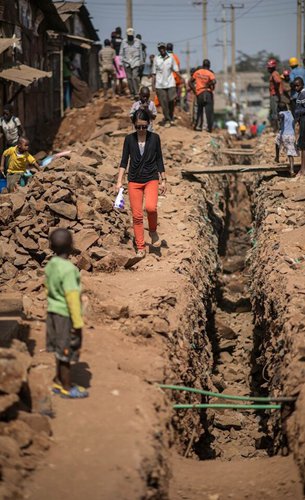 Huang Zhengli walks down a dirt road in a slum in Kenya. Photo: Courtesy of Qi Lin
Exporting China mode

Li Kaimeng, a city planner from GZPI, told the Global Times that there are key differences in the understanding of poverty between Chinese and Western city planners.
"Many Western planners think poverty is the major obstacle in the development of African cities, but we Chinese planners tend to see poverty as just a periodical problem," he said.
"We believe that, with new industries and investment, poverty will gradually be alleviated. Also, we think that if we want our Chinese ideas to take root in Africa, the most important thing is to satisfy (the locals') hope for a better life," he said, adding that this is the fundamental concept of GZPI's planning of African cities.
While people in Mozambique are mostly poor, they nonetheless appeared to be quite happy, which reminded Li of the beginning phase of China's reform and opening up in the 1980s.
In an interview with Urban China magazine, Peter Soita Shitanda, the former minister of housing for Kenya, said that compared with most other countries, China boasts more useful experiences in urban development for African countries to learn from.
But he noted that it is impossible for Kenya to simply "copy" the Chinese mode. He attributed China's rapid development to the Chinese government's strong enforcement ability of long-term planning.
A key hurdle in Africa is that most African countries hold regular multi-party elections, making long-term policy planning difficult, Shitanda told the Urban China.
Huang, who currently researches on African cities, added that the Chinese government's strong control of land use is inspirational to African countries.
She also noted that as there are over 40 countries in the African continent; different countries have different systems, which means that Chinese lessons should be applied differently depending on the country.
In Ethiopia, a certain class in the country has more control over the land. But in most African countries, land is privately owned, she said.
According to Huang, one Chinese company in Africa found some trouble after a local government refused to offer help when some natives disrupted the project by claiming the land was owned by them. In order to proceed, the company had to pay out a large sum of cash. "These are lessons for us. We need to know the differences first," she said.
Welcomed by Africans
Huang emphasized that it is immensely meaningful to see more Chinese designers devoted to Africa's urban planning. "China has benefited a lot from globalization and Chinese city designers have learned a lot from communication with the outside world, which helped our development."
"Now, those African countries can also learn useful things from Chinese designers and city planners and use them in their own development," Huang said.
According to Huang, she has never met a hostile African who didn't welcome Chinese people. "Chinese people are welcomed by African people. It's the Western media that hold hostile attitudes and have published many articles accusing China of colonizing Africa, which is against the truth," she said.
Compared with the West, China still lags behind in investment in Africa. And in most city construction projects, Western companies are making big money as investors and shareholders, according to Huang, while Chinese companies are relegated to subcontractors.
But as more communication between China and Africa is expected now that China has become the biggest trade partner with Africa, the tides are sure to soon turn.
"Compared with China, the African continent now has more opportunities for China's city planners and builders to explore. And the government is also encouraging more Chinese companies to join the trend of developing Africa," Huang said.