Economic potential abounds
Global Times
1513981929000
Consumption, technology growing forces but challenges still lie ahead
Editor's Note: As socialism with Chinese characteristics has entered a new era, the Chinese economy is expected to be rebranded as an innovative and well-balanced powerhouse that fills its people with pride in domestically developed products and solutions. This is certainly a reimagining of the economy that has over the past year made impressive progress on multiple fronts including consumption and technology, but that has yet to serve as an example of quality growth.
With a focus on high-quality growth reverberating throughout the just-concluded annual tone-setting Central Economic Work Conference, which called for efforts to develop the economy with "Xi Jinping Thought on Socialist Economy with Chinese Characteristics for a New Era," more inspiring institutional and policy reforms are in the offing.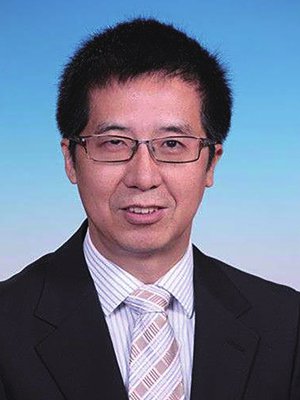 Photo: Photo: Global Times/Courtesy of Fu Guoqun
The rise of household consumption
Fu Guoqun, professor with the Guanghua School of Management of Peking University
As more and more people are willing to pay for high-quality products and services, China's household consumption has been undergoing an overall upgrade, which will provide the main momentum for the growth of consumer spending in the country.
Figures from the National Bureau of Statistics show that in the first 11 months of 2017, retail sales rose 10.3 percent year-on-year. In particular, spending on education, tourism and information has seen a rapid increase over the past year.
While consumption is said to have the potential to become a new engine to drive the Chinese economy, there are still challenges. First of all, it is only on the basis of income growth that consumption can see a further increase, and income distribution should also be more balanced so that the poor can have the higher disposable incomes needed for consumption.
The challenge may also lie on the supply side. It is true that there are abundant consumption goods available in the market, but some high-quality goods and services are still in short supply. And with the ongoing consumption upgrade, consumers' demand for high-quality goods and services will continue to grow, which means that an upgrade on the supply side is also essential to further drive China's consumption growth.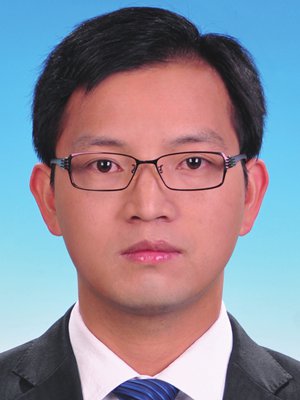 Photo: Global Times/Courtesy of Xiong Yuan
Financial opening a key priority over coming years
Xiong Yuan, research fellow at the International Monetary Institute of Renmin University of China
As global economic and financial integration increases, China has made substantial headway in opening its financial sector. First, the yuan exchange rate reform has moved ahead steadily with the currency becoming increasingly internationalized. Second, the country has announced it will relax foreign ownership curbs in its financial sector to be better aligned with the international market.
These are surely gratifying achievements, but there are still shortcomings and challenges that deserve attention. First, the way the yuan's central parity rate is set still faces lots of constraints and is still highly dependent on the US dollar. This along with relatively strict capital controls in certain core areas results in concerns that the foreign exchange rate market has yet to be effectively cleared. Second, the country's financial institutions are still weak in terms of global competitiveness. For example, the big four State-owned banks are ranked among the top five globally, but merely on the basis of size of assets. Third, the country has limited influence in the global financial system, as shown by the strong clout of the US and European countries in global markets ranging from stocks and bonds to financial derivatives, stock index futures and foreign exchange transactions. Fourth, China is currently facing severe financial risks, such as high leverage ratios, the tendency of finance to favor virtual sectors rather than the real economy, an overheating property market, local government debt, shadow banking and exchange rate risks. It is therefore foreseeable that the basic tone for the country's various financial policies will be set toward strengthening oversight, preventing risks, curbing bubbles and cutting leverage.
The country is now going through a pivotal period of reform deepening and structural transitioning, which requires a stable financial environment. Therefore, it will certainly be a big test for the policymakers to push further financial opening while ensuring that domestic financial markets remain stable.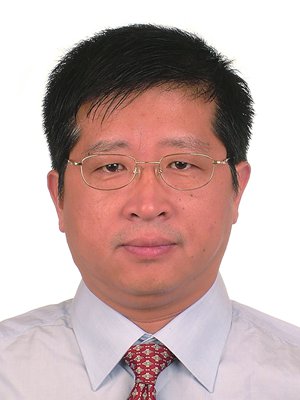 Photo: Photo: Global Times/Courtesy of Jia Xiangsheng


Cool-headed attitude needed toward tech progress
Jia Xiangsheng, chairman of Beijing-based robotics firm Robot4U Technology Co
Increasingly China has been lauded as a technology power and a global leader in innovation, following the government's push for indigenous innovation, especially in the areas of robotics and artificial intelligence (AI).
This has led to the growing global clout of not only Chinese technology behemoths such as Baidu, Alibaba, Tencent and Huawei, but a number of tech startups that are innovative yet viable, jointly conceiving a smart future powered by Chinese technologies and solutions.
Nevertheless, an increased sense of pride among the Chinese people in homegrown technologies shouldn't mask concerns over the country's technology sector. Some of the concerns are particularly noteworthy.
While China has already become the world's largest market for industrial robots, its market for service robots has yet to see explosive growth, an indication that efforts are needed to drive the integration of robotics into our daily lives. This doesn't suggest any rash foray into the market for in-home robots that can act as personal assistants, who help with meals or elderly care, as a commercially viable household robot product is not easy to make. It is advisable that companies that have proven prowess in the business-to-business marketplace for service robots should go one step further, exploring opportunities in the business-to-consumer market.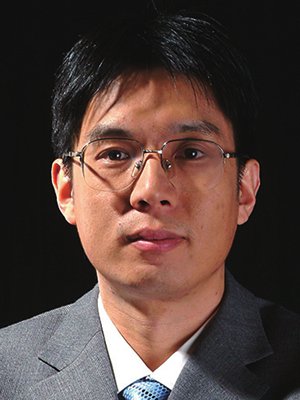 Photo: Photo: Global Times/Courtesy of Fang Xingdong
Dynamics of Internet economy
Fang Xingdong, dean of the International Internet Institute, Shantou University, Guangdong
China has become more and more energetic in the Internet field in 2017. One of the biggest developments in the Chinese Internet was that the Cybersecurity Law went into effect formally. This is the basic law of cyberspace, and it is also the first time the country has set a basic regulatory framework for cyberspace, defining the rights and boundaries of all parties. Therefore, the significance of this law can be by no means underestimated.
Internet finance has also been eye-catching. A number of Internet finance firms have already gone public but the sector has plenty more dramatic progress still in front of it. China's Internet finance may see real industrial prosperity and establish a new financial order after giants in the field, like Ant Financial, JD Finance and Lufax, get listed.
Innovative development and security governance are the two sides of the Internet and cyberspace, both of which are indispensable. In contrast to the previous emphasis on safety and governance, the digital economy rounded by innovation and development will be the top priority for China both internally and externally. This strategic choice is more in line with our current situation and long-term interests.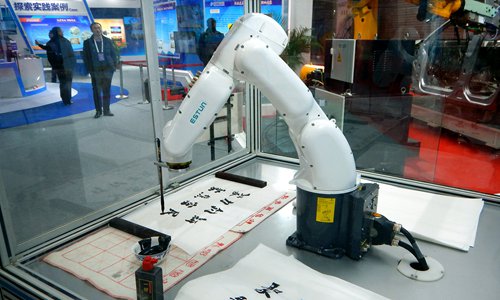 A robot demo at the 2017 World Intelligent Manufacturing Conference held in Nanjing, capital of East China's Jiangsu Province earlier in December Photo: Photo: Global Times/VCG