China-EU tourism cooperation receives boost, official says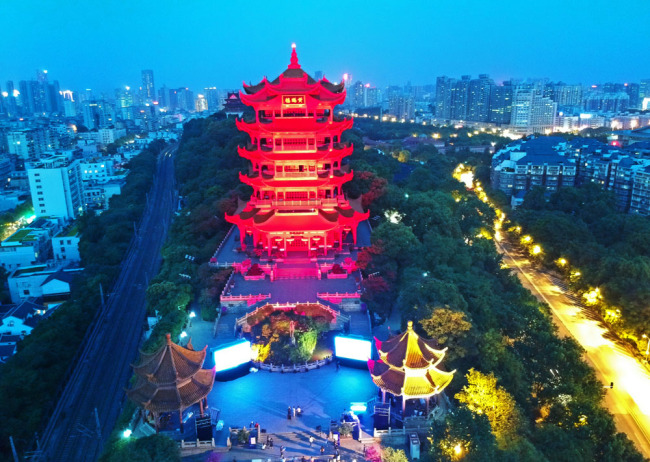 The Yellow Crane Tower is lit up at night to cheer for the inauguration of China-EU Light Bridge activity of 2018 EU-China Tourism Year in Wuhan city, central China's Hubei province, May 9, 2018. (Photo: IC)
China-European Union (EU) relations in tourism get a boost as the 2018 EU-China Tourism Year has scored a success, an official recently said.
During the tourism year, China and the EU held more than 100 promotional activities. It "has been extremely successful," said Eduardo Santander, executive director of the European Travel Commission (ETC).

There was a 5.1-percent year-on-year increase in Chinese arrivals in EU destinations in 2018, and among the top ones in terms of the volume of Chinese arrivals were Britain, Germany and France, according to the latest figures from the ETC and the air travel analysis agency ForwardKeys.
"We continue to see the benefits in 2019," Santander added. "The growth in Chinese travellers has been solid, and the near future, judging by current bookings, will see the EU continuing to increase its share of this valuable market, not just to traditional destinations, but lesser-known and emerging ones as well."
Chinese bookings to the EU for the first four months of 2019 are 16.9 percent ahead of where they were at the end of 2017, said the ETC, adding that this compares very favorably to the global trend, which is 9.3 percent ahead.
According to a recent report by China Tourism Academy and China's online travel agency Ctrip, 70 percent of Chinese tourists in 2018 chose "package tours" when traveling in Europe, due to language, visa, culture and other factors.
Nevertheless, the proportion of independent and customized travel continues to rise. In 2018, the demand for customized European tours booked by the travel website increased by 127 percent over the past year, far higher than the growth rate of the overall market, said the report.
In addition, a number of new routes were launched between China and Europe in 2018, including direct flights from Fuzhou to Moscow, Changsha to London, Jinan to Paris, and Shenzhen to Brussels. In 2018, there were more than 600 flights a week between China and Europe, according to the report.
Ctrip in 2018 forecast that consumption of each tourist in Europe will exceed 25,000 yuan (about 3,721 US dollars) in two years, with the total annual consumption to reach 150 billion yuan (about 22.3 billion dollars).
"Our findings confirm what a concerted effort to boost tourism can achieve. It also appears to have lasting effects, as we can see in the forward booking figures," said Olivier Jager, CEO of ForwardKeys.
China's domestic travel agencies are also deepening the cooperation with Europe. For example, the SkyScanner, Ctrip's online travel search platform, set up its first overseas calling service center in Edinburgh in April 2018.