Experts, scholars debate world's pressing issues ranging from N.Korea to China-India ties
Global Times
1513621562000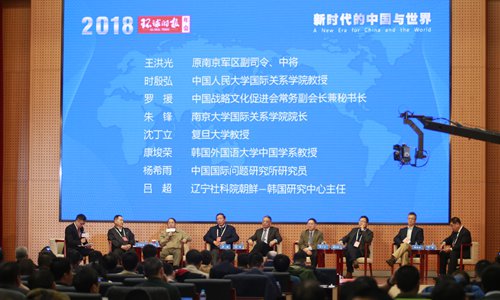 Experts attend the Global Times Annual Conference in Beijjing on Saturday. Photos: Li Hao/GT
Will war break out on the Korean Peninsula?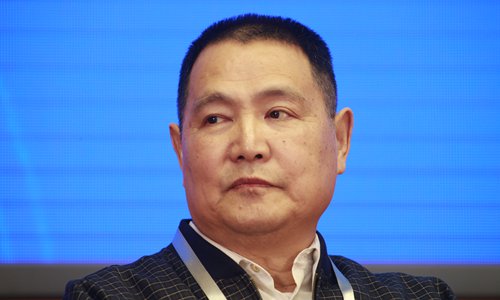 Wang Hongguang, former deputy commander of the Nanjing Military Region
A military conflict on the Korean Peninsula could start at any moment between now and March, 2018. Whether another Korean war breaks out is in the hands of the US. If the US doesn't want to wage a war, then war won't happen.
The US is responsible for anything that happens as it tore up the denuclearization agreement with North Korea, which has lost all trust in the US. China should be psychologically prepared for a possible war.
Any military mobilization that occurs in the Northeast region of China should be defensive in nature, not offensive.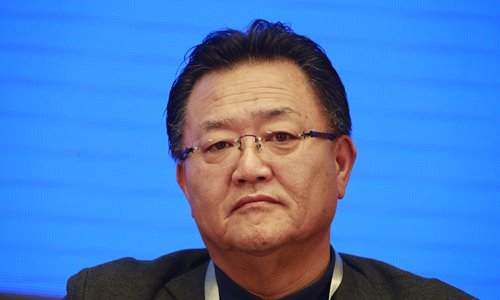 Kang Jun-young, professor at South Korea's Hankuk University of Foreign Studies
The possibility of a military conflict on the Korean Peninsula isn't high. War raged in Korea from 1950 to 1953, causing tremendous loss of life.
We (South Korea) have fought for more than seven decades to achieve what we have today. We don't want war. We need to find a solution to the North Korean nuclear issue that each party can accept.
South Korea and other involved countries should avoid war and South Korea should not attack first. While tensions on the Korean Peninsula are more intense than ever before, looking at the overall situation, a military conflict isn't likely to happen.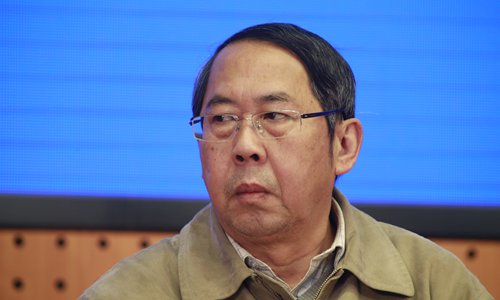 Shi Yinhong, director of the Center for American Studies at Renmin University of China
The likelihood that war will break out on the Korean Peninsula is higher than ever before. Encouraged by the advancement of North Korean nuclear technology, the North Korean regime hopes to take a last stand for the right to possess nuclear weapons. Additionally, since Pyongyang has received repeated military threats from (US President) Donald Trump and the US' allies, North Korea is likely thinking that the sooner it can complete its nuclear weapons program the better, since it will be able to scare off those who threaten to launch a military strike.
The situation is very pressing. The keys to unlocking peace are in the hands of the US and North Korea. But at the same time, as long as China and Russia stand opposed to war, they will be a very important peace-keeping force.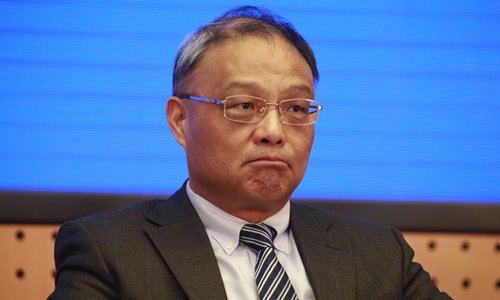 Zhu Feng, dean of the School of International Relations, Nanjing University
Even if there's only a 1 percent possibility of a military conflict on the Korean Peninsula, Chinese society must still be mentally prepared for war.
The chance for peace lies in the hands of Pyongyang. North Korea often talks about hostile US policy, but many countries and regions around the world are able to survive threats from the US. How many of them are madly pursuing nuclear weapons like North Korea?
In the current situation, the most important thing for China is to clearly know what our interests are. We need to constantly sharpen our sense of urgency in security affairs in East Asia.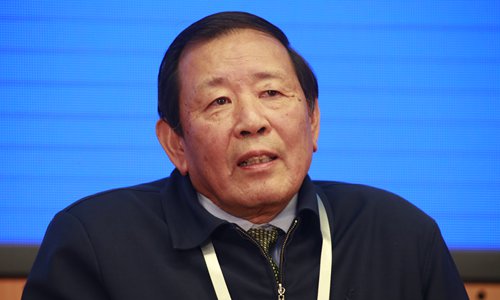 Luo Yuan, vice president of the China Strategy Culture Promotion Association
It's become difficult to push North Korea toward denuclearization under the current situation. We should change our mindset. Maybe we can give North Korea a way to step down with dignity and offer it preferential terms.
First, the international community, especially the US, South Korea and Japan, should guarantee North Korea's safety. Second, we need to help North Korea become part of the international community. The third step would be to provide economic compensation and the fourth would be to guarantee the continuity of Kim Jong-un's regime.
What is the impact of China's 40 years of reform and opening up?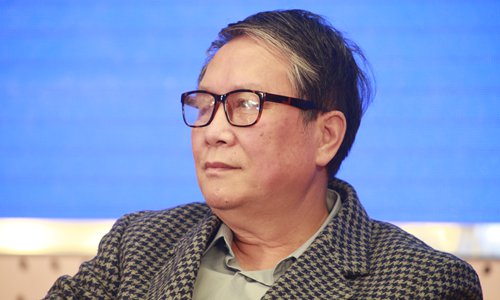 Qin Hui, professor at Department of History under School of Humanities, Tsinghua University
Entering the World Trade Organization (in 2001) greatly boosted China's development but did not force (political) reforms of China the way the rightists had expected.
Since 1949, China has always feared attempts at a "peaceful evolution" and invasion by the West, while the West has never worried that China might conduct a "peaceful evolution" of the West.
There have been many types of "China threat" theories in the West, most of which accuse China of being bellicose.
But now, recent trends show that the West starts to fear China may wage its own "peaceful evolution" of the West.
What is the impact of the US withdrawing from international groups?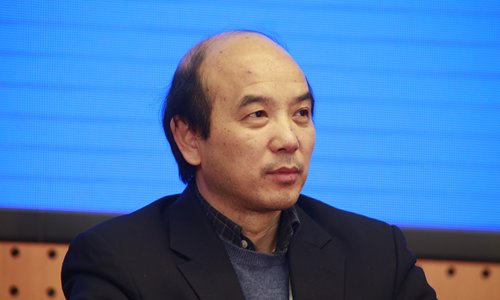 Yuan Peng, vice president of China Institutes of Contemporary International Relations
The US' withdrawal from international groups won't make a major difference for the world. For instance, its withdrawal from the Paris Agreement won't impact the big picture. This reveals the reality that the influence the US exerts on the world isn't as big as it thinks.
The reason the US is withdrawing from international groups is to boost its economy. The unemployment rate in the US has dropped to less than 4 percent, which is far below the rate during the Obama era and the overall economy looks optimistic.
However, Trump is giving up on the concept of the larger US, which refers to both the US and its allies.
While the US is improving, its international influence and ability to act as a cohesive force is decreasing. The US may become great again, but won't necessarily be great in this sense.
What is the key to China's future development?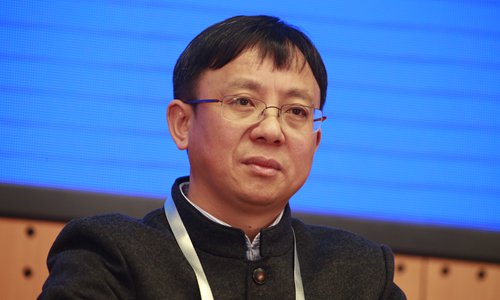 Wu Xinbo, director of the Center for American Studies at Fudan University
For almost three decades, China was poor and weak and relied heavily on outside capital and technologies and a peaceful external environment for its development. Now, China's reliance on external conditions is dwindling. But at the same time, our past advantages, including demographic dividends, resources and environmental advantages, are fading away. Our future development will depend on innovation, which will determine whether we can seize the next strategic opportunity.
An important index for China's development is the advance of globalization. The ideal situation is to work with the US to push forward the development of globalization.
Will the 'dragon' contend with the 'elephant'?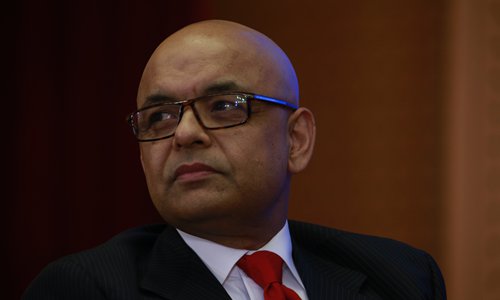 Atul Dalakoti, executive director of the Federation of the Indian Chambers of Commerce and Industry
China's opening up and reform has propelled China's economy to take the lead from India, but India has much more space to grow. China will need to maintain friendly ties with India as it goes out into the world, because India's economy will develop rapidly over the next 20 years, providing new opportunities for China.
Putting the border issue aside, we should focus on growing economic ties. If the US and China can find commonalities, so can India and China. When I started my job in the Indian Chamber of Commerce and Industry more than 10 years ago, trade between China and India only reached $300 million, but now this number has reached $70 billion. Made-in-China production should work with made-in-India production and more Chinese enterprises should invest in India.

Zhao Xiaozhuo, research fellow at the PLA Academy of Military Sciences
The Doklam standoff was a warning bell for China. If by "contend" you mean war, it's definitively a possible reality after the Doklam standoff.
There is a trust issue on both sides. In the heart of Indians, China's Tibet Autonomous Region is a buffer zone and should not be developed. So when China constructs railways, airways and roads in Tibet, India has extreme reactions. India doesn't see China's road construction as an opportunity and it doesn't understand the importance of connectivity. It only cares about defense and its own interests.
This is the root of all the problems between the two countries.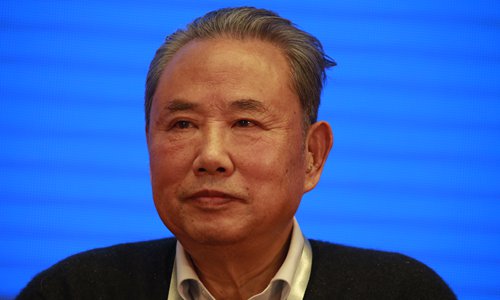 Peng Guangqian, major general and strategist at China's Academy of Military Sciences
China has no motivation or impetus to grapple with India. We have too many things to do to achieve national rejuvenation and we don't have time for strategic competition with India.
If there is a conflict, we won't be afraid to act. The Doklam standoff was a shock for China and caused the country to reflect on ways to improve its strategic layout along its western borders. We need to thank India for this.
What's important next is to look forward, instead of finding fault with each other. The two sides should pursue mutual development.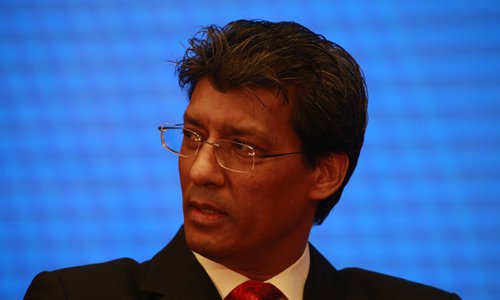 Bali Ram Deepak, professor at the Center of Chinese and Southeast Asian Studies, Jawaharlal Nehru University
As China rises and increases its economic and trade ties with South Asia, Southeast Asia, East Asia and Africa, India's strategic space in these areas will unavoidably shrink.
China and India's problems are not simply limited to border issues. It's necessary to shelve differences and find commonalities. India has many development plans and China has the Belt and Road initiative. If the two sides can find commonalities for co-development, the future is bright.