Lawmakers push prompt actions against solid waste pollution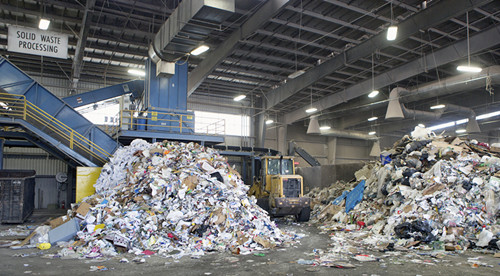 Interior view of a solid waste processing facility. (Photo: VCG)
BEIJING -- Chinese lawmakers have called for high awareness and prompt action to control solid waste which they believed to be a very serious problem.
Members of the Standing Committee of the National People's Congress (NPC), headed by Chairman Zhang Dejiang, held an inquiry with officials of the State Council on the enforcement of the Solid Waste Control Law on November 2 afternoon, following panel discussions on the same topic in the morning.
Solid waste control should be high on the environmental protection agenda, said Zhang at the inquiry, calling for overall coordination in the enforcement of the law and other relevant laws, regulations and policies.
Improving solid waste processing and control can be an effective way for green development, promoting eco-friendly industrial development and lifestyles, he added.
"We should have the strictest standards of environmental protection," he said.
Lawmakers heard a report from the NPC Standing Committee on the enforcement of the Solid Waste Control Law.
Each year, the country generates nearly 4 billion tonnes of waste from livestock and poultry, around 1 billion tonnes of crop straw, around 3.3 billion tonnes of general industrial solid waste and around 200 million tonnes of household waste in large and medium-sized cities, according to the report.
During the inquiry, lawmakers highlighted problems of hazardous waste control, domestic garbage processing in rural areas, waste sorting, recycling of construction and agricultural waste and pollution associated with electronic waste.
State Councilor Wang Yong, who led a group of government officials at the inquiry, admitted that that problems remain, despite progress.
The State Council will coordinate control of all forms of pollution, he said.
The government will tighten environmental monitoring and work to reduce the quantity of solid waste and improve the degree of recycling and treatment, he said.
During panel discussions on Thursday morning, lawmakers stressed the problems of hazardous waste, among the most urgent problems in waste control, said Luo Liangquan, member of the NPC Standing Committee.
More than half of hazardous waste is being disposed of by producers, most of which is unsupervised, according to the report.
On the other hand, more than 40 percent of hazardous waste disposal capacity remains unused, the report added.
"Hazardous waste is a time bomb that may go off at any time if not controlled properly," said He Yehua, another committee member.
Luo warned that some local governments do not have accurate information about how much hazardous waste is produced within their jurisdiction or how it is being disposed of, which impedes the controls. In addition, a hazardous waste classification system has yet to be established.
Luo called for more standardized, clearer identification and classification of hazardous waste and tighter supervision on hazardous waste disposal.
Committee member Liu Zhengkui noted that punishments for illegal transport and disposal of hazardous waste are too lenient and fail to deter offenders.
"Local governments should be encouraged to enact regulations on hazardous waste treatment, and share good practices in dealing with this problem," he suggested.
Liu also stressed the role of the market and suggested promotion of the public-private partnership model in handling hazardous waste.