Shanghai to cut virus transmission
Shanghai has implemented a slew of enhanced measures related to matters such as community prevention and control, disinfection and patient transportation to achieve zero community transmissions as quickly as possible, local authorities said on Friday.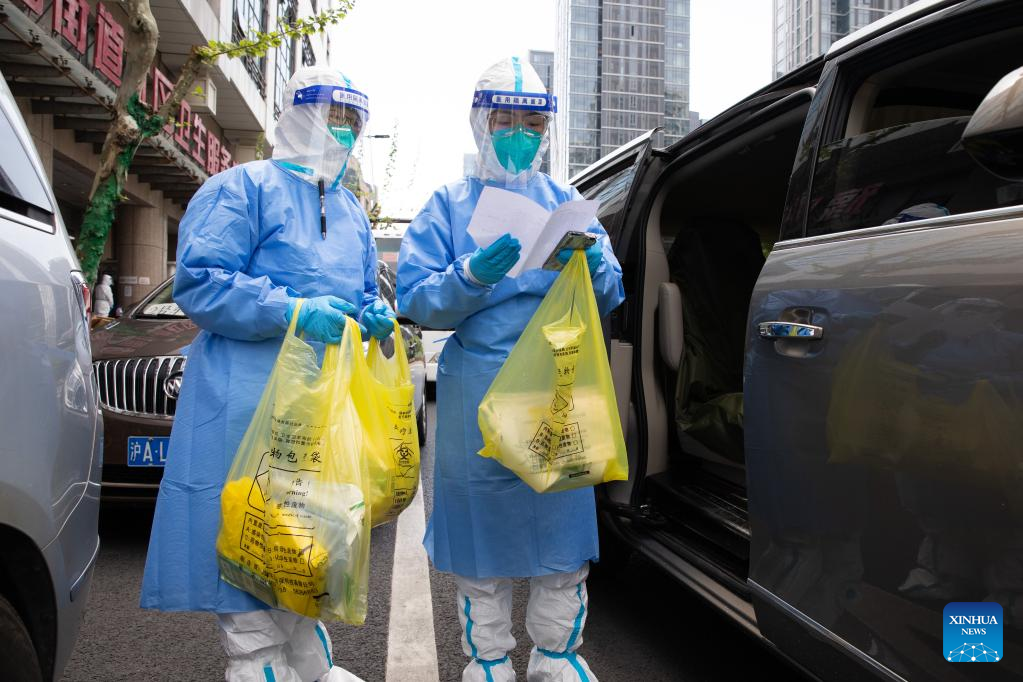 According to Wu Qianyu, an official from the Shanghai Health Commission, the city will tighten prevention and control in communities and reduce human mobility. People living in lockdown zones are not allowed to leave their homes, while those in controlled zones are prohibited from leaving their compounds.

The retrieval of mail and packages should also be staggered for those living in controlled zones. Gathering events are prohibited for residents in precautionary zones while social distancing should be maintained.
Another round of mass testing will be implemented in the city as well. Residents in lockdown zones are required to take nucleic acid tests once every day. Residents in controlled zones must take three antigen tests and two nucleic acid tests over the five days. People living in precautionary zones will take four antigen tests and one nucleic acid test.
Further strategies in line with the dynamic zero-COVID policy will include enhancing epidemiologic investigation, patient transportation, traditional Chinese medicine in treatment, citywide disinfection, and preventing the spread of the virus to other cities, Wu said.
The city reported 1,931 new locally transmitted confirmed cases and 15,698 asymptomatic infections on Thursday.
As of Thursday, there were 160 patients in severe condition and 24 critically ill patients receiving medical treatment in Shanghai. Eleven deaths were reported on Thursday.
A total of 27,988 patients were discharged from hospitals or released from medical observation on Thursday.
The municipal authorities also responded to COVID-related queries that have raised public concerns recently in an announcement on Shanghai Fabu, the municipal government's WeChat account on Friday.
In regard to the duration of the current lockdown, authorities said the city is at a critical stage to achieve zero-COVID-19 community transmission.
The resumption of production and work will be achieved step by step in the three zones of precautionary, controlled and lockdown.
"Owing to the varying population density, especially between the central areas and the suburbs, neighborhoods are allowed to set up prevention and control measures for zones that are deemed to have a relatively high risk of exposure to the virus regardless of the zone's category," the announcement read.
The announcement also reinforced the significance of implementing the fundamental goal of adopting the dynamic zero-COVID policy.
The policy is centered on being fast and accurate to control the transmission of the virus in the shortest time at the least cost, it said.
"Shanghai serves as a key port city in China, with the pressure of protecting local people from imported COVID-19 cases. We must be ready to respond to the challenges at any time," the announcement wrote.
It also stressed that government departments should stay on high alert, respond to emergencies rapidly and issue measures to tackle issues related to nucleic acid tests, patient transportation and medical treatment.
Related medical research and vaccination rates should be improved as well, it said.