All Hainan public service vehicles to convert to new energy next year
chinadaily.com.cn
1574147149000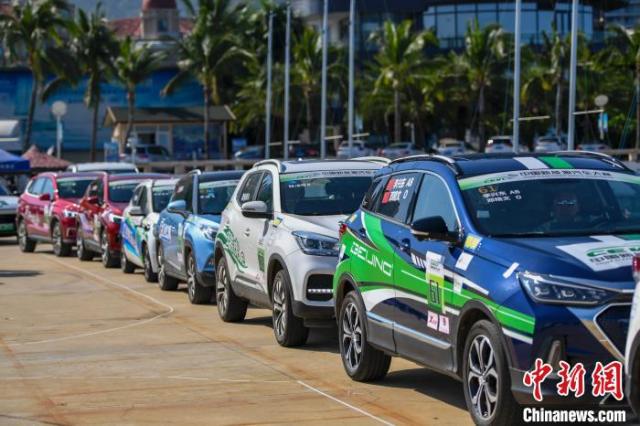 An array of new energy vehicles participate in a competition in Sanya, South China's Hainan province, on Nov 16, 2019. (Photo: www.chinanews.com)
South China's Hainan province will build 65,000 electric charging points next year to ensure that all vehicles at public services to be driven by new energy in 2020, local officials said at an international forum on new energy vehicle evaluation held in Sanya on Saturday.
By the end of October this year, 80 percent of its public buses, or 4,666 in total, were in operation around the island, driven by new energy; 95 percent of its 266 mini buses were new energy vehicles, while all 2,480 time-sharing rental vehicles had gone green, said Cheng Shiwen, an official with the Hainan provincial department of transportation.
In March this year, Hainan issued its plan for clean-energy vehicle development. It proposed that all public service vehicles be fueled by green energy in 2020. Clean-energy vehicles will be promoted on a large scale in non-public transportation services starting from 2025, and by 2030, fuel vehicles will be banned on the whole tropical island.
By 2025, Hainan will also complete the installation of 260,000 electric charging facilities for new energy vehicles, the plan stated.
The move makes Hainan the first province in China to set a date for the total elimination of gas guzzling, polluting vehicles. It is in line with the goals set by China's top leadership, wherein they have envisaged the southern island province becoming a "pilot zone for civilized ecology".
Lin Min, deputy director of the Hainan provincial department of industry and information technology, said his department plans to introduce the high-end, new-energy vehicle industry to Hainan - the country's largest free trade zone - build a world new-energy vehicle experience center, and develop pilot projects for new energy vehicles.