China boosts border controls in Xinjiang after reported returns of jihadists
Global Times
1515802333000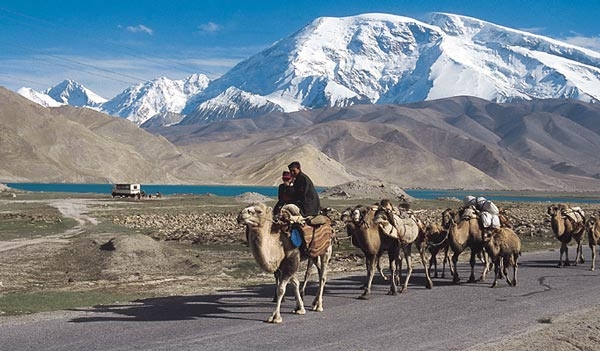 China has beefed up border controls in the Xinjiang Uyghur Autonomous Region to counter jihadists returning from Syria after the widely reported defeat of Islamic State (IS), a military officer said.
"The control and management of immigration at border areas here has been strengthened in recent years," said a military officer of border defense in Xinjiang's Kashgar, a prefecture that shares a border with Afghanistan, Pakistan and Kyrgyzstan.
Guard rails have been set up along the border to avoid terrorists sneaking into China, he told the Global Times.
China faced a "prominent" risk of a terror attack, said Ji Zhiye, head of the China Institutes of Contemporary International Relations, at an international relations forum in Beijing last month, the Hong Kong-based South China Morning Post reported Tuesday.
"The number of jihadists captured on China's borders [in 2017] was more than 10 times the number from the previous year," Ji said.
An accurate count of IS jihadists coming to China could never be confirmed, Li Shaoxian, head of the Arab research institute at Ningxia University in Northwest China's Ningxia Hui Autonomous Region, told the Global Times on Thursday. "But the situation has been harsher," said Li, who also attended the forum.
Many terrorists do not conveniently choose to cross the border into Northwest China's Xinjiang Uyghur Autonomous Region, he warned.
"They just fly to cities like Beijing and Shanghai with their Chinese passports, posing like any other citizen who comes back from another country, which makes counter-terrorism work more difficult," Li said.
Up to 5,000 ethnic Uyghurs from Xinjiang were fighting in Syria, Syria's ambassador in Beijing, Imad Moustapha, said in May 2017, Reuters reported.
China has been trying to monitor and manage the terrorist threat, building an information system and contacts for counter-terrorism work, Li said.
In September 2017, a division of the People's Liberation Army in Tumxuk near Kashgar installed 10 special security scanners at road security checkpoints.
"Counter-terrorism work benefits the whole country and many European countries under threat of terrorism have also strengthened immigration monitoring and management," Li said.
"It was therefore irrational for some Western media or countries to misinterpret China's counter-terrorism efforts," he said.
In March 2015, Zhang Chunxian, then Party chief of Xinjiang, said authorities had broken up terror groups plotting violent attacks on Chinese soil after fighting in battles in Syria with IS.
Xinjiang passed its own version of the counter-terrorism law in August 2016. The law is a supplement to the national counter-terrorism law approved in December 2015 to define terrorist activities and the corresponding punishment.
The law added provisions, including one which states leaders of extremist groups will be placed in solitary confinement and another that recruiting people for terrorist activities would be considered an act of terrorism.