China wins 3rd gymnastic gold in men's team event at Jakarta Asiad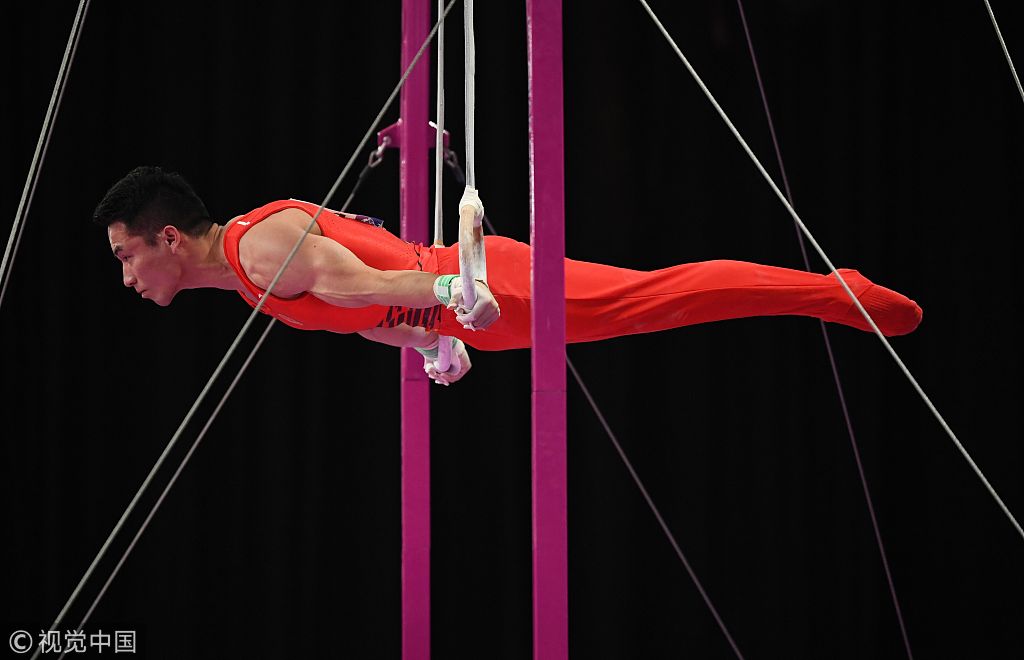 Deng Shudi competes on the rings in the men's team final of the artistic gymnastics event at the 2018 Asian Games in Jakarta on Aug. 22, 2018. (Photo: VCG)
China beat arch rival Japan to reclaim the gold medal in artistic gymnastics men's team event here on Wednesday at the Asian Games.
The Chinese team won the gold as Lin Chaopan, Xiao Ruoteng, Deng Shudi, Zou Jingyuan and Sun Wei all presented balanced and steady performances to earn 260.950 points. Japan harvested 248.550 points to claim the silver medal and South Korea brought home the bronze with 247.400 points.
It is the third gold for China at gymnastics in Jakarta after all-arounder Lin Chaopan won the title of men's event and Chen Yile in women's in the past two days.
Chinese men's team had dominated the event and won 10 golds in straight since they debuted at the 1974 Tehran Games. But they surrendered the title to Japan in Incheon of South Korea four years ago.
The two Asian gymnastic powerhouses, assigned in the same group as the top two qualifiers, started competition face to face in floor exercise and Japan proved a cut above China to take the lead among eight teams with 42.150 points after the first rotation.
However, China fought back strongly to lead from pommel horse, their key strength, throughout the rest five rotations. They ranked the first place in four out of six disciplines, namely pommel horse, vault, parallel bars and high bar.
The highlight of the game came when Zou Jingyuan has secured China's gold with an unscathed difficult routine on parallel bars, which earned 16.100 points, the highest in a single discipline of all athletes in the first three days of competition.
With their top squad at home to prepare for the World Championship starting in late October, Japan, however, saw Tomomasa Hasegawa fell off pommel horse, and again from high bar, their last discipline. Fuya Maeno, apparently affected by Hasegawa's failure, also fell onto the mattress after a high jump, which killed the team's chance for gold. The score gap between the two teams were extended to a distinctive 12.40 points.
The women's team event final will be start later in the evening.