Heavier air pollution coming to N. China in the coming days
Beijing and its surrounding areas are expected to experience medium to heavy air pollution for four days starting on Wednesday, and the pollution may linger until early October, the country's top environmental watchdog said.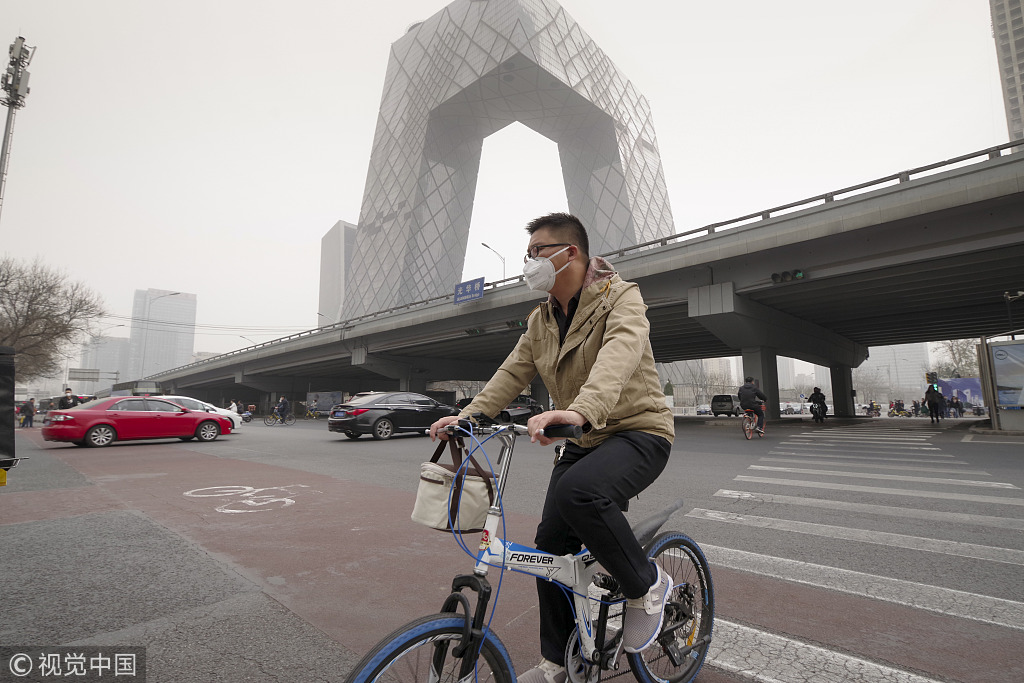 A person wears a mask in Beijing, March 28, 2018. (Photo: VCG)
With a stable atmosphere in the region, air pollutants carried to the region by weak winds from the south will accumulate because mountains prevent them from going further north. The heavy haze will envelope most of the Beijing-Tianjin-Hebei province cluster, Henan province and parts of Shandong, Jiangsu and Anhui provinces during the period, according to a media release from the Ministry of Ecology and Environment on Monday.
"Some cities may experience heavy smog for four days… it's possible that the pollution will linger until early October," it said.
Zhang Xiaoye, a researcher with the National Joint Research Center for Tackling Key Problems in Air Pollution Control, said the high humidity in the region, which facilitates the generation of particulate matter, may worsen the situation. The relative humidity at nighttime in the capital, for example, will stay around 60 percent during the period and may rise beyond 80 percent.
He said meteorological conditions will become even more unfavorable after the accumulation of the pollutants reaches a certain level, further increasing the humidity and lowering the "mixing layer", which refers to the atmospheric height over which pollutants can be dispersed.
Zhang Yuanhang, deputy director of the joint research center, said the greater Beijing area is prone to be troubled by haze from the end of September to early October.
"Observation data in recent years shows that air pollution occurs in the Beijing-Tianjin-Hebei province cluster every year" during the period, said Zhang, who is also an academician with the Chinese Academy of Engineering.
He said, however, that a high level of emissions far exceeding the carrying capacity of the local environment is a major reason for frequent air pollution in the region.
"Though significant achievement has been made in the reduction of pollution emissions, the industrial structure dominated by the heavy chemical industry, energy consumption that relies on coal and a transportation system depending on roads in the region has yet to change," he noted.
Generally, China has seen continuous improvement in its air quality in recent years. Last year, for example, the average density of PM 2.5 particulate matter in 338 major cities across the country dropped by 9.3 percent year-on-year to 39 micrograms per cubic meter, according to the ministry.