Sanjia Harbor prepares for coming typhoon Ampil
An inspection team from the Ministry of Water Resources came to Shanghai on Saturday to examine the preparation for the coming typhoon Ampil in Pudong, Fengxian and Jinshan.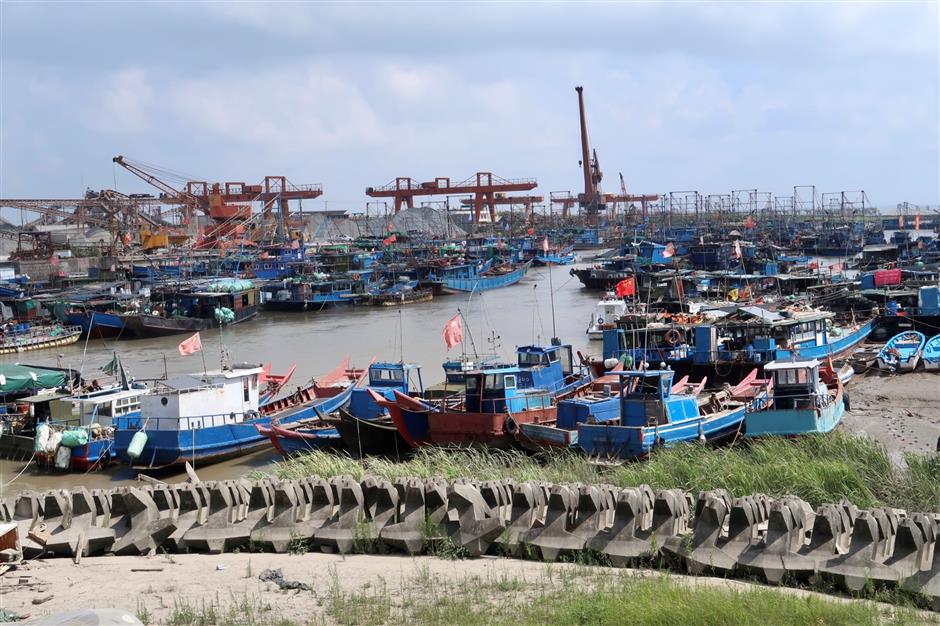 Boats return to Sanjia harbor as typhoon Ampil approaches in Shanghai on July 21, 2018. (Photos: Shine.cn)
At the seawall of Sanjia Harbor in the Pudong New Area, local officials prepared 43,000 gunny bags and 60,000 woven bags to load sand in case the sea waves pour through the levees. The local authority also prepared six emergency lights and two power generators for emergency situations.
An official checks bundles of gunny bags at Sanjia Harbor in Shanghai on July 21, 2018.
Sanjia Harbor is the estuary of Yangtze River in Shanghai.
A 2-kilometer-long new levee was built in 2016. According to local officials, new levee can withstand up to 9-metre-high surge billows caused by Force 12 gale.
Many local villagers were still selling souvenirs at their stalls near the seawall at 9:30am, though very few tourists paid visits.
"We will start to evacuate them and tell them to go home in the afternoon," said Liu Guiping from Pudong water authority.
Fuhui residential community in Huinan Town of Pudong used to be troubled by back flows of rain water during flood seasons.

Chen Delong, head of the flood control authority of Huinan, said the base of the residential community is 40 centimeters lower than the streets.
"The sewage and drainage system used to be jammed because of the illegal discharge of factories and restaurants," said Chen.
When typhoon Haikui hit Shanghai in 2012, more than 50 families in the community were flooded.
In 2016, the district water authority replaced the drain pipelines underground with wider ones and cleared the sludge jamming the pipelines. Two huge pumps were connected with the new pipelines so that the community can be more proactive when heavy rain strikes.
There are five more communities like Fuhui which flood in heavy rains, due to the limitation of infrastructure and a systematic modification of the drainage system is hard to carry out for now. The district water authority has bought pumps to ease the flood.