Vivo mobile unveils in-display fingerprint technology
Global Times
1515788059000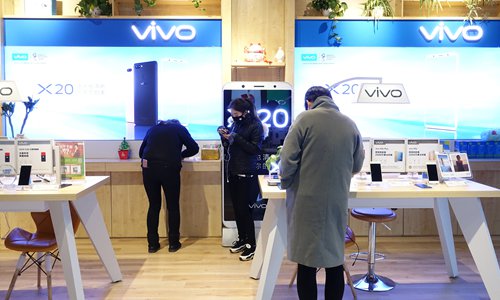 Chinese customers try out smartphones at a Vivo store. Photo: IC
The Chinese mobile company Vivo showcased its first ready-to-produce smartphone with in-display fingerprint scanning technology at the recent Consumers Electronics Show, demonstrating its continued commitment to bringing a superior user experience to consumers.

The fingerprint scanning technology delivers a whole new mobile experience by enabling users to unlock their smartphone through one-touch fingerprint scanning directly on the smartphone display and solves the industry's challenge of providing a better and more convenient fingerprint authentication experience in future smartphones. According to statistics from global consultancy company Canalys, smartphone vendors shipped 22 million full-screen smartphones globally in the second quarter of 2017, up from 700,000 in the first quarter of that year.

"We are very excited to make it available to consumers soon. With our efforts in extensive consumer research and long-term investment in research and development, Vivo is well positioned to pioneer the development of fingerprint scanning technology," said Vivo's senior vice president, Alex Feng.

Feng said the company first presented a prototype of its fingerprint scanning solution at Mobile World Congress Shanghai 2017 based on an ultrasonic sensor and have remained committed to realizing its vision for future smartphones.

Vivo's full-production smartphone is equipped with the latest in-display fingerprint scanning technology. The technology supports various usage scenarios beyond unlocking the smartphone and is only activated when needed. A user interface (UI) graphic will pop up on the screen in scenarios that require fingerprint recognition. Users can press the fingerprint graphic on the screen to unlock the phone, make a payment or carry out other operations. When fingerprint recognition is not required, the UI will be invisible and will not disrupt the overall visual experience.

Compared with fingerprint sensors on the back of smartphones, Vivo claims its in-display fingerprint scanning technology offers a more convenient operation without sacrificing the sleek and unified design of the smartphone. It also provides quick and secure authentication.