Tea project discovers a fresh blend to end poverty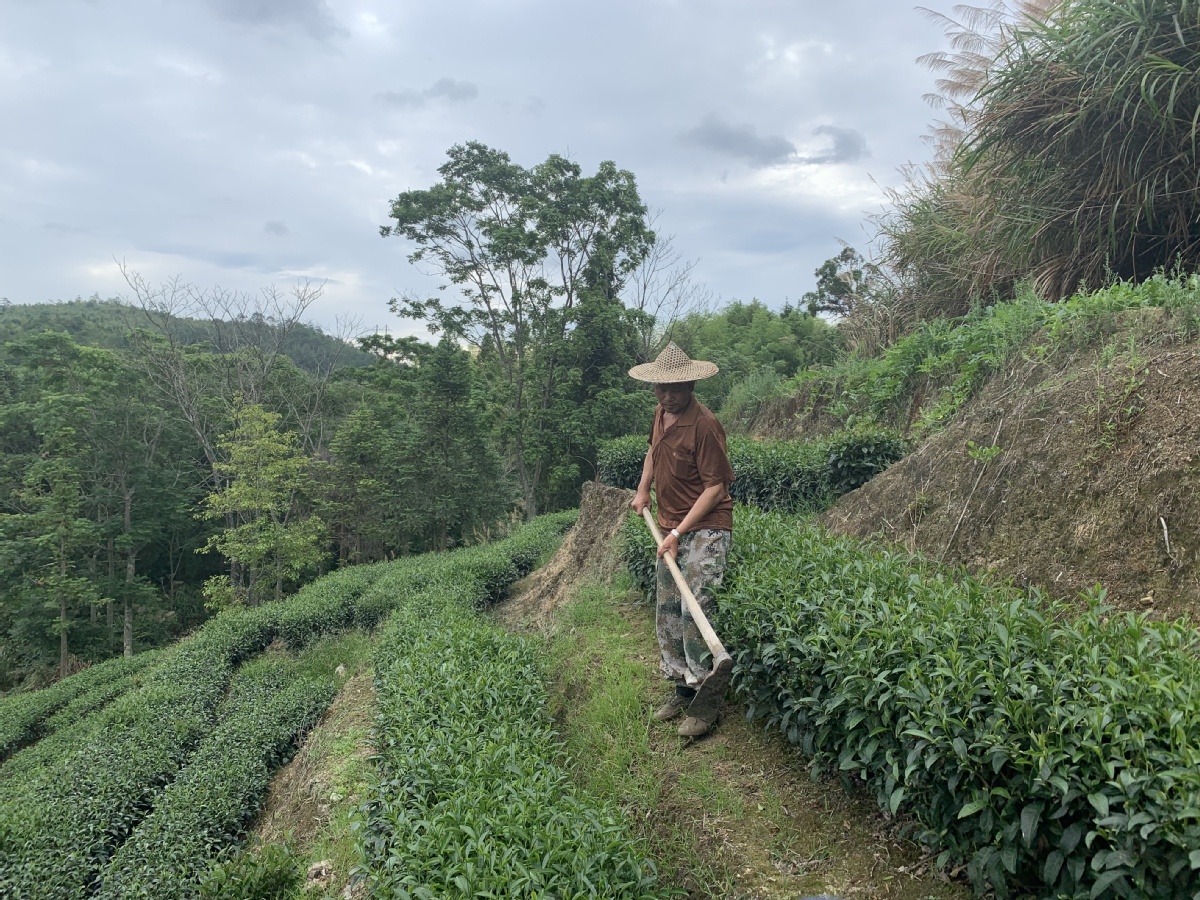 A farmer works in a tea plantation in Xiadang township, Ningde, Fujian province. [Photo provided to China Daily]
Wang Judi, the director of a tea-producing cooperative in Xiadang township, Ningde, Fujian province, was worried this summer about pests damaging growers' crops.
To ensure the quality of the cooperative's tea products, the main source of income for the town's residents, Wang, 44, organized the growers to take pest prevention and control measures.
In 2015, due to his experience in tea sampling, Wang was appointed head of the tea cooperative, which was launched to help residents address poverty. Before that, Wang's family income was low, as he was a tea seller and his wife grew tea at their farm.
Xiadang is isolated and surrounded by mountains, and there are limited crops the farmers can grow on the slopes. However, the subtropical climate, soil and terraced hills are suitable for tea planting. The residents had grown tea for generations, but due to a lack of advanced agricultural and management methods yields were low and earnings poor.
In 2015, the first customized tea-growing project in China was created in the town to help alleviate poverty. Under the project, a company markets the products and a cooperative manages the farmers and their tea production.
Buyers sign a contract with the company to purchase tea at a set price from the plantations that are part of the cooperative.
The tea growers maintain ownership of their plantations, but what they produce is owned by the buyers for the term of the contract. The buyers can check the whole growing and production process through a video-monitoring system installed in the plantations.
The tea growers have to follow quality control standards laid down by the cooperative. Advanced technologies and online sales, including livestreamed advertisements, have also been adopted to support the process.
"I have learned a lot from the project, going from being a tea seller to someone in charge of the whole process of the town's tea industry," Wang said. "I feel satisfied and delighted when profits from the tea project are distributed to every farmer."
The management model used to improve the quality of the tea has raised the price. The annual income tea growers earn from a hectare of plantation has increased from 30,000 ($4,392) yuan to 90,000 yuan in recent years, according to official data.
All the 508 registered poverty-stricken households in the town were lifted out of poverty in 2018. The per capita disposable income of farmers increased from 186 yuan in 1988 to 14,777 yuan last year.
Lin Zhikun, deputy head of the town, said: "Under the mechanism, people share risks and benefits together. All profits generated by the tea plantations will be returned to the farmers after deducting necessary expenses, so as to drive all people toward a well-off life."
Xiang Zhonghong, Party secretary of the town, said the mechanism integrates agricultural products, farmers and the labor force and helps individual farmers connect to large markets to steadily increase their incomes.
Yang Jie contributed to this story.