China's new landing ship useful in island dispute
Global Times
1515617797000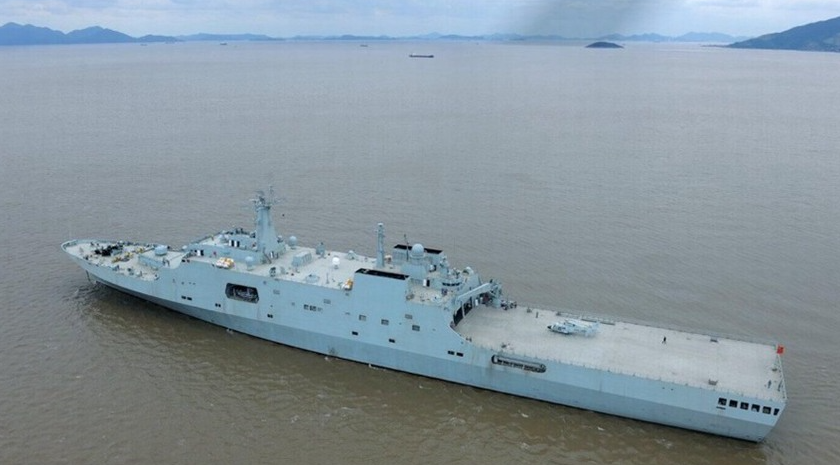 Another Type 071 landing ship from the People's Liberation Army (PLA) Navy came into the limelight on Wednesday with military experts saying such ships could enhance military advantages in dealing with potential island disputes.

With a maximum displacement of 29,000 tons, the 210-meter-long, 28-meter-wide Longhushan is the largest domestically designed amphibious warfare ship in China, news site thepaper.cn reported on Wednesday.

Longhushan was named after a mountain in Yingtan, Jiangxi Province. The civil affairs bureau of the East China city released a notice on January 2 in an effort to collect a song for the new ship from the public.

The song needs to represent thoughts of enhancing the PLA and display the image of Longhushan, according to the notice.

"China is developing Type 071 ships to meet requirements of possible wars involved with islands in the future, which could help it gain advantages in solving disputes on islands as well as questions involved with Taiwan," Song Zhongping, a Chinese military expert, told the Global Times on Wednesday.

China owns four or five amphibious warfare ships, Song said.

Type 071 have helicopters that can land on islands from the sea.

The Type 071 can work with Type 075 amphibious assault ships and help the navy win control of the air during landing operations, according to Song.

"The Type 071 ships are equipped with defensive weaponry to deal with enemy attacks," said Song.

"It could also deliver the navy and the army to the target island. The expanding number of this type of ships could greatly enhance the PLA Navy's amphibious warfare capability," Song said.

Zhang Junshe, a senior research fellow at the PLA Naval Military Studies Research Institute, told the Global Times on Wednesday that aside from its use in landing operations, Type 071 ships have joined PLA Navy escort missions since the year of 2008.

"China has fewer landing ships than that of the US. And the PLA Navy is expanding the groups as it develops," Zhang said.