China to restore forest in Tarim River Basin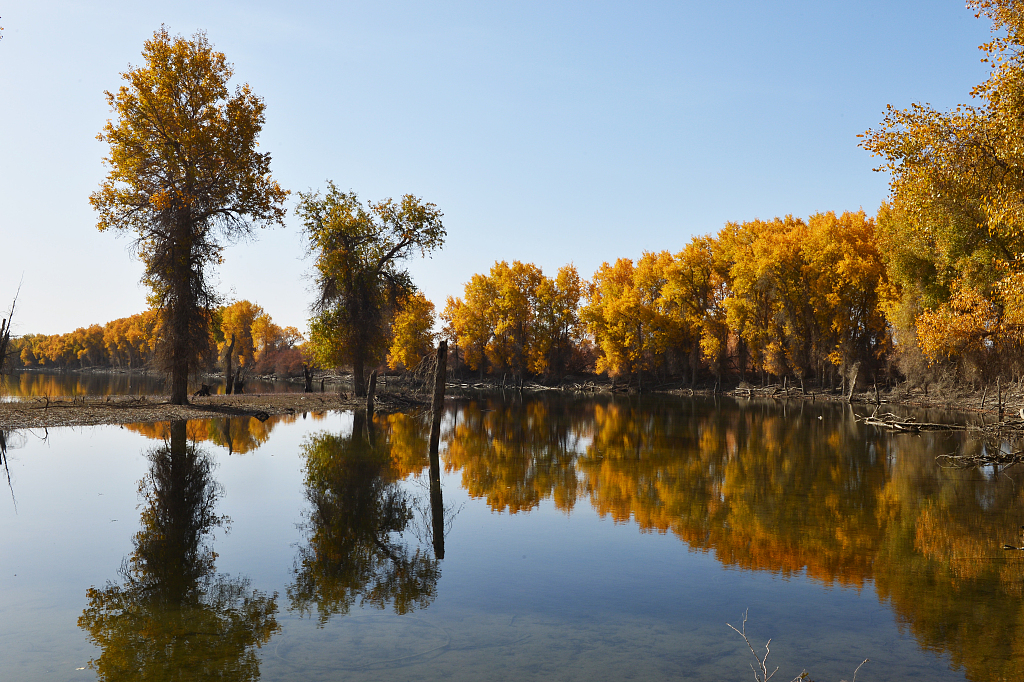 Euphratica forest along the Tarim River. (File photo: VCG)
URUMQI, March 7 (Xinhua) -- Northwest China's Xinjiang Uygur Autonomous Region launched a three-year project on populus euphratica forest restoration along the Tarim River, local authorities said Thursday.
The regional forestry department plans to carry out field surveys on the coverage, distribution and degradation of populus euphratica forests in the Tarim River Basin, and conduct research on current water conditions, distribution of water-gates and the canal system along the river.
Spillways and flood barriers will be built for future irrigation, the department said.
Running through the drouthy southern part of Xinjiang, the 1,321-km-long Tarim River is China's longest inland river that nurtures 14 million local residents. Overexploitation of water resources since the 1950s caused river dry-ups and declining water levels. Swathes of the populus euphratica forest died.
Over the past two decades, China has invested more than 10 billion yuan (about $1.5 billion) to protect the ecosystem in the lower Tarim region. A National Nature Reserve of 390,000 hectares of populus euphratica forests in Tarim River Basin was established in 2006.
The three-year restoration plan will cover a larger area including 11 cities and counties along the trunk and four branches of the Tarim River.
"Irrigation water supply is critical to protect the forests," said He Yu, an official with the Xinjiang Tarim River Basin Management Bureau, noting that the bureau has made detailed annual water transportation plans since 2016.
Oil producers in the area also contribute their bit to protect the eco-system. PetroChina Tarim Oilfield Company dismantled 30 oil-and-gas production facilities last year and will shut 34 wells by 2020.