China's water quality improves in first half of 2018: environment ministry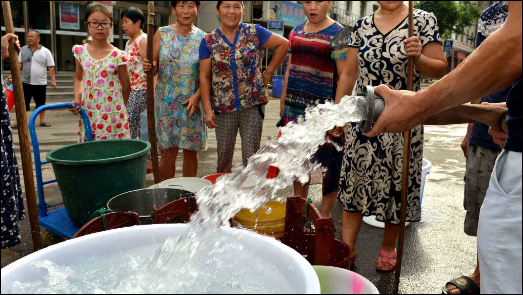 Flood victims in southwest China's Sichuan Province collect potable water from a tanker on July 17, 2018. ( Photo: VCG)
China's overall water quality improved in the first half of this year, with 70 percent of groundwater samples taken from around the country deemed fit for human use, up from 67.9 percent a year ago, the environment ministry said on Wednesday.
According to an analysis of samples at 2,050 testing sites in the first six months of 2018, 70 percent were deemed grade III or better, meaning they were suitable for human contact.
The amount of water judged to be "below grade V" – water so polluted it has "lost all functionality" and is unfit even for irrigation or industrial use – stood at 6.9 percent in the first half of this year, down from 8.3 percent last year. China is aiming to bring this figure down to 5 percent by 2020.
To determine pollution levels in its rivers, China measures phosphorus and ammonium nitrate concentrations as well as chemical oxygen demand (COD).
Though overall water quality has shown signs of improvement in recent years, progress has been uneven, with some regions still lacking adequate "safeguard capability," experts said earlier this year.
On Wednesday, the environment ministry said the proportion of unusable "below grade V" water was more than 20 percent in the Liaohe basin in the northeast, China's industrial rustbelt.
Some regions have also been accused of falsifying data by installing pumps designed to boost oxygen content and cut COD readings, said the environment ministry last month.