Xi calls on BRICS members to uphold multilateralism, improve global governance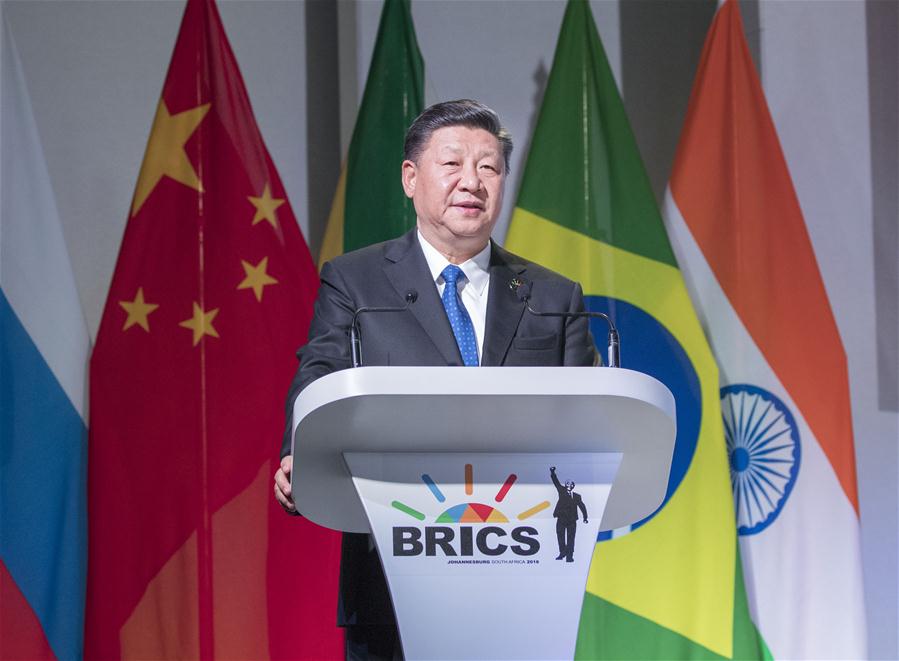 Chinese President Xi Jinping delivers a speech titled "Keeping Abreast of the Trend of the Times to Achieve Common Development" at the BRICS Business Forum in Johannesburg, South Africa, July 25, 2018. (Photo: Xinhua/Wang Ye)
JOHANNESBURG, July 25 (Xinhua) -- Chinese President Xi Jinping on Wednesday called on BRICS members to uphold multilateralism and improve global governance.
"We should urge all parties to fully observe collectively adopted international rules, and we should treat all countries as equals regardless of their size," Xi said while addressing a business forum at the 10th BRICS summit scheduled from July 25 to 27.
He also stressed that BRICS members should address issues that matter to all through consultation and oppose hegemony and power politics.
He called on BRICS countries to promote common, comprehensive, cooperative and sustainable security, get actively involved in mediation efforts for resolving geopolitical hotspot issues.
"It is important for us to firmly support the multilateral trading regime, advance global economic governance reform and increase the representation and voice of emerging markets and developing countries," said Xi.
"When new rules are made on such issues as innovation, trade and investment and intellectual property protection or on new frontiers including cyberspace, outer space or the polar regions, we should make sure that the views of emerging markets and developing countries are heeded, their interests and demands are taken into consideration, and there are sufficient opportunities for their development," he said.