CNPC and Sinopec become official oil & gas partners of Beijing 2022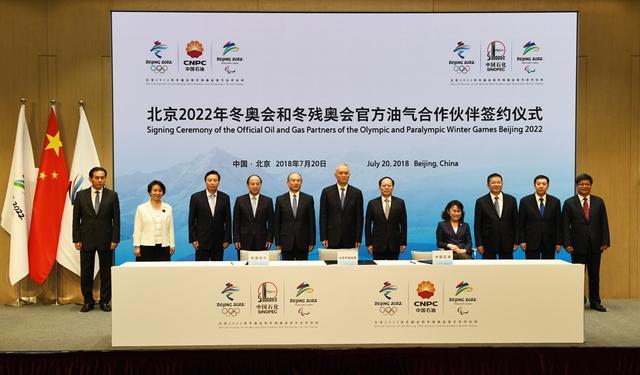 File photo

China National Petroleum Corporation (CNPC) and China Petrochemical Corporation (Sinopec Group) have signed deals to become official oil & gas partners of the 2022 Olympic and Paralympic Winter Games in Beijing.

Zhang Jiandong, Vice Mayor of Beijing and Executive Vice President of Beijing 2022, signed the partnership agreements with Xu Wenrong, Deputy General Manager of CNPC, and Li Yunpeng, Deputy General Manager of Sinopec Group.
In a speech delivered before Friday's signing, Zhang congratulated the two companies for becoming top-tier sponsors of Beijing 2022, an arrangement that will see the two share marketing rights in the oil & gas category.
"Both CNPC and Sinopec Group are major global energy companies and both were official partners of Beijing 2008," Zhang said. "Beijing 2022 will bring precious opportunities for the two companies. For its part, the organizing committee will work hard to ensure that both benefit fully from the Olympic brand."
CNPC is the third largest oil company in the world and the largest in China.
"CNPC will take advantage of its strong presence in Beijing, Hebei and nearby areas to provide Beijing 2022 with high-quality and reliable oil and gas supplies," noted Zhang Jianhua, General Manager of CNPC.
Sinopec is China's largest oil and petrochemical products supplier and its second largest oil & gas producer. It is also the world's largest refining company and second largest chemical company.
"Sinopec Group will cherish this second opportunity to serve the Olympics by actively taking part in Beijing 2022's venue construction and supplying the Games with important resources such as clean energy," said Dai Houliang, Board Chairman of Sinopec Group.
The signing of CNPC and Sinopec brings the total number of Beijing 2022 official partners to eight, in addition to Bank of China, Air China, Yili Group (dairy products), ANTA (sports apparel), China Unicom (telecommunication services) and Shougang Group (urban regeneration services).