Liandu District of Lishui City donates anti-epidemic supplies to international friendship cities
Zhejiang Federation of Returne
1586496440000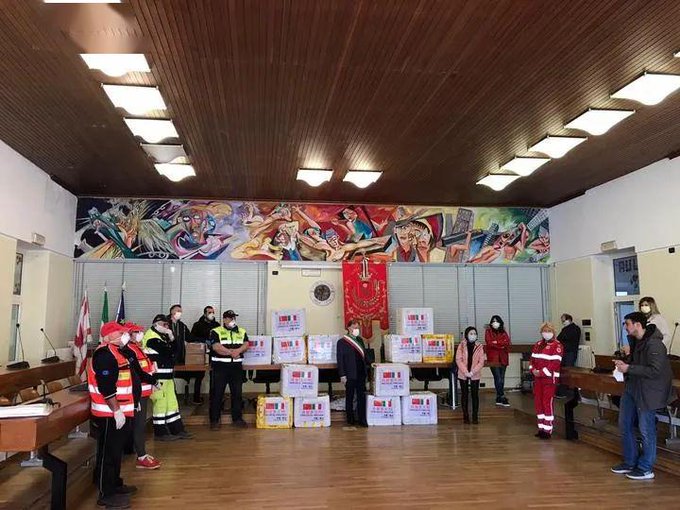 Photo: In Zhejiang
The number of COVID-19 cases has been rising in Italy. The epidemic prevention and control situation is grim in Sarzana and Ora, which are international friendship cities of Liandu District, Lishui. Both cities are subject to a great lack of medical materials and face masks.
To reinforce their protective measures, both Sarzana and Ora are in urgent need of medical and anti-epidemic materials like protective face masks. A few weeks ago, Cristina Ponzanelli, who is the mayor of Sarzana, entrusted Wang Lu and Chen Zhaoxia who are commissioners in charge of Chinese affairs, to seek support from four Chinese friendly cities, namely Liandu District of Lishui, Gaoyou of Jiangsu Province, Wenshang County of Shandong Province and Linhai District of Taizhou which have maintained favorable relationships with Sarzana.
After being informed about the situation, the government of Liandu District, Lishui immediately expressed sympathy for the government of Sarzana and Ora. Besides, they urgently collected 20,000 disposable medical masks and donated them to the two cities for their fight against COVID-19.
Due to the unceasing spread of the epidemic, many airlines suspended their flights. In addition, the domestic and foreign export standards and rules for anti-epidemic materials were constantly promulgated and updated. As a consequence, great challenges were posed to shipment. The Chinese team of Italy Nihao Group Limited volunteered to help arrange the shipment. With their help, the anti-epidemic materials from the government of Liandu District were delivered to the frontlines of Sarzana and Ora in time.
Roberto Valettini, Mayor of Ora and Chairman of the Cities Alliance of Lunigiana, said, "The friendships between Chinese and Italian people may be traced back to the Venice traveler Marco Polo. He is the one who has facilitated the everlasting friendship between China and Italian. I am so lucky to express the most earnest gratitude to all staff and citizens of Liandu District on behalf of Ora and the Cities Alliance of Lunigiana. You made selfless contributions when Italian people were in the most difficult times and brought us medical materials like masks in urgent need. The friendship between our cities appeared to be so valuable at this special moment. China is offering us help more than any other country."
Recently, the anti-epidemic materials donated by Liandu District to Sarzana and Ora were timely distributed to local medical workers, police officers on duty, and staff of supermarkets, post offices and gas stations by local Red Cross, authorities of civil defense and volunteer associations. Some of them were distributed to local elderly residents and surrounding overseas Chinese who were in urgent need of masks.