Similar results prove feasibility of adenovirus vector COVID-19 vaccines
Global Times
1614555251000
The virus vector used in the vaccine produced by Chinese company CanSinoBIO is safer for the human body and easier to produce, the company CEO said Sunday after China and the US both approved their single-shot recombinant adenovirus vector COVID-19 vaccines last week, which, experts say, proves the feasibility of the method used to develop COVID-19 vaccines and should see faster vaccinations.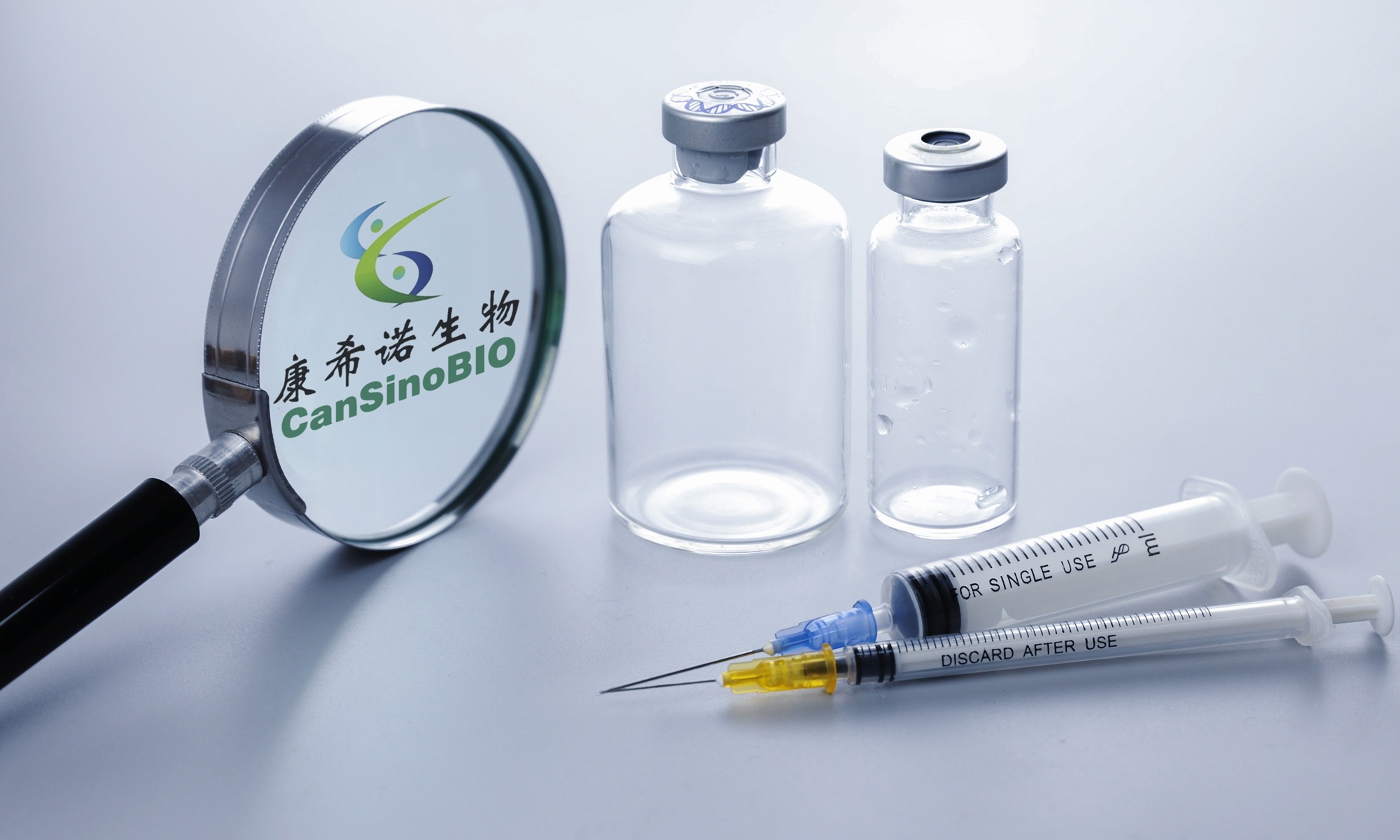 The US Food and Drug Administration (FDA) authorized Johnson & Johnson's recombinant adenovirus vector COVID-19 vaccine on Saturday, making it the first single dose COVID-19 vaccine available in the US, CNN reported, noting that data showed the vaccine is safe and effective.

Chinese company CanSinoBIO's recombinant adenovirus vector has also been granted emergency use approval in China, according to a statement posted on the website of China's National Medical Products Administration on Thursday.
The cold virus vector used in CanSinoBIO's Recombinant Novel Coronavirus Vaccine (Adenovirus Type 5 Vector) is mild and safe for humans. The adenovirus does not replicate on its own in the body and does not pose a risk for infection, Yu Xuefeng, chairman and CEO of CanSinoBIO, said on Sunday highlighting the advantages of their vaccine.
And it can be produced in a safer and easier way that does not require biosafety level three laboratories, as required for inactivated vaccines, Yu added.
Johnson & Johnson vaccine uses Adenovirus Type 26 Vector, according to media reports.
CanSinoBIO and Johnson & Johnson used different adenovirus vectors to develop their vaccines but saw similar results in clinical trials. This proved the feasibility of the recombinant adenovirus vector method, Zhuang Shilihe, a Guangzhou-based vaccine expert, told the Global Times on Sunday.
Feasible method
The Johnson & Johnson vaccine was tested in more than 44,000 people in the US, South Africa and Latin America. Globally, it was 66.1 percent effective against moderate to severe/critical COVID-19 infections for at least four weeks after vaccination. In the US, it is considered 72 percent effective, and offered 86 percent protection against severe forms of the disease, CNN said, citing an FDA analysis.
The effectiveness of Johnson & Johnson's vaccine has gone beyond the expectations of some Chinese experts, which, on the other side, has proven the feasibility of this method, Chinese experts said.
According to data CanSinoBIO revealed earlier this month, the vaccine showed a 90.98 percent efficacy rate in preventing severe disease in interim analyses, and is effective in preventing 65.7 percent of symptomatic diseases in clinical trials.
There were no serious adverse effects associated with the vaccine in its phase III clinical trials, as compared with other vaccines worldwide, Yu suggested.
The instructions for the vaccine say it is suitable for people aged 18 and older, including those aged 55 and older.
So far China has approved four vaccines for emergency use while, except for the one produced by CanSinoBIO, the other three are all inactivated vaccines and are only suitable for use on people under 60 years old according to instructions from national authorities.
Yu told the media on Sunday that the eldest participant in the domestic phase II trials was 84 years old, and the proportion of elderly people in the global multi-center phase III trials was nearly 10 percent, giving more reference for safety and efficacy data in seniors.
CanSinoBIO's global multi-center clinical trials in countries like Pakistan, Mexico, Russia, Chile and Argentina used uniform standards and organizational plans. The trials covered dozens of trial sites in Asia, Europe, Central America, South America and other regions, with a relatively abundant sample size.
Current studies suggest that the vaccine can be suitably stored and transported at temperatures between 2 and 8 C for at least one year. International counterparts produced by AstraZeneca and Johnson & Johnson are only effective for six months at such a temperature.
Phase II clinical trials targeting children between the ages of 6 to 18 and pregnant women are still under way in China with no data available so far.
Yu told the Global Times that it takes as quickly as one months to upgrade the vaccine if the coronavirus makes a critical mutation and needs to be upgraded urgently.
The similar results will also possibly help boost international confidence in CanSinoBIO, some observers noted.
Many international buyers may have not heard the name CanSinoBIO before. But the similar effectiveness in its COVID-19 vaccine with pharmaceutical giant Johnson & Johnson has proven its capacity, which will probably win them more international orders, observers said.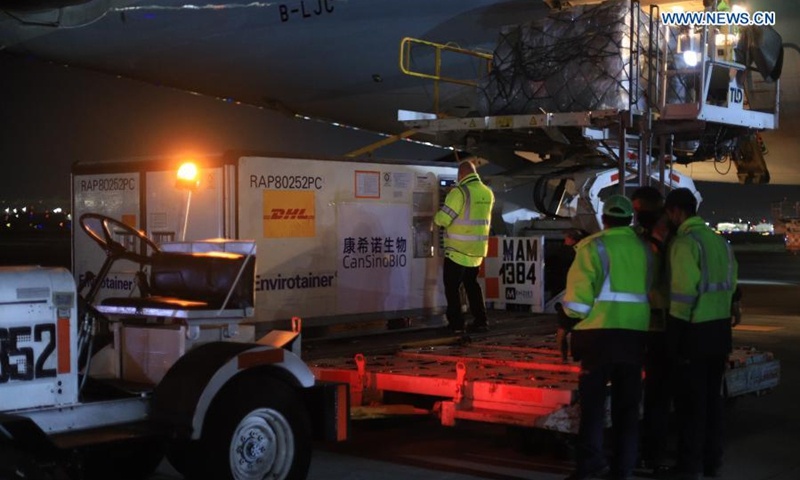 Faster vaccinations

Before Chinese authorities approved the CanSinoBIO vaccine for emergency use in the country, both Mexico and Pakistan, which CanSinoBIO has been cooperating with in their Phase III clinical trials, have already granted emergency use approval for the vaccine earlier this month.
One or two shots have very different meanings in terms of infectious disease prevention, according to Zhuang.
The procedure to administer one shot is simple and facilitates the inoculation of a large population in a short period of time. Thus, the emergency use approval and application of vaccines needing one single shot can largely help to accelerate vaccine rollout speeds in regions where emergency use has been granted, he explained.
Unlike inactivated vaccines, CanSinoBIO's vaccine is effective with a single dose and can bring dual protection - humoral and cellular immune responses - at the same time.
The cellular immune response can reach its peak 14 days after inoculation, and the humoral immune response can reach its peak 28 days after inoculation, which is consistent with the reaction of vaccines worldwide using a similar mechanism.
"One dose for dual protection is very valuable for controlling the pandemic as soon as possible, especially for the groups with emergency needs," said Yu.
"We might be able to immunize a population faster than two shots. Only after achieving basic protection, we will next assess the need for a booster shot to improve the antibody level," Yu noted.
The production capacity of CanSinoBIO's vaccine is expected to reach 500 million doses in 2021. The manufacturer is building a factory in Shanghai to further boost capacity.