Xi demonstrates China's critical, constructive role in G20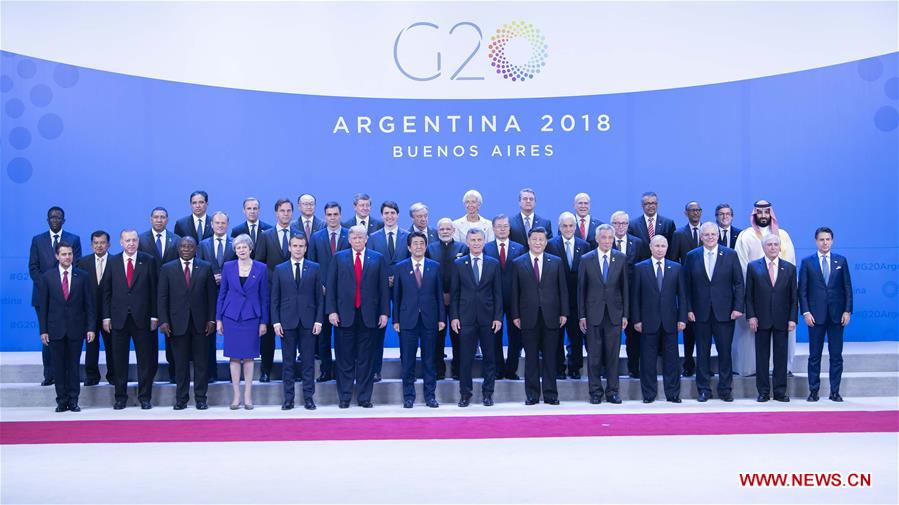 Chinese President Xi Jinping (6th R, front) poses for a group photo with other leaders attending the 13th summit of the Group of 20 (G20) in Buenos Aires, Argentina, Nov. 30, 2018. (Photo: China News Service)
BUENOS AIRES, Dec. 2 (Xinhua) -- Chinese President Xi Jinping and other Group of 20 (G20) leaders concluded a fruitful summit Saturday, exchanging in-depth views on building consensus for fair and sustainable development.
The group issued a declaration after the two-day summit, sending a positive signal to the international community and market and maintaining the cooperative momentum among the G20 economies.
Xi put forward a four-point proposal, urging the group to steer the world economy responsibly, stay committed to openness and cooperation, and play a leading political role in nurturing favorable conditions for international trade and fighting climate change.
URGING TO STEER WORLD ECONOMY RESPONSIBLY
Addressing the 13th G20 summit on Friday, Xi urged the G20 to stick to openness, partnership, innovation and inclusiveness.
He warned of accelerated accumulation of risks in the global economy and pledged that China will firmly push forward a new round of reform and opening-up, with increased efforts in intellectual property rights (IPR) protection and more imports.
Noting that it has been 10 years since the global financial crisis broke out and the first G20 summit was convened, the Chinese president said the global economy today, while maintaining growth on the whole, is still not free from the underlying impacts of the crisis.
"Old growth drivers are yet to be replaced by new ones, while various risks are rapidly building up," he said. "The world economy is facing another historical choice."
With the industrial chain, value chain and supply chain ever growing and expanding, greater coordination and complementarity among countries meet the need of productivity growth and will also shape the future of relations of production, he said.
In this process, countries are increasingly becoming a community with shared interests, shared responsibilities and a shared future, and win-win cooperation is the only choice going forward, Xi said.
He called on G20 leaders to work with "the same courage and strategic vision" as has been demonstrated 10 years ago when the first G20 summit was convened.
"Facing various challenges, we must have a stronger sense of urgency, be rational in approach and look beyond the horizon. We must fulfill our responsibility and steer the global economy in the right direction," he said.
During a discussion on fair and sustainable future, Xi said that with the G20's combined economy making up over 80 percent of the world's total, as long as each member keeps its economy stable and growing, the world economy will be stable and growing.
He encouraged the G20 to contribute positive energy to the world economy and reduce the negative spillover of certain macro-economic policies, so as to initiate a virtuous cycle of common development.
MAKING FOUR-POINT PROPOSAL
The G20 economies demonstrated a positive will to address differences through consultation and standing united in face of challenges, with Xi putting forward a four-point proposal.
Firstly, Xi called on G20 members to stay committed to openness and cooperation and uphold the multilateral trading system.
"We should firmly uphold free trade and the rules-based multilateral trading system," he said.
China supports necessary reform of the World Trade Organization (WTO), and believes that it is critical to uphold the WTO's core values and fundamental principles such as openness, inclusiveness and non-discrimination and ensure the development interests and policy space of developing countries, said the Chinese president.
During the process, all sides need to conduct extensive consultation to achieve gradual progress, he said.
Secondly, Xi urged the G20 to forge strong partnership and step up macro-policy coordination.
He called for the use of "the three tools of fiscal and monetary policies and structural reform in a holistic way to ensure strong, balanced, sustainable and inclusive growth of the global economy."
Developed economies, when adopting monetary and fiscal policies, should give more consideration to and work to minimize the impact such policies may exert on emerging markets and developing economies, he said.
The international monetary system should become more diversified, and the global financial safety net should continue to be strengthened, he added.
Thirdly, the G20 should stay committed to innovation and create new momentum for growth, Xi said.
He called on the group to encourage innovation and leverage the role of the digital economy in growing the real economy.
"We need to watch out for risks and challenges brought by the application of new technologies, and strengthen the legal and regulatory framework," Xi said.
"We should give priority to achieving development through fully tapping our innovation potential. At the same time, we also need to keep our doors open and encourage the spread of new technologies and knowledge so that innovation will benefit more countries and peoples," said the Chinese president.
Xi proposed that the G20 carry out an in-depth study on the application and impact of new technologies on a priority basis to explore new thinking and new ways of cooperation in this area.
Fourthly, Xi urged the G20 to stay committed to win-win cooperation to promote inclusive global development.
"We need to continue to follow a people-centered development philosophy and endeavor to deliver a sense of fulfillment, happiness and security to our people," he said.
CALLING FOR POLITICAL LEADERSHIP ON TRADE, CLIMATE CHANGE
Xi also called on the G20 to play a leading political role in nurturing favorable conditions for international trade, and urged the G20 to inject political impetus into international cooperation on jointly tackling climate change.
On the trade issue, the Chinese president said that the G20 should firstly stick to openness and free trade, maintain and further expand an open market, and realize win-win cooperation through mutual exchanges and complementarity.
Secondly, the G20 should stick to inclusiveness, and bring the benefits of international trade and economic globalization to people of all countries and all classes, Xi said.
Thirdly, the G20 should uphold rules-oriented spirit and nurture a stable and expectable institutional environment for the healthy development of international trade, he said.
On climate change, Xi said it is a major challenge to the future and destiny of mankind, which requires G20's joint efforts.
China, France and the United Nations reiterated their firm commitment to implementing the Paris Agreement on Friday, sending a strong signal of pushing forward international cooperation to tackle global warming, Xi said.
He urged the G20 to inject political impetus into the international cooperation on jointly fighting climate change, with a sense of responsibility of building a community with a shared future for mankind.
The Chinese side looks forward to the participating sides reaching a package agreement at the upcoming Conference of the Parties (COP24) to the United Nations Framework Convention on Climate Change in Katowice, Poland, and implementing the Paris Agreement based on the principle of common but differentiated responsibilities and respective capabilities, Xi said.
China stands ready to make joint efforts with various sides and make its due contribution, he added.
The Chinese president arrived in Buenos Aires on Thursday night to attend the G20 summit on Friday and Saturday, and pay a state visit to Argentina.