China warns against 'trade war,' appeals for cooperation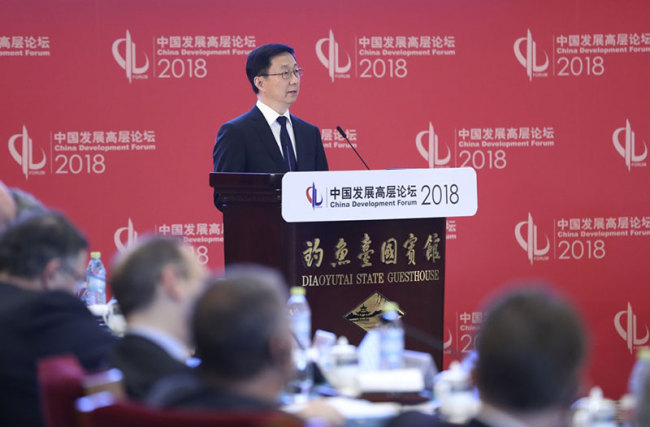 Chinese Vice Premier Han Zheng speaks at the China Development Forum (CDF) in Beijing, capital of China, March 25, 2018. (Photo: Xinhua)
A top Chinese official warned Sunday a "trade war" would harm all sides but gave no indication of Beijing's possible next move in a spiraling dispute with President Donald Trump over steel and technology.
Speaking to global business leaders at a development forum, Vice Premier Han Zheng appealed for cooperation to make economic globalization "beneficial for all."
"A trade war serves the interests of none," said Han at the China Development Forum. "It will only lead to serious consequences and negative impact."
Han didn't mention Trump by name or refer directly to the dispute with Washington, but the country's newly appointed economy czar warned Saturday that Beijing will defend its interests. The government issued a $3 billion list on Friday of U.S. goods including pork and stainless steel pipes it said might be hit by higher tariffs.
The Commerce Ministry said those charges were linked to Trump's approval earlier of higher tariffs on steel and aluminum imports. But a bigger battle is brewing over Trump's approval Thursday of a possible tariff hike on $30 billion of Chinese goods in response to what Washington says is Beijing's improper acquisition of foreign technology.
Global financial markets have sunk on fears Chinese retaliation might prompt other governments to raise import barriers, depressing global trade.
Han appealed to other governments to "cooperate with each other like passengers in the same boat" and "make economic globalization more open, inclusive, balanced and beneficial for all."
However, he also emphasized that China's income per person still is low, suggesting Beijing is unlikely to offer significant concessions to Washington.
Han repeated promises that planned Chinese market-opening would create new opportunities for foreign companies. Business groups have welcomed reform pledges but complain Beijing is moving too slowly, making it unclear whether additional promises will mollify Washington, the European Union and other trading partners.
In a phone call Saturday with U.S. Treasury Secretary Steven Mnuchin, Vice Premier Liu He said Beijing is "ready and capable of defending its national interest and hopes both sides will remain rational," according to the official Xinhua News Agency.
In a speech to the economic forum, Apple CEO Tim Cook acknowledged tensions in Western societies that fuel demands for import controls and said companies must take action to spread the benefits of globalization more widely.
"Not everyone has benefited like all of us in this room have from technology and globalization, and we all must help to address this disparity," said Cook, a co-chairman of the event. "Their cause must become our cause."
The annual forum, which brings together corporate leaders with Chinese economic officials, usually is used to showcase Beijing's plans. This year, those include ambitious promises to open financial markets and give entrepreneurs and foreign companies a bigger role in China's state-dominated economy.
Other business leaders at the event included IBM Corp. Chairwoman Virginia Rometty, CEO Patrick Pouyanne of French oil giant Total SA, Bank of China Ltd. Chairman Chen Siqing and CEO Ulf Mark Schneider of Nestle SA. It also was attended by China's newly appointed central bank governor, Yi Gang, and other Chinese economic leaders.
This year's forum has been overshadowed by the growing rancor between Washington and Beijing over Trump's efforts to redress what he says is an unfair trading relationship. Washington accuses China of flooding global markets with unfairly low-priced steel and other goods and stealing or pressuring foreign companies to hand over technology.
"The business community has always supported the idea that open market foster new ideas and allow entrepreneurship to thrive," said Cook. "The strongest companies and economies are those that are open — those that thrive on diversity of people and ideas."
At a conference on "the challenge of global inequality" ahead of the economic forum, the CEO of asset manager BlackRock Inc. pointed to the fall in global financial markets and appealed to the two governments to avoid a "public fight."
"Dialogue and maybe some adjustment in trade and trade policy can be in order," said Laurence D. Fink to reporters on Saturday.
"It can be done privately," said Fink. "The world does not need a public fight in which we reduce mutual opportunity."