Chinese fishermen bid farewell to Yangtze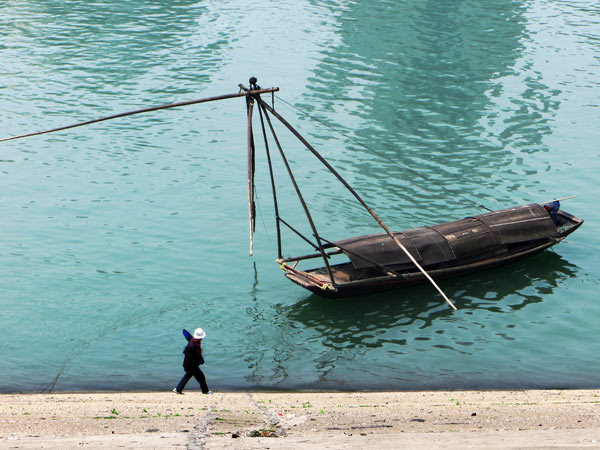 File photo: A fishing boat is anchored in the Yangtze River in Yichang, Hubei province, April 1, 2013.
On a rainy afternoon in late December, a group of ex-fishermen came to the bank of the Yangtze River to bid farewell to their longtime workmates.
They stood in solemn silence as an excavator dismantled one fishing boat after another amid deafening roars. Xia Mingxing, one boat owner, couldn't hide his tears.
"It's so hard to part with the boat that has been with my family for so many years, but I know for the environmental greater good, I have to let it go," the 57-year-old villager said.
Xia is from Changjiangbulao village in Hubei province. In Chinese, the name of the village means "fishing in the Yangtze", a term that will likely retreat into history as China pushes for a 10-year fishing moratorium on Asia's longest river.
Facing depleting fish stocks and degrading biodiversity in the Yangtze, the Chinese government decided to step up fishing bans and pollution control measures.
From the start of this year, the ban will be observed in 332 conservation areas along the waterway, before expanding to the entire river and its main tributaries next year.
The historic moratorium will last for a decade, grounding an estimated 110,000 fishing boats and driving nearly 280,000 fishermen ashore.
Conservationists hail the fishing moratorium as a crucial step to stem the free fall in the river's biodiversity.
In recent decades, the ancient aquatic paradise has seen its iconic white-finned dolphins declared functionally extinct, and another freshwater mammal-the finless porpoise-is teetering on the brink of extinction due to pollution, overfishing, busy river traffic and other human-induced changes.
Even the river's more mundane denizens are struggling.
Official surveys suggest the fry of four common Yangtze fish (herring, grass carp, silver carp and bighead carp) have fallen by 90 percent from the levels of the 1950s.
The shrinking fish stocks prompted fishermen to employ denser nets and illegal means like electrocution, which further exacerbated the environmental woes.
"Fishermen were caught in a vicious circle-the more they fished, the poorer they became because of the worsening environment," said Cao Wenxuan, an academician of the Chinese Academy of Sciences.
Since 2003, China has put in place a seasonal fishing ban, leaving Yangtze fishermen without work for three months each year.
The ban expanded to four months in 2016, but Cao, who has called for a decadelong moratorium since 2006, said longer periods are needed to allow most Yangtze fish to thrive for two to three generations to restore populations.
"Moreover, fishing in the Yangtze produces less than 1 percent of China's total aquatic products. The fishermen's withdrawal from the river will have minimal impacts on China's fishing industry," Cao said.
However, persuading fishermen to forego their ancestral line of work and life on boats was not easy.
"Some people have seasickness, but we have land sickness," said 55-year-old Long Kaiyun, who was reluctant to move off his boat in Nanxian county, Hunan province. "The government allocated houses for us, but we rarely spend nights there. When we sleep in beds, we feel as if the floor is wobbling."
Luoshan town, which administers the villages of Changjiangbulao and Honghu, faced the same reluctance.
"We've opened training courses on welding, computer operation and aquaculture, and every year we held four to five job fairs for the fishermen," said Yue Guanhui, Party chief of Luoshan.
For older fishermen who lack skills or motivation to work in companies and factories, plans are also afoot.
"These fishermen are familiar with water and have special feelings for the Yangtze River. We plan to set up ecological positions and transform them into fish protectors and river patrollers," Yue said.